Shocking Secrets of the Original Beverly Hills, 90210 Revealed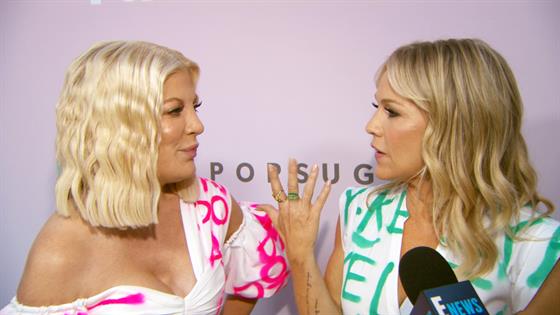 Who says you can't go 9021-home again?
The West Bev High gang is officially back together, with Beverly Hills, 90210 stars Jennie Garth, Ian Ziering, Tori Spelling, Jason Priestley, Shannen Doherty, Brian Austin Green and Gabrielle Carteris all reuniting for BH90210, premiering tonight on Fox.
In the six-episode revival of sorts, the stars of TV's most iconic teen soap will play fictionalized versions of themselves reuniting to get a reboot of the hit '90s show off the ground, but old rivalries and romances between former friends and frenemies make it anything but easy. And it seems like the show's writers didn't have to dig very deep to find material for the show, as the original BH, 90210's 10-year run provided more than enough inspiration.
Given the mega-fame of the young cast and the popularity Beverly Hills, 90210, the behind-the-scenes drama was worthy of its own show with fist fights going down on set, a bunch of the stars hooking up when cameras weren't rolling, and one of TV's most infamous firings, thanks to Doherty's diva tendencies back in the day.
Plus, one of the cast members lied about their age in order to land a role as a high schooler in America's most famous zip code and Dylan McKay, one of TV's most iconic characters played by the late Luke Perry was originally only supposed to be in two episodes before legendary producer Aaron Spelling (Tori Spelling's father) stepped in and saved the day.
SNAP/Rex/REX USA
Tough Beginnings
Created by Darren Star, the show was originally called Class of Beverly Hills, and at one point, Star, who based the show loosely on his own high school experience in Potomac, Maryland, used the working title Potomac 20854 before its now-iconic title was settled on.
While BH, 90210 would go on to become one of the most popular TV shows of the '90s and be largely responsible for launching the teen soap genre, the Fox show was a dud when it first debuted in 1990, earning mediocre viewers and ranking No. 118 in the ratings (going up against Cheers didn't help).
But after the season one finale, which featured Brenda and Dylan's first time, started gaining buzz, Fox smartly ordered new episodes for the summer, providing some much-needed teen angst and drama in what used to be the TV off-season.
"We filmed all of our risqué summer episodes at the beach and aired those at the time when the other shows were in reruns," Garth said in a New York Times interview. "So we caught a huge teen audience, kids that were home from school. And then it just went crazy."
From there, 90210 went from low-rated guilty pleasure to cultural phenomenon and the mostly unknown stars became some of the most famous people in the world, with Garth writing in her memoir, "in just a matter of weeks, we went from being just another generic ensemble cast of any old prime-time drama to being…superstars. I don't think any of us were prepared for the stardom that was thrust upon us in this way."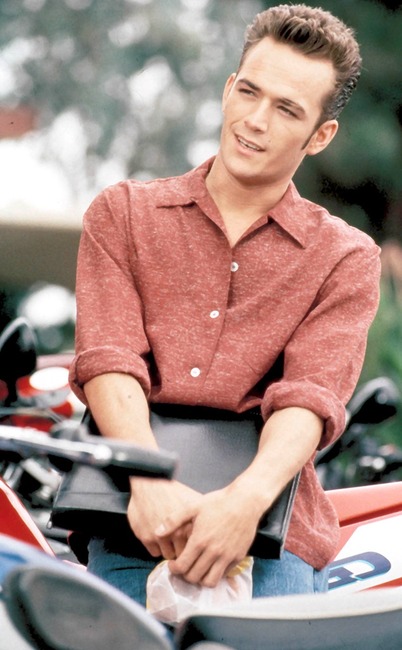 FOX
The Ultimate Teen Idol
Before being cast as one of TV's ultimate heartthrobs, being christened "the next James Dean" and becoming the ideal guy for legions of viewers, Perry was working construction as a way to pay his bills between auditions, one of which was for the role of Steve Sanders, which Ziering ultimately landed.
But when producers realized they were lacking a brooding bad boy, Perry, then 27, got the call. "When Luke walked into the audition, it was like 'Wow, that's the person,'" Star gushed to Rolling Stone. "He seems exactly like James Dean to me, but it isn't a conscious imitation—he's really being himself."
While Dylan McKay was only set to appear in a few episodes and Perry wasn't a main cast member initially, it was clear from the moment he drove up in that black Porsche 356 Speedster that a star was born…even if Fox didn't initially think so, with Spelling having to fight to make Perry a series regular. (Imagine their reaction when they learned 20 people were injured after a riot broke out at a mall during one of Perry's appearances, with 10,000 fans showing up?)
Perry remained on the show until 1995, leaving for three years to pursue other opportunities before returning in 1998 and remained on until the end, often credited as a special guest star.
In March 2019, Perry died at the age of 52 due to complications after suffering a stroke. He was starring on Riverdale, the latest teen soap that can credit the original 90210 for leading the way, playing the father of Archie (KJ Apa), the show's brooding lead. While he wasn't set to appear on Fox's BH90210 revival, the show is set to pay tribute to the beloved star in its premiere.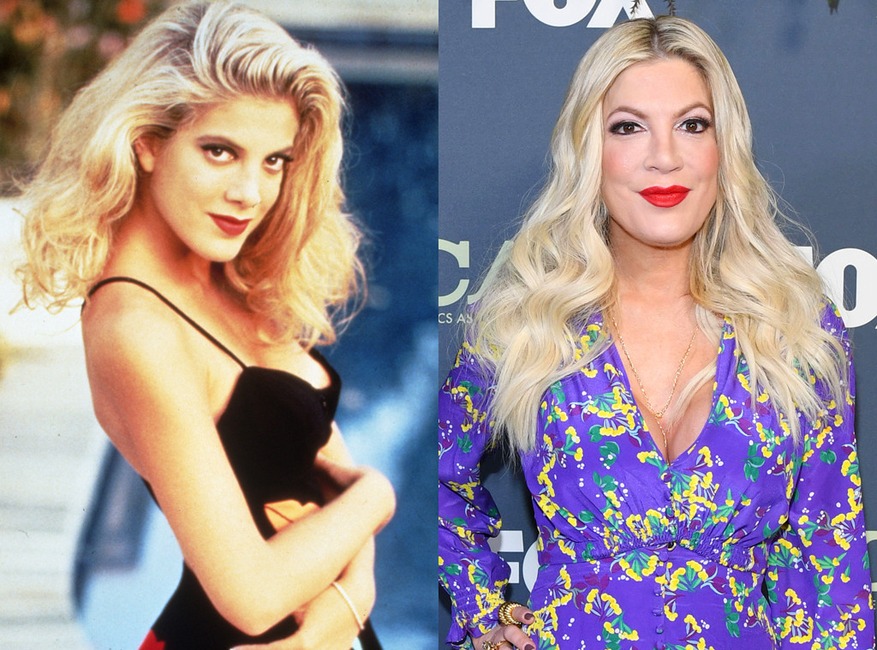 Shutterstock
Tori's Truth
Fearful of nepotism, Tori Spelling auditioned under a fake name, Tori Mitchell (inspired by a character Heather Locklear had played in a TV movie), when she went out for her famous dad's show, auditioning for the roles of Kelly and Andrea before landing the role that would make her a household name.
"I heard about the show from my agent. She said, 'Your dad is doing it.' I was like, 'I haven't heard anything about it,'" she told EW. "I popped into his briefcase when he got home, and I was like, cool. I really wanted to play Andrea. I went in under a different name, then I got the part of Donna—which I'm sure had something to do with my dad."
Tori's Donna Martin would go on to become a fan-favorite, appearing in all 10 seasons of the show and being at the center of iconic moments, like Donna (finally) losing her virginity, a major TV moment, and the infamous "Donna Martin graduates!" chant when she was initially banned from attending graduation. In his memoir, Priestley revealed a prank he pulled on that day of filming: Knowing they were going to reloop the dialogue anyway, Priestley got the group of extras to chant "Donna Martin masturbates" instead, finding the opportunity "pretty irresistible."
Article continues below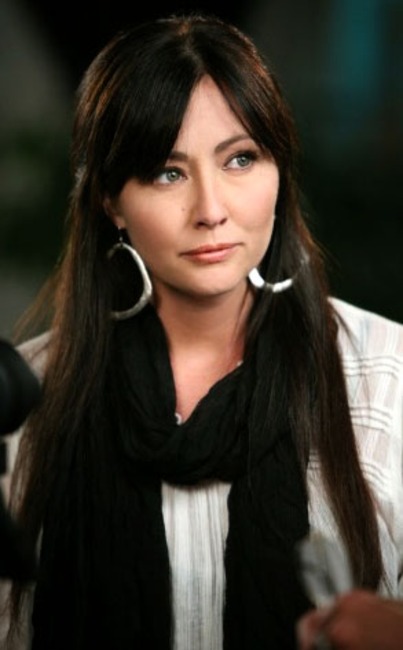 Jaimie Trueblood/The CW
Doherty's Drama
"She really and truly did not give a s–t," Priestley wrote in his memoir of his on-screen sis. "It was a very cool attitude, until it wasn't."
Doherty, praised for her turn in Heathers, was arguably the biggest breakout star from 90210's earlier seasons…and also the one who developed the biggest diva reputation, upsetting producers and her fellow co-stars until they finally reached their breaking point. "Her lateness was appalling, and she had a callous attitude and an indifference," Rosin told EW, with Aaron Spelling adding, "It wasn't like she ruined the show or anything. It just upset the cast members tremendously."
Looking back on the tumultuous time, Doherty admitted, "There was definitely a time that I did not want to be there. I was unhappy."
The final straw for producers, however, proved to be Doherty's decision to cut her hair in the middle of filming the season four finale episode (continuity be damned!), which would ultimately her her last on the show as the writers sent Brenda off to London to pursue acting.
But it was actually Spelling who went to her father on behalf of the cast to have Doherty fired.
"I felt like I was a part of something, a movement, that cost someone their livelihood," an emotional Spelling said during a 2015 special. "Was she a horrible person? No. She was one of the best friends I ever had."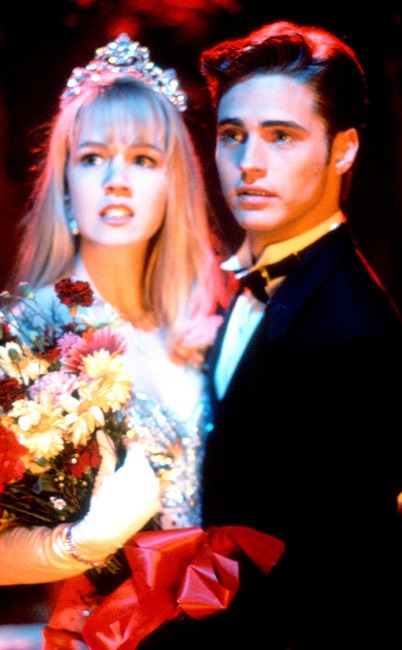 FOX
The New Girl in Town
After Doherty's dramatic exit, the pressure was on to find her replacement. "We obviously had an exhaustive search to replace her," Mollin said. "We looked at many people." Alicia Silverstone, Alyssa Milano and Drew Barrymore all reportedly were in contention, but BH, 90210 found their new star in Saved By the Bell fan-favorite Tiffani Amber-Thiessen, who joined the show in season five as bad girl Valerie.
"We wanted a baaad girl. There was really an edge with Tiffani because she was so sexual," producer Rosin told EW. "In her first episode, she [smoked] some pot. We were making a statement there." (In her first scene, she memorably rolls a joint with one hand, though a stunt double was needed.)
Viewers responded immediately to the character, but there was one cast member who didn't love Amber-Thiessen: Brian Austin Green, her boyfriend at the time.
"When we cast her, Brian was so upset! Oh my god, he felt betrayed!" Mollin recalled. "We were totally shocked and had no idea. But, then, of course, we realized why: because other people would be kissing…his girlfriend!"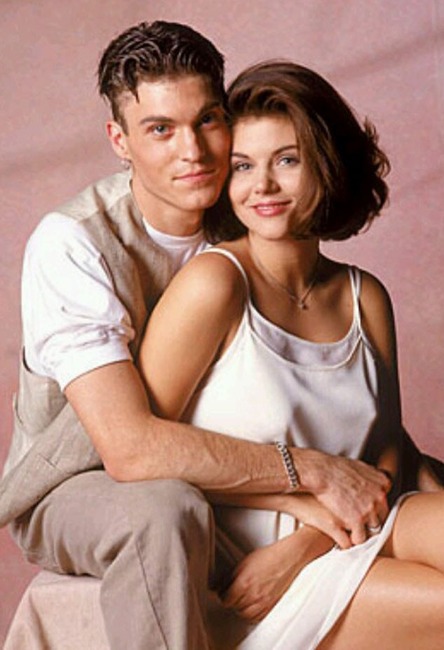 FOX
Ahhh, Young Love
Fact: if you assemble a cast of young, attractive and dramatic people and have them work together for an extended period of time, they will hook up. (See: The O.C., Gossip Girl, Riverdale, etc.)
"Various combinations of people slept with each other over the years," Priestley revealed in his memoir, undoubtedly filling fans with righteous joy that their suspicions were right all these years later. Priestley went on to say his "full-fledged adult relationship" was with Christine Elise (aka Emily Valentine), with the co-stars dating for five years.
During a test on Celebrity Lie Detector, Spelling said she had a quick summer fling with Priestley, dated Austin Green (saying she was "always in love" with her onscreen beau), and just once kissed Perry. (Priestley's response? "I'm not getting into this… It's nobody's business… Either way…," he tweeted.)
After dating Amber-Thiessen for several years, Austin Green dated Vanessa Marcil, one of David's major love interests Gina Kincaid), with the couple going on to have a child together, a son named Kassius, before splitting.
Article continues below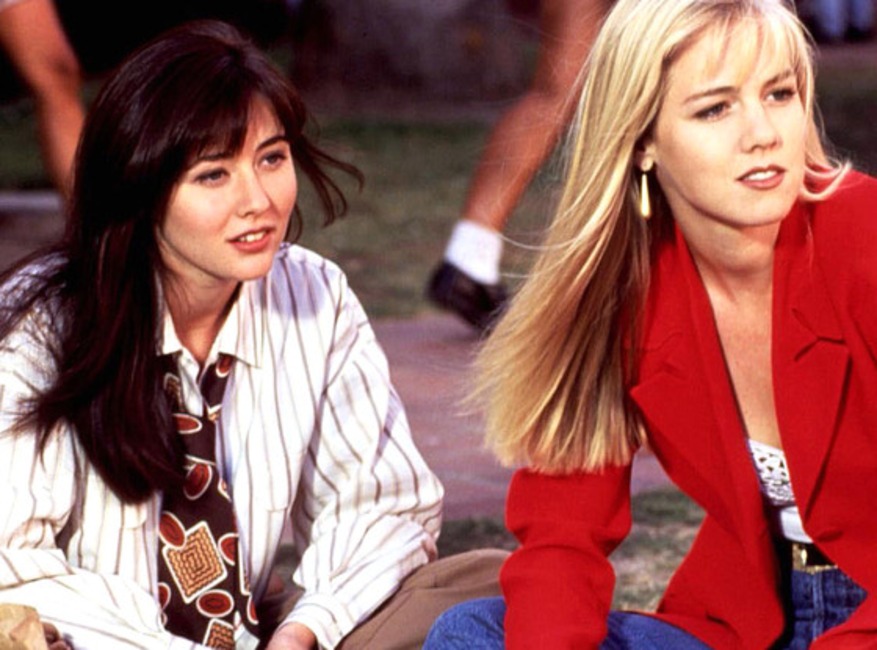 Fox
On-Set Feuds and Fist Fights
If viewers thought the rivalry between Brenda and Kelly was intense, it was nothing compared to the behind-the-scenes feuding between Doherty and Garth, with Spelling often attempting (and failing) to play peace-maker.
"I don't know why it is, but there is a universal truth that when you put three teenage girls together, some serious s–t is going to go down," Garth wrote in her 2013 memoir, "even if it meant sounding like a complete and utter —h. Poor Tori, the youngest of the three of us was, inevitably, often caught in the middle and she was always trying to smooth things over, trying to get Shan and me off each other's backs and get along, but her efforts usually failed."
Things got so heated that the two stars once came very close to throwing punches (with some accounts saying fists actually did fly), with Garth revealing the cause of the blow-up (which the male cast members had to step in to deescalate): Doherty had pulled up Garth's skirt while filming a scene, with Garth, who described the two women as "gasoline and a match," writing in her memoir, "I did snap and I yelled at her, something to the effect of, 'Come on, bitch! We're talking this outside!'"
Fortunately, Doherty and Garth were able to reconcile years later, becoming close friends. "Now, as grown women, we happen to get along as well," Garth told E! News.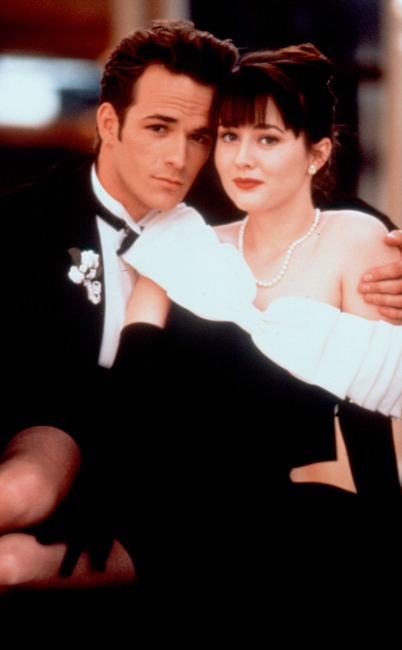 FOX
Blame Fox for Brenda and Dylan's Breakup
It might be hard to believe, but back in the early '90s, 16-year-old Brenda losing her virginity to Dylan at the dance was a big effin' deal. And the biggest outcry came from "scandalized" local affiliates who were upset that Brenda didn't face any real consequences over her decision to have sex, but was happy about it.
"I was strongly advised to write a show that would address the consequences of that sexual experience," Starr revealed to The New York Times. "So the first episode of the second season Brenda broke up with Dylan because their relationship had gotten too mature."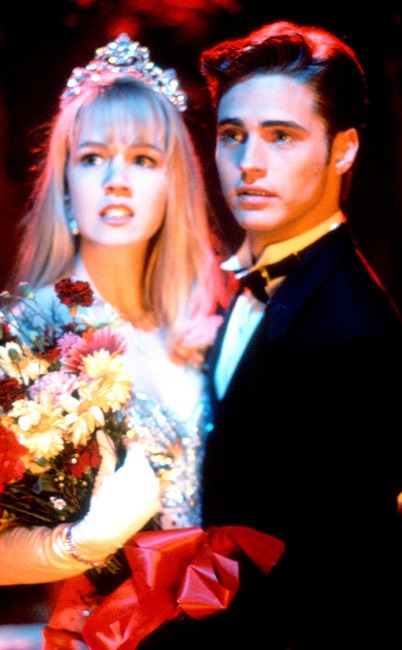 FOX
Garth's Secret Struggle
While Kelly Taylor was battling cults, cocaine use, love triangles and amnesia on-screen, Garth was privately struggling with anxiety beginning at the age of 19, as she revealed in her memoir.
"I felt comfortable—almost comforted—by all of the workers buzzing around me during the day, but after hours, I'd find myself getting anxious when strangers approached me," she wrote. "And so simple tasks, like going to the grocery store, or the mall, or to get gas, became overwhelming exercises in having to be 'on' when my natural inclination was to shut down and not interact with anyone. I…began to suffer a level of anxiety that as, at times, nearly paralyzing. When the panic attacks started to kick in, I became even more withdrawn."
She revealed at one point she had "stopped going to the movies or clothes shopping or doing any of the other things normal young people do," waiting until well after dark to step out of her home. "I wouldn't say that I ever stepped over the line into full-blown agoraphobia, but I would say I definitely came close."
Article continues below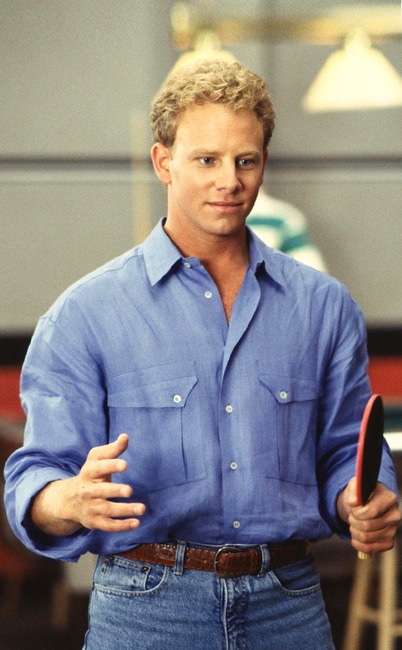 FOX
Trashed Dressing Room
While Ziering mostly avoided any and all drama on-set, he revealed he had an emotional breakdown in season four due to a storyline of Steve's being cut.
"There was an episode where Steve was accused of rape," he told HuffPost Live in 2015. "But, they edited out so much powerful stuff. That was like the first time I really got some great words to say and I work shopped them and I studied. I brought game, and it never even made it through the edit."
Feeling "betrayed" by the producers' decision not to air the scenes without letting him know first, Ziering lost his cool.
I tore the dressing rooms apart," he revealed. "We all work so hard for our characters and to not even get a heads up…I'm not a volatile person, I have a very long fuse, but after working so hard on this particular episode, I just didn't feel like they were with me on this one."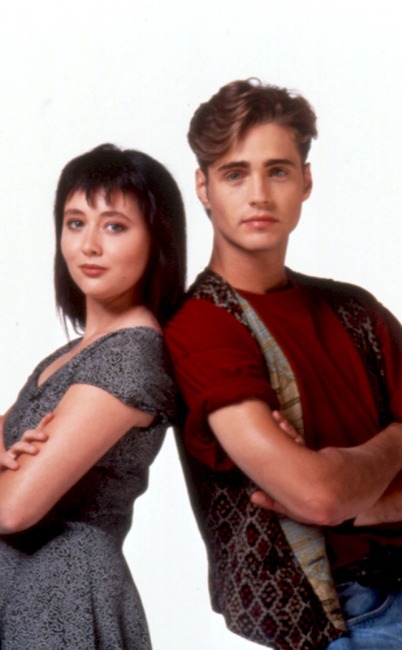 FOX
Priestley's Partying and Parting Ways
After becoming a teen heartthrob for playing the ultimate nice guy Brandon Walsh, Priestley was desperate to shed the goody two-shoes image in real life, indulging in hard partying ways "to prove that I was nothing like the sanctimonious Brandon Walsh," he wrote in his memoir. (During a 2014 Watch What Happens Live! appearance, Garth said he partied the hardest out of all the cast members.)
"When you're young like that, you feel like a hamster on a wheel. All you're doing is spinning that wheel and your world," he told The Hollywood Reporter. "You have a bunch of people telling you how great you are, so it's really easy to just start believing it after a while."
Priestley ended up changing his ways (thanks in large part to his relationship with co-star Elise, going on to become a producer on the show and directed episodes, which is why his unceremonious exit in season nine hurt his feelings at the time.
"I did the first scene of the morning—literally with this actor who was brought in to replace me—and that was it. I hugged the crew, picked up my box of stuff, went to my car and drove away," he told the Guardian. "There was no party, no nothing. I felt like I'd wasted nine years of my life." He would return via video message for the series finale the following season.
Moviestore Collection/Rex/REX USA
Age Is Just a Number
After initially auditioning for Brenda, believing that being a twin IRL would give her an edge, Gabrielle Carteris landed the role of Andrea…after the 29-year-old lied about her age to snag the part of the academically-minded 16-year-old. (Fun fact: Teen Witch star Robyn Lively, then Priestley's girlfriend, turned down the role of Andrea first.)
"I actually talked to a lawyer about how could I sign these contracts and lie about my age and still be able to do the show. Is it OK?" she told Access Hollywood. "[The lawyer said] 'Yes it is, as long as you just say you're over 21.'"
A main cast member for the first five seasons, producers reluctantly worked Carteris' real-life pregnancy into the show, making Andrea pregnant and having her marry the baby's father, Jesse Vasquez. But by the end of the fifth season, the producers felt Andrea's time in America's most famous zip code had come to an end, and sent her off to Yale with hubby and baby in tow.
"It didn't really add to us. It took away a lot of the fun, to have to be in this grown-up stuff," executive producer Larry Mollin told TDW. "We eventually just didn't think it was going to work."
Article continues below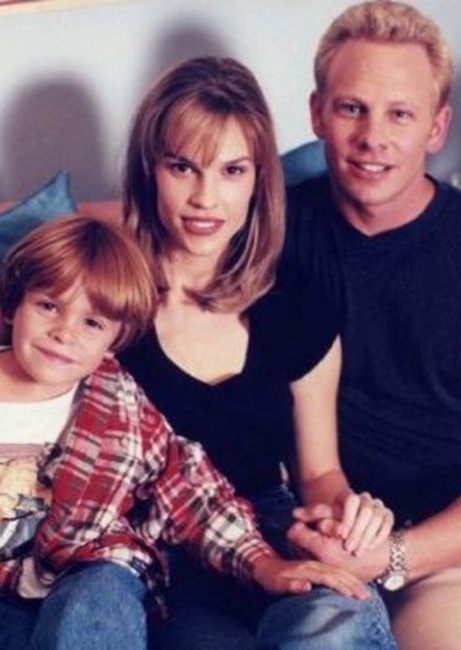 FOX
The Future Oscar Winner Who Was Fired
Two Oscar wins later, Hilary Swank is still not over being fired from Beverly Hills, 90210 back in the day.
"I was on 90210 during the eighth season when no one watched anymore and Luke Perry was long gone," Swank recalled during an appearance on Conan.
After playing single mom Carly Reynolds for 13 episodes, Swank was unexpectedly fired…despite signing a two-year contract, leaving her "devastated" after learning fans didn't love her character paired with Steve Sanders.
"They were like, 'Look, it's not working,' Swank said of the conversation she had with producers. "And I couldn't move. I was like, 'What's not working? Me? Am I bad? I'm not working because I'm bad?'"
But when one door closes, another opens, and soon after her firing Swank landed the role that would win her her first Oscar in Boys Don't Cry. Your loss, Steve!
BH90210 premieres Wednesday, Aug. 7, at 9 p.m. on Fox.
Don't miss E! News every weeknight at 7, only on E!
Source: Read Full Article