'Spider-Man: No Way Home': Zendaya's Biggest Fear Is Tom Holland Vomiting in His Spidey Suit
Many people might envy Tom Holland for being able to don the iconic Spider-Man suit, but Zendaya is not one of them. The Spider-Man: No Way Home star has seen firsthand how restrictive Holland's costume can be, and she even has a few concerns about her co-star and boyfriend's safety. While discussing the web-slinging suit with Holland on The Graham Norton Show, Zendaya revealed she often worried about emergencies, such as Holland suddenly needing to throw up.
Tom Holland has a complicated relationship with his Spider-Man suit
Since landing the Spider-Man role in 2017's Spider-Man: Homecoming, Holland has reminded fans time and again how honored he feels to wear the costume. However, it does come with its disadvantages. For instance, as Insider notes, the actor revealed that he struggles to use his phone or scratch his face while wearing the suit since he's covered in fabric head-to-toe. Holland's skintight costume also calls for thong underwear, which he said took some getting used to.
Going to the bathroom is another major challenge. According to Insider, he explained on Live With Kelly and Ryan in 2017 that he always had to plan his bathroom breaks ahead of time.
"Drinking water is dangerous in the Spider-Man costume because an accident is not an option," Holland said. "That suit is so expensive. They'll be so upset with me."
Even with the suit's problems, though, Holland always felt grateful for the opportunity to portray the superhero.
"It looks amazing, [but it] feels terrible. But that said, it's such an honor to wear it. It outweighs any discomfort," he said on the talk show.
Zendaya has an unusually specific fear about Tom Holland in the Spider-Man suit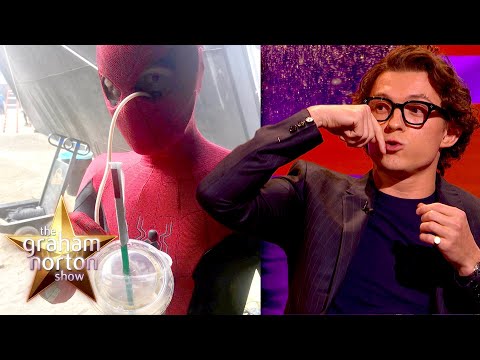 Zendaya has worked alongside Holland since his first Spider-Man film, but seeing him in costume still gives her anxiety to this day. During their appearance on The Graham Norton Show on Dec. 3, the former Disney Channel star explained how dangerous the Spider-Man suit could seem.
"It's one piece, so there's a helmet, and there's all these things that go underneath it," Zendaya said, as seen above. "And I always have this fear that if he's like, working really hard or something's happening, like if he had to throw up … How is he going to get it out? Sometimes when I look at him, I get a little scared … It just stresses me out."
As gross as it might be to think about, Norton agreed that it was a valid concern. Holland, on the other hand, admitted that he liked to fake Zendaya out. He said he would make choking sounds, which often prompted his co-star to call for help. Thankfully, Holland hasn't really experienced an emergency like that in the suit.
Tom Holland learned a trick for getting snacks and fluids while in costume
Holland has learned a thing or two about his Spider-Man suit in the last few years. During the interview, Norton pulled up a somewhat disturbing photo of the actor with a tube running from a Starbucks frappuccino cup through the suit's eye cut-out. According to Holland, the eyes are the suit's only access point.
"There's a hole underneath the eye socket where we used to be able to feed a tube down, and I could drink without taking the suit off because it takes a lot of time," he explained.
The actor has even found a way to sneak some food items into his costume, as he told Entertainment Tonight in 2019.
"If I push the mask forward, I can now squeeze gum and stuff down the eye hole," Holland explained. "I've had a Kit Kat in the suit now."
Spider-Man: No Way Home hits theaters on Dec. 17.
Source: Read Full Article