The Devastating Confession Prince Charles Reportedly Made To Diana Before Their Wedding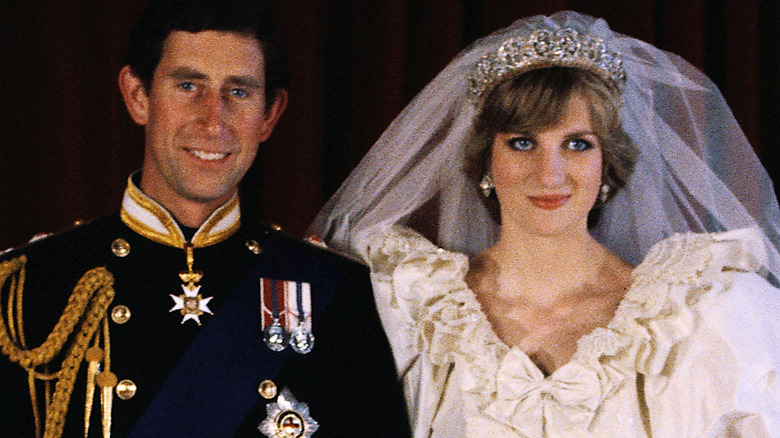 David Levenson/Getty Images
By Hope Campbell/Aug. 27, 2021 12:20 pm EDT
It was a fairytale romance that captured the world's attention — and it, indeed, had extremely fantastic elements to it. A dashing prince sweeps a beautiful young woman off her feet and marries her in a wedding that young girls can only fantasize about. When Prince Charles married Lady Diana Spencer, the world watched — quite literally. Citizens from 74 countries across the globe tuned in on their televisions on July 29, 1981, with the royal wedding watched by 750 million people (via the BBC).
However, the world eventually learned that the fairytale was just a facade as England's 32-year-old heir to the throne married a woman who was barely out of her teens after a whirlwind courtship that consisted of just a handful of dates. Diana had barely seen the world and was working as a nursery school teacher to make ends meet when Charles met her, according to The Sun. 
What Charles reportedly told Diana soon before they wed might have knocked the rose-colored glasses off Diana's eyes, but she was determined to become the next Princess of Wales, so she walked down the aisle followed by a 25-foot train (via Biography).
Prince Charles told Diana the truth before he married her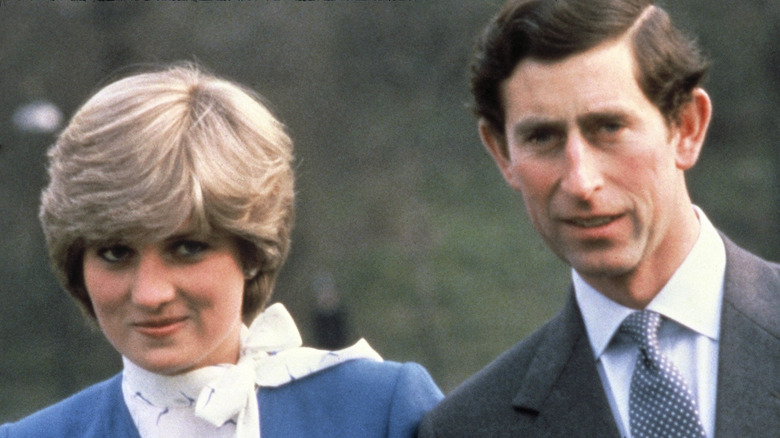 It was the night before their wedding, and Prince Charles apparently felt he owed it to his young fiance to tell her how he really felt before making such a life-altering commitment. According to a friend, Charles told Diana that he wasn't in love with her.
The revelation came to light in 2020 when Britain's ITV aired a documentary, "The Diana Interview: The Revenge of a Princess," which chronicles how Diana's 1995 interview with Martin Bashir came to be. This is the same interview in which Diana bared all about her marriage, including the fact that there was always someone else on Charles' mind, namely Camilla Parker Bowles, the woman the prince married in 2005. Diana famously said, "There were three of us in this marriage."
In the ITV documentary, Penny Thompson relayed what Diana confided to her the night before she wed Charles. "One of the most shocking things that Diana told me was that the night before the wedding Charles told her that he didn't love her," Thompson said (via Parade). "I think Charles didn't want to go into the wedding on a false premise. He wanted to square it with her and it was devastating for Diana. She didn't want to go through with the wedding at that point, she thought about not attending the wedding."
Of course, Diana did attend the wedding and took her vows, becoming one of the most famous and beloved women in the world.
Charles and Diana entered into a tumultuous marriage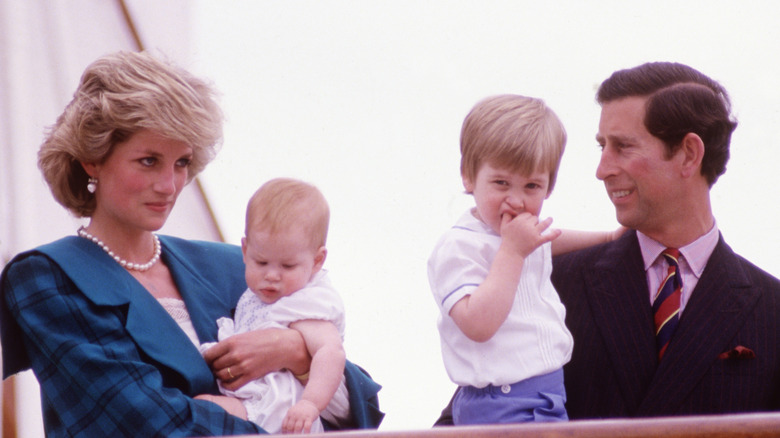 As women across the globe watched the royal marriage from the sidelines via tabloids, wondering if they would ever meet their own dashing prince, what they saw in the press was not always what was happening in real life. 
While Diana gave birth to her first son, Prince William, in 1982, and then a second son, Prince Harry, in 1984 (via Town & Country), the pair were far from happily married. While Andrew Morton's 1992 book, "Diana: Her True Story," claims that the time leading up to their second son's birth was actually a happy time in their marriage, it didn't stay that way for long and was quite possibly the last happy period the royal couple shared together.
"Charles and I were very, very close to each other the six weeks before Harry was born, the closest we've ever, ever been and ever will be," Princess Diana told Morton, adding that Charles hoped the baby would be a girl (via Insider). "Then, suddenly, as Harry was born, it just went bang, our marriage. The whole thing went down the drain."
Charles and Diana put an end to the fairytale that was, indeed, a tale after all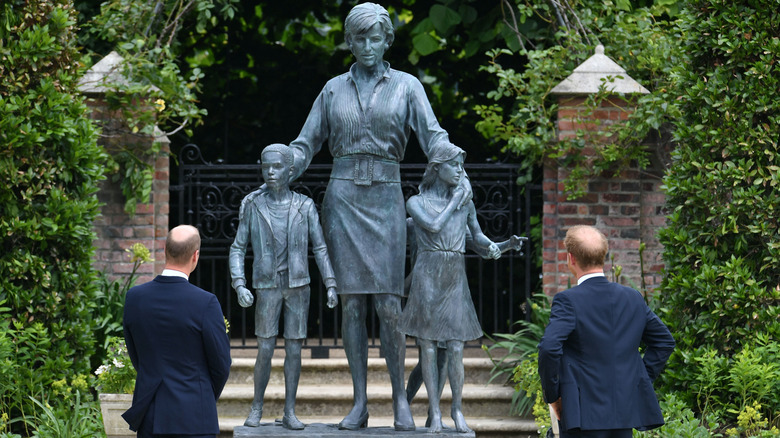 In 1992, after 11 years in a loveless marriage in which Prince Charles and Princess Diana were barely together except for public appearances and family events, British Prime Minister John Major announced that the couple's marriage was over (via Town & Country). While they stayed married legally for another four years while Diana performed her royal duties, the divorce was made final in 1996.
Diana chose to go on with her life as a wealthy single mother and celebrity, and, in 1997, she took a fateful trip to Paris with her new companion, Dodi Fayed. When the pair's car was chased by paparazzi, it resulted in a fatal crash for both Diana and Fayed. The princess passed away on Aug. 31, 1997, at just 36 years old (via History.com).
Eight years later, Charles finally married the "third person" in his first marriage. On April 9, 2005, Prince Charles wed Camilla Parker Bowles in a civil ceremony with his family in attendance, according to Town & Country. The two had met 35 years prior, and, although she wed Andrew Parker Bowles in 1973 and raised two children with him, Charles and Camilla never stopped loving one another. By 1986, they were having an affair.
Sixteen years after their marriage, in July 2021, Charles' sons with Diana, William and Harry, were on hand to pay tribute to their mother and unveil a statue of her on what would have been her 60th birthday (via Cosmopolitan).
Source: Read Full Article