What Anne Hathaway Would Have Been If She Wasnt A Famous Actress
DFree/Shutterstock
By Makeda White/Aug. 26, 2021 12:44 pm EDT
Anne Hathway has been an A-list celebrity Hollywood actress for decades. According to the award-winning actress' IMDB, her first serious role came in 1999, when she played Meghan on the television family drama "Get Real." The sitcom only lasted one season, but in 2001, Hathaway took the role that catapulted her career into fame when she starred as Mia Thermopolis in "The Princess Diaries." Since then, the actress has been praised for her wide range of acting abilities and even stellar vocals. The young Anne Hathaway transformed into a Hollywood Icon in front of our very eyes.
In over a decade following the film's release, Hathaway recalls the magic of being on set and starring in the lead role. "Getting the script, it just had that feeling," she told People. "I touched it, and it was electric."
Although Hathaway excelled at acting at a very young age, she has considered who she would be without fame, and it might surprise you.
Anne Hathway could've been your favorite teacher!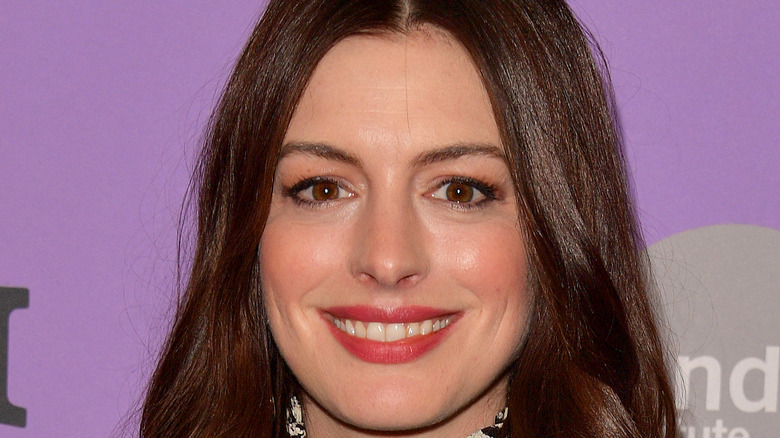 In an interview with Tatler, Anne Hathaway talked about what her career path would be if she wasn't an actress. "I could have seen myself being a teacher," the actress shared. "Or going into the military. Or being some kind of do-gooder with a death wish. But more likely than anything else, I would have been an alcoholic," she jokingly added.
In recent years, Hathaway has been vocal about her decision to stop drinking to become a more attentive mother to her now 5-year-old son, Jonathan Rosebanks Shulman.
"I quit drinking back in October … for 18 years," Hathaway shared on "The Ellen DeGeneres Show" back in 2019 (via US Weekly). "I'm going to stop drinking while my son is in my house just because I don't totally love the way I do it, and he's getting to an age where he really does need me all the time in the morning."
Although the Oscar-winning actress is adamant that she didn't have a drinking problem, she expressed how drinking disrupts her day and her daily interactions with her son.
"The time I have with him is really precious," the mother of two told Christine Lampard on "Lorraine" (via Delish). "And I do leave a lot for work, and I found my time with him was getting impacted, not necessarily by the drinking, as I never went out of control around him. But I hate to say it — as you get older, the hangovers get really bad."
Source: Read Full Article