DJ Khaled Gifted Special Hennessy Collector's Item for 75th NBA Anniversary
There are several sports fanatics who just so happen to be celebrities, one of which is rapper and hip hop producer DJ Khaled. To celebrate his dedication to the game, cognac brand Hennessy has gifted him a special bottle. He was presented with it in congruence with the league's 75th anniversary.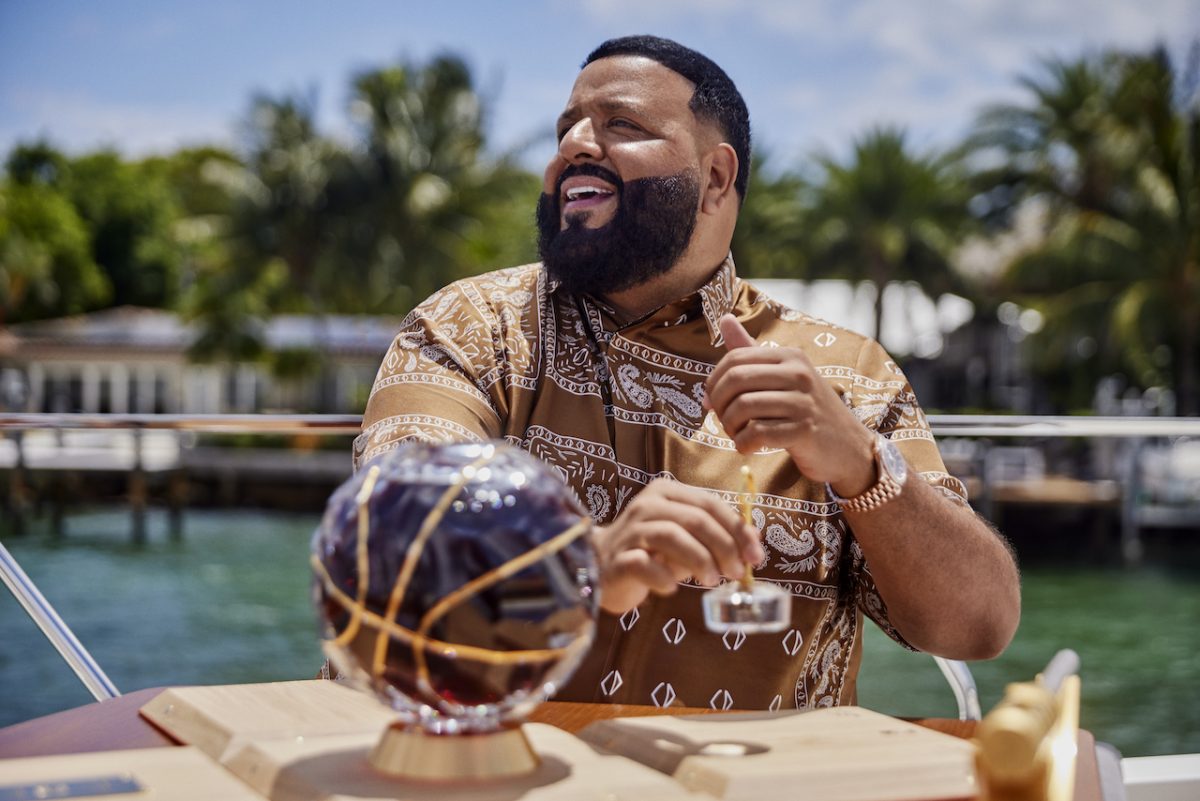 Hennessy gifts DJ Khaled a special edition in honor of the music mogul's love of the game
As the 2022 NBA finals commence between the Golden State Warriors and the Boston Celtics, NBA fans like the "We The Best" producer can't contain their excitement. To expand upon the energy around this highly-anticipated battle, Hennessy is celebrating the 75th anniversary of the beloved game by fashioning a special Masterpiece Carafe. Of course, Khaled is the recipient.
Though Khaled is a longtime fan of the Miami Heat and they came up short and didn't make the finals this year, at least the "Higher" producer can kick off his summer by relaxing and sipping on some cognac with his newest luxe glassware piece. Hennessy went all out to curate the special edition for the Grammy winner.
The item is shaped in the form of a 1.5L Baccarat crystal basketball and comes with real gold inlays that are tossed onto the seam outlines. Additionally, the hardware sits on top of its cover. It also comes in a co-branded wooden box along with two glasses that also mimic the basketball aesthetic.
DJ Khaled is also an avid Hennessey drinker
The special edition surely won't last long in Khaled's household, but he'll probably keep the bottle and glassware for decoration. Khaled's a longtime lover of the brand, often referencing the drink in his music, sharing photos of him drinking it, and has a special song dedicated to it.
In his single titled "Weed & Hennessey" featuring Mavado, the collaborators boast about their love of the smoke and drink. They rap: "Weed and Hennessy / And a little bit a grabba leaf / Full suit a Louie V /  Bare gyal inna the vehic's / That mi waan fi di Sumaiya."
The DJ's antics at NBA games have gone viral
Like many, Khaled is a basketball fanatic. He typically sits courtside at games and can't contain himself, making for several meme-worthy moments. This year alone, he performed at the 2022 NBA All-Star Games. But his recent airball shots at an April 2022 Heat vs Hawks game got him kicked off the court.
He snuck onto the court at FTX Arena in Miami — where the Heat beat the Hawks 115-91 in Game 1 of their NBA playoff series. While on the court, he shot an airball on a 3-pointer. Fans in attendance trolled Khaled with boos. He was escorted back to his courtside seat by security.  
His viral airball was a reminder of another airball he launched just two months earlier in February when he attended All-Star weekend in Cleveland. "Never give up, it don't matter," he said after he air-balled a 3 on the court at Rocket Mortgage Center, The New York Post reports.
Source: Read Full Article