Grammys 2022 Snubs: Justin Bieber, Lil Nas X, Billie Eilish, and BTS Shutout
The 64th Annual Grammy Awards brought smiles to the faces of Jon Batiste and Silk Sonic, but others weren't smiling by night's end. Big-name nominees Justin Bieber, Lil Nas X, Billie Eilish, and BTS left the show without a trophy. All four artists gave terrific performances at the ceremony. They were, however, sitting in their chairs at the MGM Grand Garden Arena while others jubilantly ran up on stage to accept awards.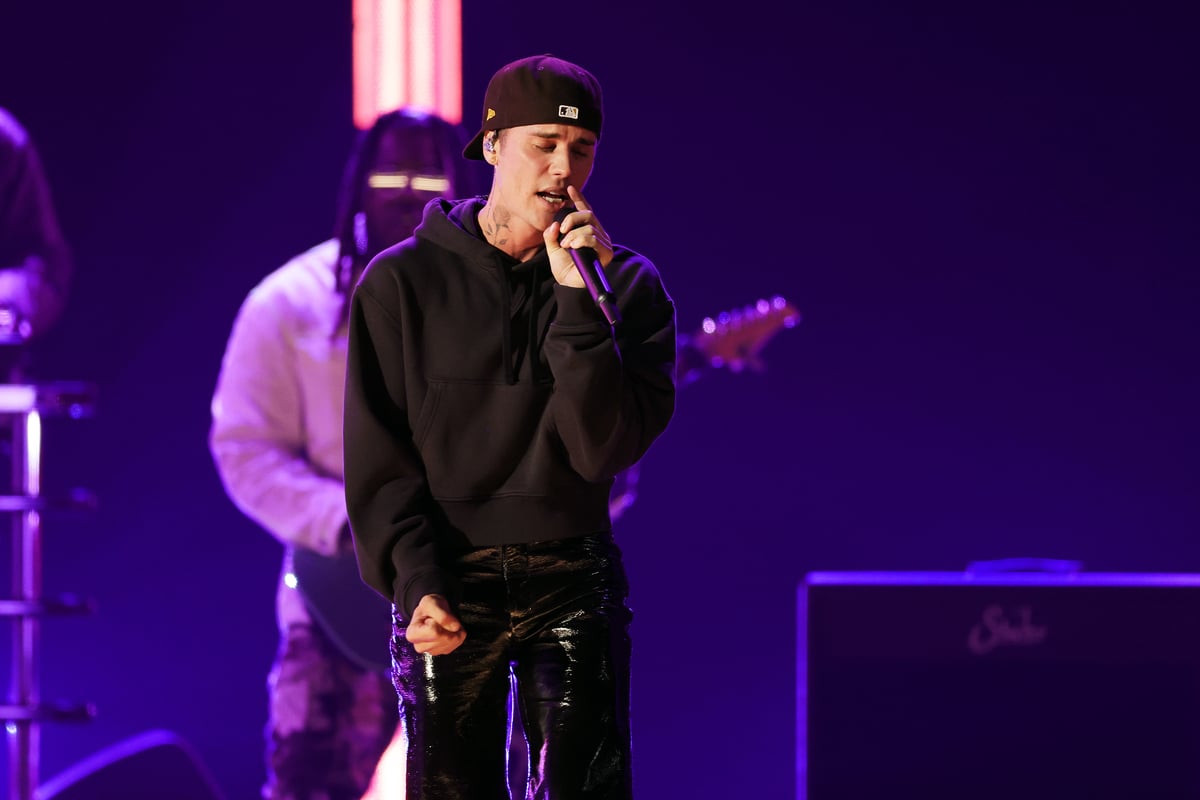 Lil Nas X says, 'I am now no longer gay' after being shut out at the Grammys
Grammy winner Lil Nas X had high hopes for Sunday's ceremony. The "Old Town Road" rapper took home two Grammy Awards the first time he attended. This year, he was nominated for five awards for Montero, Record of the Year, Album of the Year, Song of the Year, Best Melodic Rap Performance, and Best Music Video. Lil Nas X went home empty-handed. 
On Sunday night, Lil Nas X performed a skin-baring rendition of "Montero (Call Me By Your Name)." Jack Harlow then joined him on stage to perform their hit "Industry Baby." 
The rapper took to Twitter and said, "can't believe I lost all my Grammys. I am now no longer gay!" He was most likely referencing that he won for "Old Town Road" before coming out as a gay man. 
Lil Nas X recently referenced "Montero (Call Me By Your Name)" during an iHeartRadio Music Awards acceptance speech. "To think that I could make a song about a man lusting after another man in a world… it's delusional to think that that song could be the number one song in the world." 
BTS blew the audience away with their "Butter" performance but once again went home empty-handed
It would be hard to argue that BTS didn't have one of the best performances, if not the best, at the Grammy Awards. The seven-member K-pop group brought a spy-version of their mega-hit "Butter" to the stage. Their phenomenal choreography, live vocals, and charismatic energy had the crowd on their feet far before the performance was over.
Variety wrote, "If they gave an award for "most phenomenal performance on the Grammys," the K-pop group would be up for it in 2023."
BTS was nominated for Best Pop Performance Duo/Group for the second year in a row. For the second year in a row, they lost. Doja Cat and SZA took home the trophy for "Kiss Me More." 
Although ARMY (BTS fandom) was devastated, it shouldn't be a surprise. Historically, the Academy voters have not rewarded boy bands. For example, the Backstreet Boys have been nominated eight times. They have zero trophies. 
Billie Eilish goes home empty-handed for the first time in three years
Billie Eilish was nominated for seven awards for her album Happier Than Ever and walked away with zero. Eilish was the belle of the ball in 2020 when she swept five big categories, Best New Artist, Album of the Year, Record of the Year, Song of the Year, and Best Pop Album. She also took home Record of the Year in 2021.
One week after winning an Oscar for the James Bond theme, "No Time To Die," Eilish gave a rain-filled performance of "Happier Than Ever" alongside brother Finneas. She wore a t-shirt with a large image of Taylor Hawkins's face, paying tribute to the Foo Fighters' recently deceased drummer. 
After the ceremony, her brother and collaborator tweeted, "We love silk sonic!! We love Jon batiste!!! We love everyone who won tonight!! I don't wanna see anyone talking any trash at ALL!! Nothing but love!! Talented musicians won tonight!! We were lucky to be nominated!! And lucky to perform!!" 
Justin Bieber goes 0/8, continuing his tradition of Grammy snubs
Justin Bieber was up for eight Grammy awards on Sunday night, tying H.E.R and Doja Cat for the second-most nominations (Jon Batiste led the pack with eleven nods.) Although his album Justice produced the colossal hit "Peaches," it was not enough for Bieber to take home an award. 
Justin performed a stripped-down version of "Peaches" before Giveon, and Daniel Caesar joined him on stage. BTS members V and Jin were caught dancing to the performance. Bieber may not have won an award, but the crowd seemed to vibe with his performance. 
RELATED: The 2022 Grammys Has More Controversy Than the Oscars
Source: Read Full Article