Inappropriate Outfits Miley Cyrus Has Been Caught Wearing
Miley Cyrus became a tween trendsetter during her "Hannah Montana" days, but by the time she was an adult, the pop star was rocking outfits that many of her fans could not replicate if they did not want to be sent home from school or work. She even doffed her top completely, like when she showed her support for the Free the Nipple movement by violating Instagram's community guidelines, per MTV News.
Cyrus seems to have zero inhibitions when it comes to her style decisions, but she doesn't dress in clothing that many find inappropriate because she's desperate to have all eyes on her. In a 2016 behind-the-scenes interview on the set of "The Voice," she revealed that attention actually makes her "uncomfortable," and wearing outrageous attire helps her feel more at ease. "I think style can be something that can make you feel comfortable. It's something to kind of not maybe just have everyone staring into your soul. It's like giving them something to look at," she said (via ScreenSlam).
Cyrus proved that she was no longer a Disney darling when she twerked on stage at the 2013 MTV Video Music Awards, but the nude latex bra and matching underwear that she wore for that unforgettable performance would soon become one of the "Can't Be Tamed" singer's tamer looks. Let's revisit some of the head-turning ensembles that got tongues wagging.
Miley Cyrus suffered a wardrobe malfunction at the MTV VMAs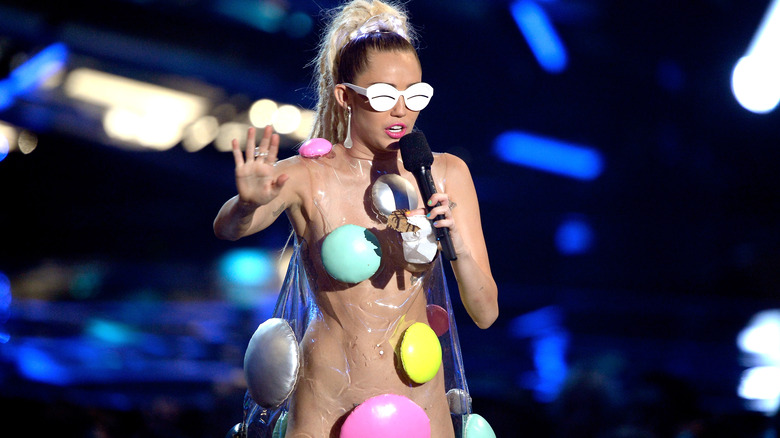 The reaction to Miley Cyrus' 2013 VMAs outfit impacted her fashion choices for years. During a March 2020 episode of her Instagram Live series "Bright Minded: Live with Miley," she revealed that people poking fun at her by comparing her to poultry really got her down. "I was just so skinny and so pasty and they kept putting me next to this turkey, and I was feeling so bad on myself that I did not wear a bikini for like two years," she said, per People. But when she returned to the award show to host in 2015, she appeared to have put all that insecurity firmly behind her.
Cyrus walked the red carpet in an Atelier Versace design that InStyle described as "scandalous." It consisted of silver suspenders with nothing underneath them and a net-like "skirt" made out of strands of crystals. But it was not the only look she wore that left little to the imagination. She later changed into a clear Simone Harouche dress decorated with inflatable round disks that barely covered her NSFW bits. It resembled a clear candy wrapper with knockoff M&Ms stuck to it. Cyrus suffered a slight wardrobe malfunction while rocking the garment, too, as evidenced by a blurred pic published by Us Weekly. One of her nipples was also caught on camera while she was changing backstage (via The Hollywood Reporter).
Miley Cyrus' questionable homage to hip-hop royalty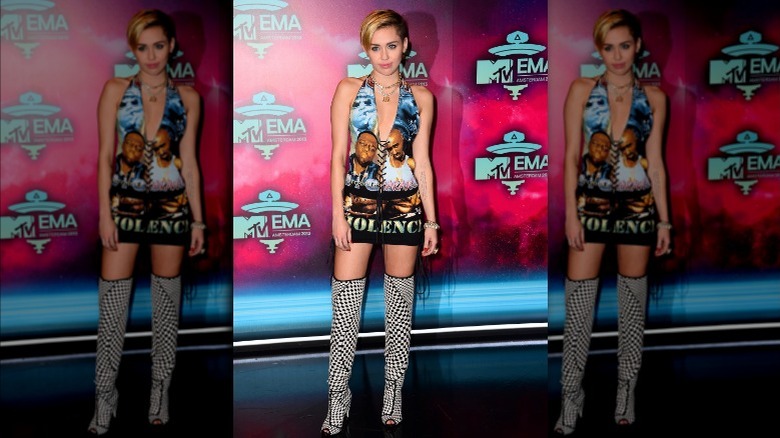 After twerking with Black dancers during her 2013 VMAs performance, Miley Cyrus was hit with accusations of cultural appropriation. Vulture described the spectacle as a "minstrel show" and accused the singer of "annexing working-class black 'ratchet' culture." She further angered some in the Black community when she arrived at the 2013 MTV Europe Music Awards wearing a mini dress emblazoned with the images of late hip-hop icons Tupac Shakur and Christopher "Biggie Smalls" Wallace. The garment was nearly backless and it had the words "Please Stop Violence" printed on the back and front.
According to Hollywood Life, the dress was a NY Vintage design. An insider claimed that Cyrus chose it because she had started listening to Tupac and Biggie's music while she was working with Snoop Dogg, and she believed that wearing the piece "would give her some cred."
It's also entirely possible that Cyrus merely intended to pay tribute to two iconic rappers who met tragic ends due to needless violence. However, having the musical rivals stitched together over her buttocks and torso was not viewed as an appropriate way to achieve this in the eyes of some. Global Grind described her fashion choice as "complete sacrilege," and one Twitter user suggested that Tupac and Biggie would not have approved of the look. "It would have killed them to see that!!!" the critic wrote.
Miley Cyrus' mother disapproved of this look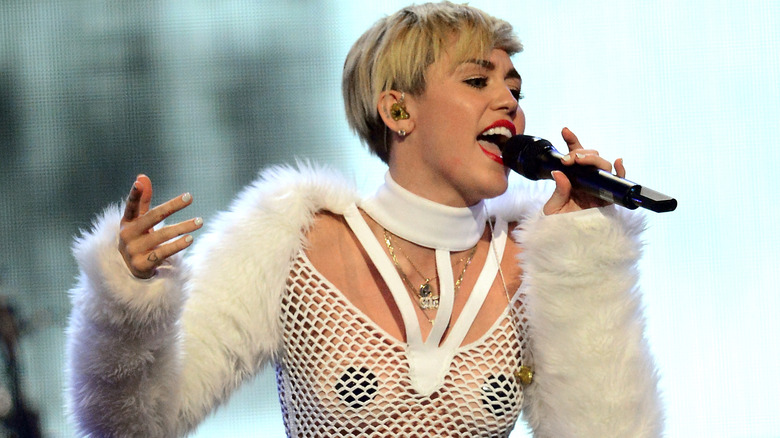 It's no secret that Miley Cyrus is a big fan of pasties, a wardrobe staple that allows her to get as close to freeing the nipple as possible without actually doing so. In a 2019 Instagram post, she even claimed that she "invented Nipple Pasties," despite wearing one when she dressed up like Lil Kim for Halloween in 2013. As noted by Billboard, the "Crush on You" singer famously wore a lone pasty to the 1999 MTV Video Music Awards.
But Cyrus' mom does not share her fondness for the stick-ons. In 2013, Miley wore a pair of black pasties underneath a white fishnet dress for her performance at the iHeartRadio Music Festival. Her strappy underwear were also visible underneath the garment. "That's the only one I really didn't like," Tish Cyrus told E! News. Miley's older sister Brandi confirmed that "there was some tension" over that particular ensemble. It was reportedly a last-minute look put together by Miley's stylist, Haley Wollens. While the singer's torso was pretty bare, her dress did have furry white sleeves that kept her arms completely covered.
For a 2014 Alexander Wang warehouse party, Cyrus traded her plain black pasties for a pair that were shaped like ice cream cones. However, her disapproving parent told Page Six that she still did not like the coverings. "She's done it once before, and I've said before that's my least favorite outfit," Tish said. "Not just on her, but on anyone."
Miley Cyrus didn't wear a shirt on Jimmy Kimmel's show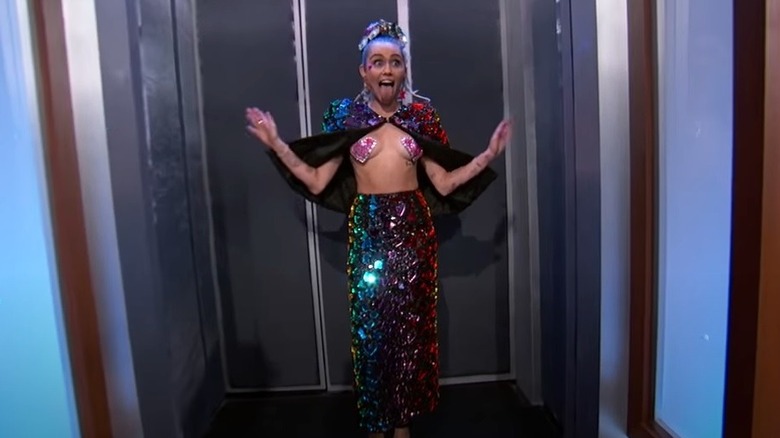 When a celebrity appears on a talk show to promote something, they usually do not wear something so outrageous that the host has a difficult time talking about anything else. But Jimmy Kimmel had a lengthy discussion with Miley Cyrus about her outfit choice when she appeared on his late night show in 2015. She wore a shimmery rainbow cape, matching skirt, and — you guessed it — a pair of pasties. This time, they were shaped like hearts. Cyrus brought them up herself when Kimmel asked how she was doing. "To be honest, I'm a little cold, and I would have worn a shirt. Actually, I wouldn't have, but you could have warned me," she cracked.
Kimmel observed that Cyrus was "almost naked" and asked her where she got her revealing outfit. She informed him that she found it on Hollywood Boulevard. The host admitted that the look had him all "flustered," and he also wanted to know what the singer's father, Billy Ray Cyrus, thinks about her risqué style aesthetic. "I'm sure he'd maybe rather me not have my t*ts out all the time, but he'd rather me have my t*ts out and be a good person than have a shirt on and be a b***h." 
So as long as you are nice, don't think twice about letting it all hang out. Just make sure your adhesive is as strong as your winning personality.
Source: Read Full Article