Morgan Wallens Grand Ole Opry Performance Enrages Jason Isbell, The Black Opry and More
The Drive-By Truckers member says he's 'not surprised,' but 'sad' that the 'Whiskey Glasses' singer was allowed to join Ernest onstage when the latter made his Grand Ole Opry debut following Wallen's racism scandal.
AceShowbiz -While audience was delighted by Morgan Wallen's surprise appearance at Grand Ole Opry last weekend, not a few were left upset. The Opry has drawn tons of criticisms after the Grammy Award-winning made his return to the show on Saturday night, January 8, joining his Big Loud labelmate Ernest for a duet of new ballad "Flower Shops".
Immediately after the Opry tweeted about Wallen's performance, it received fierce backlash from black community and its supporters, including country music star Jason Isbell. In a tweet posted on Sunday, the Drive-By Truckers member wrote, "Last night @opry you had a choice- either upset one guy and his 'team,' or break the hearts of a legion of aspiring Black country artists. You chose wrong and I'm real sad for a lot of my friends today. Not surprised though. Just sad."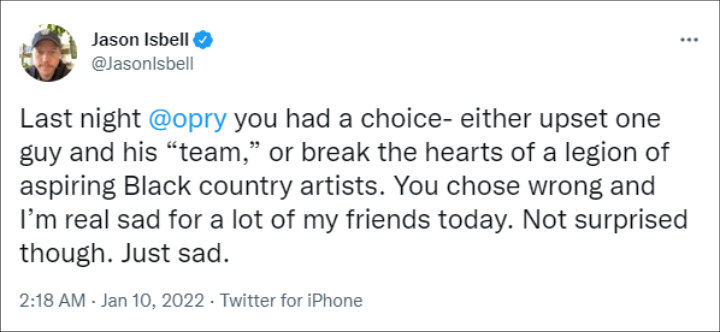 Jason Isbell criticized Morgan Wallen's Grand Ole Opry performance.
The four-time Grammy winner then responded to another Twitter user, "The thing that really upsets me is bigger than one person's words. It's the idea of a young Black artist walking into that venue and wondering if ANYBODY is on their side. What a lot of us consider to be a grand ole honor can be terrifying for some. Doesn't have to be that way."
Black singer-songwriter Joy Oladokun also expressed her disappointment at seeing Wallen onstage at the Opry. She tweeted, "Morgan Wallen's thoughtless redemption tour is the nail in the coffin of me realizing these systems, and this town is really not for us. imma keep making my lil music in my attic, y'all can listen if you want. i don't know that i'll do this work forever."
The Black Opry, a group billing itself as "a home for black artists and Black fans of country, blues, folk, and Americana music," voiced its outcry over Wallen's performance. In an open letter written by the group's founder Holly G to Gina Keltner and Dan Rogers, members of the Opry leadership, she noted that on Friday the Opry celebrated the 55th anniversary of the late black country legend Charley Pride's first Opry appearance.
"It felt like a slap in the face to see you all celebrate Charley Pride, only to pull this stunt 24 hours later," the letter partly read. "You should know that our community is extremely disappointed, though many are not surprised. A stage that was once a dream destination for many Black artists has now cemented itself as one of the many Nashville stages on which we know we are not respected."
She added, "I am extremely confused by the welcoming of Morgan Wallen to the Opry stage last night. You were very clear about the fact that some people do not deserve a spot on that stage, which lets me know that each guest is intentional and thought through. That being the case, how was this deemed okay? A stage that was once a dream destination for many Black artists has now cemented itself as one of the many Nashville stages on which we know we are not respected."
In response to the Black Opry's letter, black singer-songwriter Alison Russell tweeted, "So grateful for you and your advocacy,Holly.I feel heartbroken. I was so proud to debut @opry last May & overjoyed that @amythystkiah & @TheValerieJune also debuted in 2021 – it felt like a long overdue shift toward greater inclusivity-beyond tokenism…this is such a backslide."
Yola joined in the protest as she retweeted The Black Opry's letter to the Grand Ole Opry. She added, "Please take time to read this letter penned by @BlackOpry founder @_love_holly_ that pulls no punches about the Opry and this MW dumpster fire! I for one will be watching this space with intent!"
Meanwhile, Cassadee Pope showed her support for The Black Opry by saying, "Donating all my @BookCameo proceeds this week to @BlackOpry, an amazing place that supports the way to [sic] often overlooked talent."
Wallen had refrained from taking the stage after a video surfaced in February 2021 of him using a racial slur with his friends on a drunken night out. He has apologized several times, but he's still banned from many music awards shows. Despite the controversy, his music remained popular, with his album sales in fact surging after the incident. He has announced plans to kick off a massive tour starting on February 3.
Source: Read Full Article