Review: Monsta X and NCT 127 Make B96 Pepsi Jingle Bash Their Own Concert
On Dec. 7, fans flocked to Allstate Arena for B96 Pepsi Jingle Bash. The impressive Jingle Bash lineup featured Monsta X, AJ Mitchell, NCT 127, Lil Tecca, Normani, Marshmello, Camila Cabello, and Katy Perry.
With two different K-pop groups performing, the first hour of the concert appeared more like a Monsta X and NCT 127 concert as they took over the show. The fans of the two groups were undoubtedly the loudest and brought the fandoms' trademark light sticks to cheer on Monsta X and NCT 127 at Jingle Bash.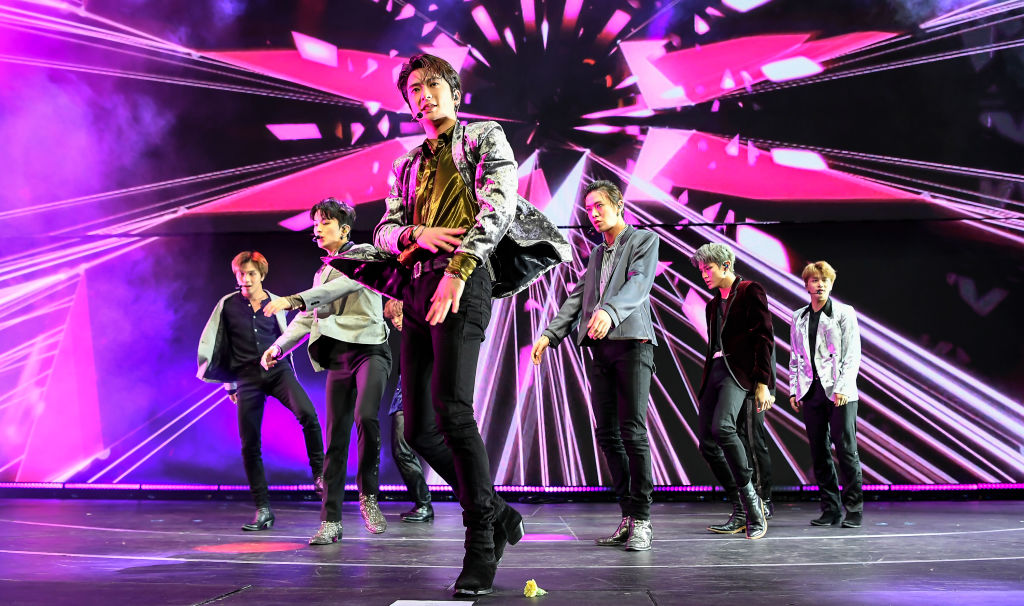 Monsta X performed with only 5 members at Jingle Bash
Monsta X proved to be the perfect opener for Jingle Bash. Even before the show began, fans cheered every time a photo of Monsta X appeared on the screens around the arena. The cheers only grew louder with the countdown clock, and Allstate Arena erupted when the members filed onstage.
The group's Jingle Bash performance came just a few weeks after Wonho departed the group at the end of October. The singer-songwriter's presence was still notable at Allstate Arena as a photo of him was shown in the B96 opening crawl onscreen and Monbebes held up banners commemorating the singer along with their white light sticks.
Jooheon was also not present at Jingle Bash due to illness, so Monsta X performed with only five members. The group opened Jingle Bash with a rendition of their collaboration with French Montana, "Who Do U Love?"
To the delight of fans, Monsta X performed "Someone's Someone" for the first time. The group also performed "Play It Cool" and "Rodeo." During Monsta X's set, NCT 127 fans supported the group and waved their green light sticks. As Monsta X exited the stage, a member yelled out that he loved Monbebes, instilling the point that for just a few minutes, it was a Monsta X concert.
NCT 127 was the third act to perform at Jingle Bash
Before NCT 127 performed, the hosts of Jingle Bash teased that K-pop fans were typically the loudest. This was proved correct when NCT 127 walked onstage and screams erupted. Green light sticks appeared throughout the arena, once again transforming Jingle Bash into a K-pop concert.
NCT 127 opened their set with their 2017 song "Cherry Bomb." The explosive song seemed to have the entire arena on their feet as NCT 127 moved through the vigorous choreography.
NCT 127 also performed their 2018 song "Regular," and then "Highway to Heaven" and "Superhuman" from their newest EP, We Are Superhuman. Because NCT 127 and Monsta X performed sets so close to each other, it's a shame NCT 127 was not saved until closer to the end. After NCT 127 finished their set, the energy in Allstate Arena never quite recovered.
AJ Mitchell, Lil Tecca, Normani, and Marshmello followed the K-pop acts at Jingle Bash
In between Monsta X and NCT 127's performances, AJ Mitchell performed a 15-minute set of "All My Friends," "Unstoppable," "Used to Be," and "Slow Dance." The singer's belts elicited cheers from the audience, and at times Mitchell crooned directly to the cameras so fans could have a better look of his face on the large screens above the stage.
Lil Tecca followed NCT 127 with a 15-minute set. While only 17 years old, the up-and-coming rapper bounced around onstage with confidence. Normani followed Lil Tecca with "Motivation," "Checklist," "Waves," "Love Lies," and "Dancing With a Stranger." She had a captivating stage presence, and her set most likely made fans even more excited and impatient for her upcoming debut album.
The final three acts of the night were Marshmellow, Camila Cabello, and Katy Perry. Out of all the other performers, these three artists performed the longest. Marshmellow managed to get some of the crowd back on their feet with his electric 30-minute set.
The producer and DJ played his well-known hits and collaborations including "Wolves," "Friends," and "Happier." For a few minutes, the crowd was united when Marshmellow played a remix of Journey's "Don't Stop Believin'."
Camila Cabello and Katy Perry closed the show
Following Marshmellow, Cabello performed a 30-minute set of old hits and recent material from her new album Romance, which dropped on Dec. 6. Cabello brought up the album's release and then coyly asked the audience if anyone in attendance had ever fallen in love.
Cabello opened her set with her 2017 song "Never Be the Same." The singer then performed "Shameless," "Liar," and the Grammy-nominated "Señorita" from Romance. She ended her set with her 2017 hit "Havana," and at the end of the song she changed the lyrics to "He took me back to Chicago."
Perry closed the show with a pink-colored and Christmas-themed set. She told fans that she was extra when it came to Christmas, and if stores were allowed to play Christmas music in October then she could include it in her set.
Perry's set included a pink Christmas tree that sang, and for 40 minutes she performed a mix of her discography and Christmas songs. Perry brought fans back to her past with her 2008 single "I Kissed a Girl" and 2010's "Teenage Dream." She also performed "Dark Horse," "Roar," and "Firework." In addition to her older hits, Perry performed recent songs including "Harley's In Hawaii."
Source: Read Full Article