The Real Meaning Behind Lady Gaga's 'Marry The Night'
Lady Gaga's "Marry the Night" came out 10 years ago, but Kylie Minogue brought it back to life on June 11 when she released a cover of the track. Per Rolling Stone, the Australian singer's disco-infused remix is included on Gaga's upcoming re-release album, "Born This Way Reimagined — The Tenth Anniversary," which will also feature "reimagined" versions of "Highway Unicorn," "You and I," "Judas," and "The Edge of Glory" all performed by artists who "represent and advocate for the LGBTQIA+ community," according to the pop star's announcement. The album drops on June 25.
After its initial release in 2011, "Marry the Night" wasn't as successful as the rest of Gaga's songs on "Born This Way," per Billboard. But it was arguably one of her deepest tracks as it's about her love for her New York City (per Genius). "Every song on all my albums has some relationship to New York City, but one in particular, 'Marry the Night,' that record is about my husband, New York," Gaga said to MTV News in 2011 (via OK!). It turns out, the track means much more than that. 
Scroll ahead to find out the real meaning behind Gaga's "Marry the Night," as well as how she came to terms with her "darkness."
Lady Gaga cried when she first heard 'Marry the Night'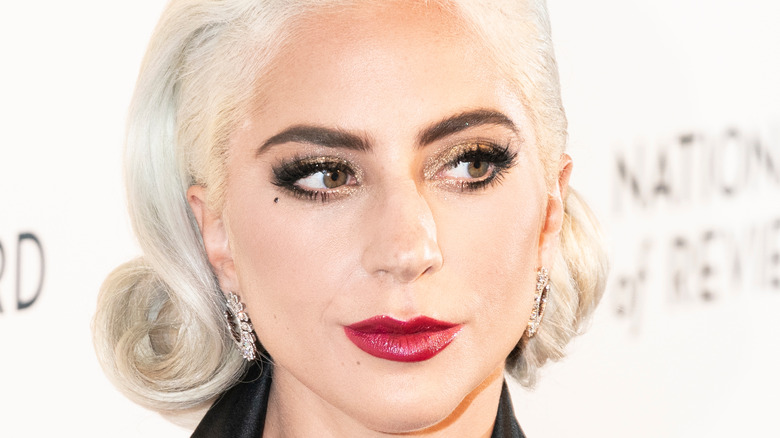 Lady Gaga told Ellen DeGeneres that "Marry the Night" is about "marrying the darkness, marrying what is difficult about your life." She explained that the song's music video, which she directed, represents "bear[ing] your struggles very close to your heart, and have them be a part of you that you're proud of as opposed to being something that you are ashamed of." The singer elaborated in a separate interview and admitted the track is about her going back to New York. "I wrote this about the courage it took for me to say 'I hate Hollywood, I just wanna live in Brooklyn and make music,'" she told NME's Peter Robinson.
"Marry the Night" was so meaningful to her that she told MTV that she "started to cry" when she first heard it. According to E! News, Gaga also wrote the song around the time she was dropped from her first record label, Island Def Jam. While promoting her album, she told the outlet, "If you give up after something like that, you were never destined to be an entertainer." Gaga added, "To marry your obstacles means I, the artist, wholeheartedly accept everything you throw at me. I am destined to struggle, I am destined to write music about the struggle and I accept it willingly."
Thankfully, Gaga didn't give up on her music career and is now both a Grammy and an Oscar winner.
Source: Read Full Article