Why Record Labels Didn't Want To Sign Gabby Barrett After American Idol
Gabby Barrett is fast joining the ranks of Carrie Underwood and Kelly Clarkson as one of the biggest names to ever come out of "American Idol" after competing on Season 16 the ABC competition show in 2018.
Shortly after, she went on to release her biggest hit to date, "I Hope," which has totally taken on a life of its own. The track has seen huge crossover success and has been certified five times platinum in the U.S. (via RIAA), with Barrett even teaming up with Charlie Puth for a remix. It also hit the top spot on the Billboard Country Airplay chart and Billboard's Hot Country Songs chart, where it became the first debut single from a female artist to reach such a feat since Underwood reigned supreme with "Jesus, Take The Wheel" in 2006 (per Billboard Country Update).
"If you had told me two years ago that the fourth song I'd ever write in Nashville would go this far, I would have said it was impossible. Yet here we are today," Barrett told Billboard in December 2020. "I think the song, minus me, will stand the test of time. I'm very blessed to be able to say I got to be part of it."
With all the success she has now, it's hard to believe Barrett almost didn't land herself a record deal after finishing in third place on "Idol" — but it turns out that's exactly how things could've turned out.
Gabby Barrett found it 'really hard' to get signed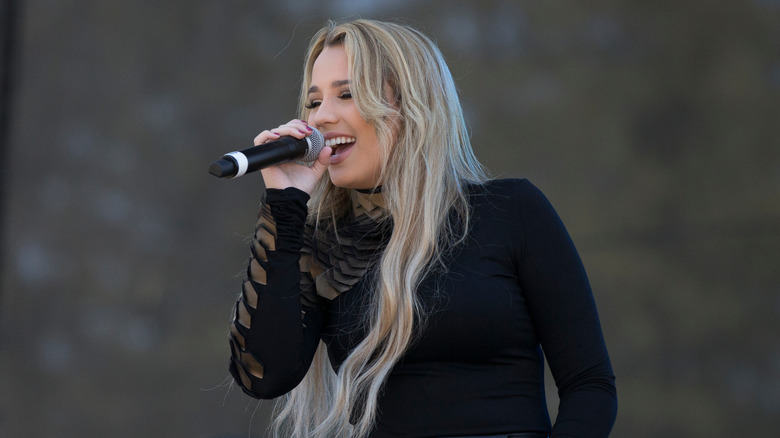 Yep, Gabby Barrett almost never even got to release her debut album, "Goldmine," in June 2020, which shot into the top five on Billboard's Top Country Albums chart. The star recalled her struggle to Billboard in February 2020 when she admitted, "It was actually really hard to get a record deal after 'American Idol,'" noting, "I thought it might be easier, [being] on a platform that clearly people in the music industry are looking at, [but] nobody was wanting to sign."
"I understand why," she later told The Boot. "Idol is a platform that you come off of singing cover songs … Labels and people didn't know if I could write original music or anything."
Barrett released "I Hope" independently, and everything changed after the higher ups saw all the crazy success the song was getting. The star got a few calls from other labels, but knew she wanted to work with Warner Music Nashville."They instantly sent me out to meet with radio [stations] and get the song on the radio. They acted fast while the song was rolling."
Barrett shared a similar sentiment in a December 2020 interview with Billboard when she admitted she "was thankful" her "Idol "supporters stayed with her. "The numbers started to go crazy on all of the streaming platforms, and then label people started to pay attention."
We're guessing all those record labels who passed on Barrett before have to be kicking themselves now!
Source: Read Full Article