'1000-lb Sisters': Tammy Slaton Teases Season 4 Amid Weight Loss Update
1000-lb Sisters' Tammy Slaton is highly active on TikTok. She recently hinted at the TLC series coming back for a fourth season. Find out what Slaton has to say about 1000-lb Sisters Season 4. Plus, an update on her weight loss journey since the end of 1000-lb Sisters Season 3. 
Tammy Slaton teases '1000-lb Sisters' Season 4 on TikTok
At the end of 1000-lb Sisters Season 3, Slaton agreed to try therapy again after a conversation with Dr. Smith. Shortly after, she re-entered rehab for food addiction. In the finale episode, Slaton's brother Chris Combs revealed that Slaton lost 115 pounds in her first 30 days at the rehab facility. 
Now, fans are even more curious about Slaton's weight loss journey. In her TikTok post from Feb. 28, Slaton replied to a fan comment asking for an update regarding her weight loss.
"I'd love to give you a weight loss update, but you're going to have to wait until season 4 comes out," said Slaton. "Sorry. Just know that I'm staying on track and everything is looking up."
Showbiz Cheat Sheet reached out to TLC for comment but did not hear back by publication. The network has not officially confirmed a fourth season of the series at this time.
'1000-lb Sisters' star Tammy Slaton still has a tracheotomy tube 
Before Slaton re-entered rehab, she had a brief hospital stay to address carbon dioxide poisoning. "I ended up in the hospital because of carbon dioxide poisoning … which led into pneumonia and I was septic," Tammy says in a since-deleted post. "After I got off life support, they put a trach in, so I'm trying to get used to that." 
In the post, Slaton also explains how her hospital stay led to her contracting pneumonia, becoming septic, and requiring life support. Slaton is out of the hospital, but based on her most recent post, she still appears to be living in a rehab facility. 
Amy Slaton doesn't 'really want to do another season' of '1000-lb Sisters' 
In February 2022, Slaton's sister Amy spoke to The U.S. Sun about season 4 of 1000-lb Sisters. "Now that I have Gage it's like he doesn't want me out of his sight," she told the outlet, describing how easy filming was before having her first child. Amy and her husband, Michael Halterman, are expecting another boy in July 2022. 
"I don't really want to do another season because I'm pregnant," she continued. "It's just a lot." As she described, Gage goes with his "Granny" when they're filming. "I feel like I'm losing valuable time," Slaton-Halterman added.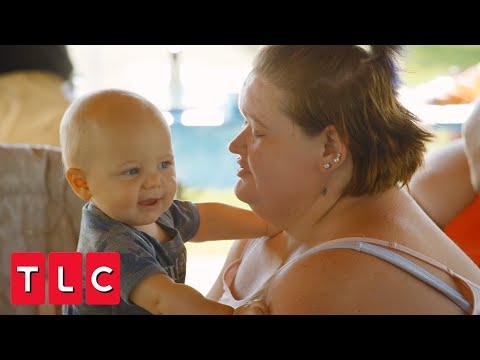 If Slaton-Halterman and the network agree on an adjusted film schedule, she will likely remain part of the show. 1000-lb Sisters is a source of income for Slaton-Halterman, but it's not the only way she makes money. 
"If they cut down my hours, I'll be probably fine," she told the outlet. Plus, she wants the show to focus more on her sibling's journeys now. "If they cut me down and make it more about Tammy and Chris [Combs], I'll be fine," she concluded. 
Stay tuned to Showbiz for updates regarding Slaton-Halterman's involvement with future episodes of 1000-lb Sisters and the latest details about season 4. 
Source: Read Full Article