'90 Day Fiancé' Fans Wonder if Evelin and Corey Are Already Married
90 Day Fiancé fans are a little confused by The Other Way couple Evelin and Corey. Already, some of the more skeptical fans are split into two camps — either Evelin and Corey simply aren't meant to last, or they're already married. To the former point, many fans have pointed out how Evelin doesn't seem as committed or ready for commitment as Corey does. They point to the recent airport arrival debacle as proof of the matter. However, the latter camp believes there's a conspiracy at play here, and that the couple may actually already be married — and either TLC is pulling the wool over our eyes, or Corey and Evelin are fooling TLC.
Are they meant to last?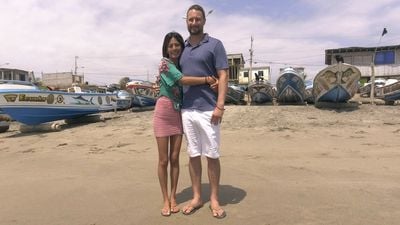 For those who believe the 90 Day Fiancé couple is being sincere about their relationship as it is now, there have been major red flags indicating a troubled future. Evelin has made comments that she "hopes" her relationship with Corey will work out — not a ringing endorsement of their relationship. 
Corey has expressed concerns over Evelin's approach to the matter. "It's very scaring, especially if she's seeming on the fence about things. It's really not cool. I think a lot of people would break up with Evelin if put in my situation, but I love her," said Corey during a recent episode."
Evelin made it clear that she expects Corey to behave more independently and to adapt to his time in Ecuador, or else they're not going to last. "I am expecting him to learn how to speak Spanish, and he also needs to connect with my family better. If Corey doesn't prove himself in the next 90 days, then it's not going to work out," said Evelin. 
The icing on the cake is that, when Corey flew into Ecuador, Evelin refused to meet him at the airport. Instead, she had Corey take a bus alone to her village, telling him, "You're a big man, and you can come all the way here."
Is that a wedding ring?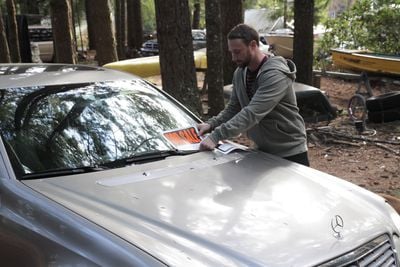 For those who aren't so sure about the 90 Day Fiancé couple's sincerity, this is where things get a little fishy. Viewers have noticed a ring on Corey's ring finger, and have been wondering what that's all about. For someone who supposedly isn't married, it's a very specific place to put a ring. 
One theory fans have is that Corey and Evelin are already married. These fans believe that TLC is either recreating Corey and Evelin's original story from years ago and selling it as current, or that they're just selling a manufactured storyline to fans. 
A clue that some fans have pointed to exists in Corey and Evelin's living situation during their premiere episode. Corey and Evelin were living in a cabin on Corey's family's property at a Mormon compound. Fans thought this was strange — Mormons aren't too crazy about lovers living together out of wedlock. One Reddit user wrote, "I said from the start that there was NO way a devout Mormon family would let their son live with his GF in his cabin for 2 months."
Fans also pointed out the ring as a possible indicator, but others fans have theories that the ring is tied to Corey's Mormon faith. One fan on Reddit suggested it's a purity ring, while another said it could be a sort of reminder ring for mormons called a CTR ring. They explained a CTR, writing, "It's a ring that has a small shield shape that has CTR in it. It is kinda like the motto WWJD …what would Jesus do. Mormons are baptized when they are 7 or 8, and I think it was given as a reminder to follow the teachings of the LDS church."
What about that bar?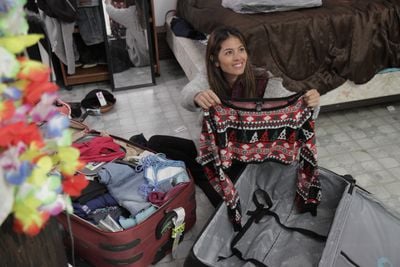 Meanwhile, 90 Day Fiancé conspiracy theorists have also pointed out the bar the couple owns as a possible clue. Soap Dirt posted a screenshot of an Instagram post featuring the couple at their Ecuadorian bar in 2015. That was four years ago. 
Now fans are wondering if perhaps the couple has been together for four years, possibly longer, and if there's more going on behind the scenes. Since Corey supposedly helped Evelin open the bar, that suggests many years of financial and personal commitment. Meanwhile, the bar is presented to viewers of the show as if it's a new asset or business venture for the couple, as opposed to something they've owned for years.
Source: Read Full Article