Abigail Just Low-Key Spoiled What Happened with Grocery Joe and Serena on 'Bachelor in Paradise'
Wondering what happens between Bachelor in Paradise's cutest couple Grocery Store Joe and Serena Pitt? Look no further than Serena's latest Insta post, because Abigail Heringer kinda-sorta-maybe accidentally spoiled their ending in the comments.
Everyone's fave Bachelor Nation fan account @bachelornation.scoop was the first to notice this accidental spoiler moment, pointing out that Abigail literally wrote "I'm stealing you away from @joeamabile1" on this photo of Serena poolside: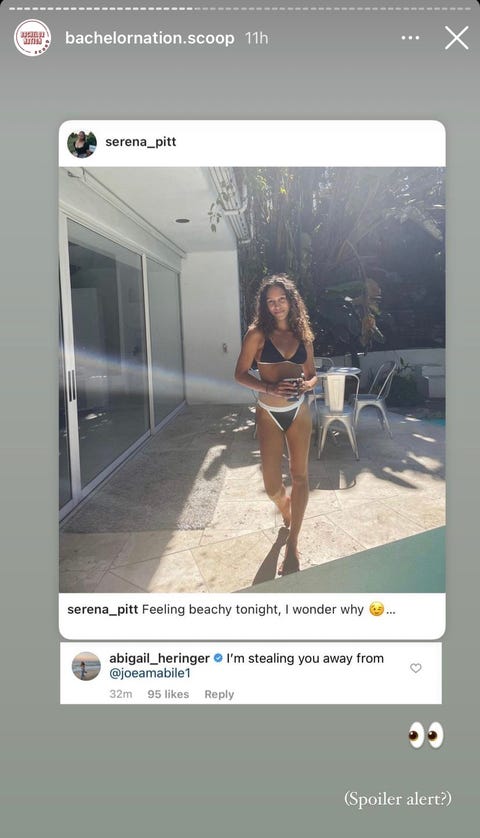 And obviously her comment is getting a ton of attention from fans pointing out that it's a potential spoiler that implies Serena and Joe are very much still together. But, like, is it actually? Thanks to Reality Steve we know exactly what happens between Serena and Grocery Joe, so keep reading if you're interested. But first, lemme just….
SPOILERS AHEAD!
So, according to Reality Steve, who is usually correct about these things, three couples got engaged at the end of Bachelor in Paradise—including Grocery Store Joe and Serena Pitt, who he's "pretty sure" are still together. So happy, love them, ship this, etc.
The other couples who got engaged? That'd be Kenny and Mari (ABC basically spoiled this themselves thanks to a preview), and Riley and Maurissa. Not sure if these two pairs are still together or not, but we should be finding out soon. And if you're wondering what happened with Abigail's relationship, she and Noah apparently split before overnights and left single. This has officially been an update! As you were!
Source: Read Full Article