'Better Call Saul' Season 6 Trailer Hopefully Coming 'Soon,' Says Producer
The sixth season of Better Call Saul is one of the most-anticipated releases of 2022. Finally, after plenty of speculation, viewers will get to see what pushes the "criminal" attorney to fully become Saul Goodman and what happens to him after the events in Breaking Bad. Show producer and writer Thomas Schnauz teased that it's a great season and said the trailer for Better Call Saul Season 6 will hopefully be here "soon."
'Better Call Saul' left off on a cliffhanger
In the latest season of Better Call Saul, not only did Jimmy McGill become more like Saul (Bob Odenkirk), Kim Wexler (Rhea Seehorn) also started to display her own concerning behavior. That was especially clear at the end of Better Call Saul Season 5 when she came up with a new blackmail scheme. The plot would win them a share of the Sandpiper Crossing settlement, but it would also ruin Howard Hamlin (Patrick Fabian).
Jimmy tried to sway her out of it, telling her how out of character it seems. But Kim had her mind made up.
The episode also chronicled the assassination attempt on Lalo Salamanca (Tony Dalton). In a big twist, he survived the attack and appears to know that Nacho Varga (Michael Mando) helped set him up.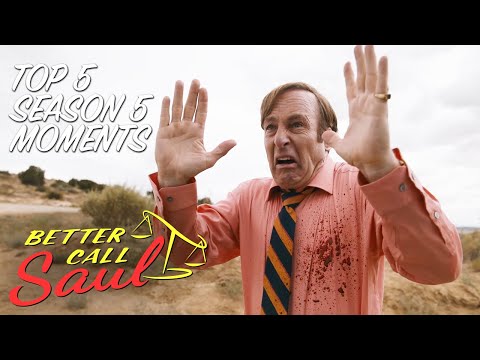 'Better Call Saul' to return to AMC in 2022
After facing delays due to the coronavirus (COVID-19) pandemic and Odenkirk's recovery following a heart attack last summer, Better Call Saul will finally return with new episodes in April. The show will begin releasing the first half of the season on April 18, followed by the second part on July 11.
While the trailer has yet to be released, Schnauz confirmed on Twitter that it is complete. "I watched a trailer for the new season of #BetterCallSaul last week and was very happy," he wrote. "Not sure when it goes public, but hopefully soon."
Schnauz has also offered up teaser information about what to expect in the next season. He specifically told Den of Geek that there would be "physical and emotional violence in season 6." While he did not say whether it would be more violence than in previous seasons, he noted it was likely considering that this is the final one.
"We're coming to the end, so whatever happens will probably hit harder," he continued.
Another spinoff series is coming
Although we're sad to say goodbye to Odenkirk, there's more to come in the story of Saul Goodman. As Slash Film notes, there's an animated series called Slippin' Jimmy on the way. It reportedly features Chi McBride, Laraine Newman, and Sean Giambrone, and will focus on Saul's earlier days with his brother, Chuck. Slippin' Jimmy will reportedly air in the spring of 2022.
Source: Read Full Article