'Counting On' Fans Are Obsessing Over Jinger Duggar's Recent Family Photo
Jinger Duggar, one of the Duggar family members who stars on the TLC show Counting On, loves to keep her Instagram followers in the loop about what's going on in her life. Duggar and her husband, Jeremy Vuolo, recently moved to Los Angeles so Vuolo could take graduate classes. With their daughter Felicity in tow, the little family has been exploring everything L.A. has to offer. Plus, they've also documented their journey on social media — and fans can't get enough of their recent family photo.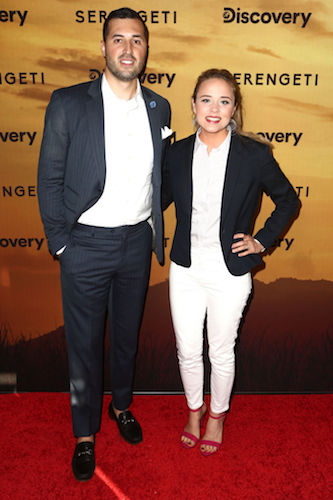 Duggar and Vuolo have broken boundaries within Duggar's family
When Duggar was growing up, she had to follow a very strict set of rules. She wasn't allowed to wear pants; she could only wear denim skirts to hide her curves from men. Duggar also wasn't allowed to partake in many activities that didn't have to do with religion. She never attended sporting events or listened to non-religious music. But once she married Vuolo, Duggar went to live with him in Texas and expanded her horizons. She started wearing pants and attending sporting events. She saw films that didn't have religious undertones and even dyed her hair. Vuolo and Duggar created a life for themselves that she was not exposed to when she was younger.
https://www.instagram.com/p/B12p9PBhh_z/
The couple has been living their best lives since moving to L.A.
In late June, Duggar and Vuolo set out on a road trip that would land them in their new home: L.A. Vuolo had been given an opportunity to attend graduate classes out in California, so the couple took Felicity and moved across the country. Ever since they arrived, they've been exploring their new neighborhood and living their best lives. The two have made plenty of new friends and experienced new cities, restaurants, and events. Plus, the two have attended plenty of soccer games (Vuolo is a former professional soccer player).
Duggar recently shared an adorable family photo
Fans have watched the family's every move through Duggar and Vuolo's social media profiles. They have taken photos at many of their outings as a family for viewers to see. And Duggar's recent family photo of the three (at American Idol alumni Gabby Barrett and Cade Foehner's wedding back in Texas over the weekend) has been adored by fans. Duggar is wearing a black dress with patterned wedges, while Vuolo sports a dapper suit and Felicity dons an adorable pink dress and blue headband. The comments sectioned was adorned with compliments, with everything from "I love you guys so much" to "Beautiful family" to "I love [Jinger's] blonde hair."  
https://www.instagram.com/p/B3Q1OO1hwT6/
It's unclear when the two will expand their family
Duggar and Vuolo are happy to post photos of their daughter,and it's clear they have plenty of love for her. But most Duggars tend toreproduce very quickly; they often announce pregnancies shortly after they aremarried and tend to have multiple kids in just a few years. But Duggar andVuolo have onlyhad one daughter in their nearly three years of marriage, and it's unclearwhen or if they will expand their family. They are likely still settling downin their new home and might not make an announcement for a while, but time willtell if or when they decide to have more kids.
Source: Read Full Article