'Counting On' Fans Theorize That Michelle and Jim Bob Duggar's Marriage Isn't As Happy As It Seems
Michelle and Jim Bob Duggar are the head honchos of the Duggar family, which is one of America's largest families. Most people know them from their TLC shows Counting On and 19 Kids and Counting. Despite Michelle and Jim Bob appearing to be in a happy marriage, fans can't help but wonder if Michelle actually has a voice — and if she's truly happy.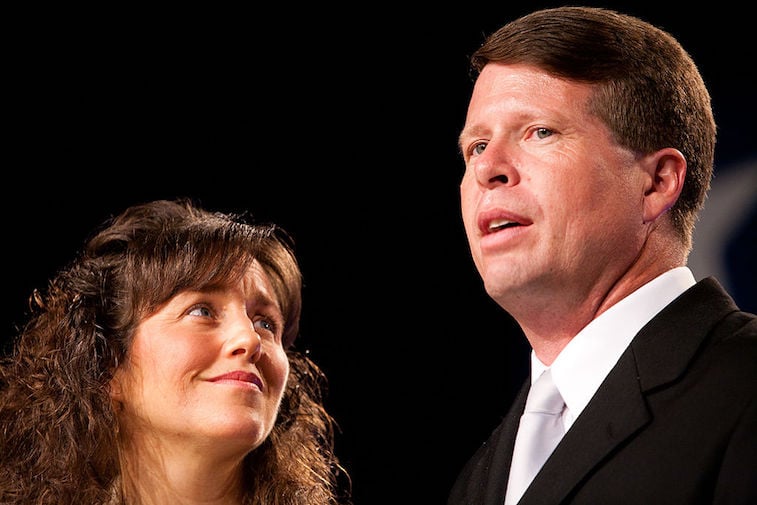 Michelle has given advice that relates to being a submissive wife
Some people have questioned the things Michelle has said about being a wife. In the past, she's given advice on how to keep a marriage strong, and much of it ties into being there to please your husband whenever he needs it. She once recalled a time when she received advice about marriage, which she continues to pass down to her own daughters today. "… Anybody can make lunch for him… But you are the only one who can meet that special need that he has in his life for intimacy… Don't forget about him." Michelle Duggar was essentially explaining that no wife should ever turn down their husband's need for sex.
'Counting On' fans think Jim Bob manipulated Michelle after her miscarriage
Reddit tends to be a place where Counting On fans go to discuss certain episodes of the show or how they feel about certain characters. It also happens to be where fans gathered to discuss whether Jim Bob and Michelle were actually in a happy marriage. The original poster wrote that they believe Michelle is more of a victim of abuse than it seems, and the comment received an upvote of 97% (meaning 97% of people who voted agreed with the statement). The original poster also suggested that Jim Bob manipulated Michelle into believing in his religion even more after she had a miscarriage while on birth control soon after the couple got married. The two have said that's why they allowed themselves to have 19 children — they thought God was punishing them for using the pill.
Despite the theories, Michelle and Jim Bob seem to get along very well on the show
https://www.instagram.com/p/Bt3tJHnnRjV/
Although fans may have their reasons for thinking the couple isn't that happy (or that Michelle is taken advantage of), the two seem to get along very well on the show. And Michelle has posted loving messages to her husband on social media and vice versa, suggesting that the two actually have a very close relationship. However, what Michelle and Jim Bob define as a happy marriage might not be how the rest of the country would describe it.
The Duggar women are not encouraged to do much with their lives other than have children and take care of the family. The women do not go to college or hold full-time jobs. Rather, they homeschool the kids, cook for the family, and, apparently, never turn down intimacy from their husbands. While this might be exactly what the Duggars want, to most other women, this is not the idea of a happy marriage. The Duggars do receive some negative comments on social media about the way their family operates, but at the end of the day, it's up to them how they raise their kids.
Source: Read Full Article