Hargitay & Meloni Talking Their SVU Relationship Is So Pure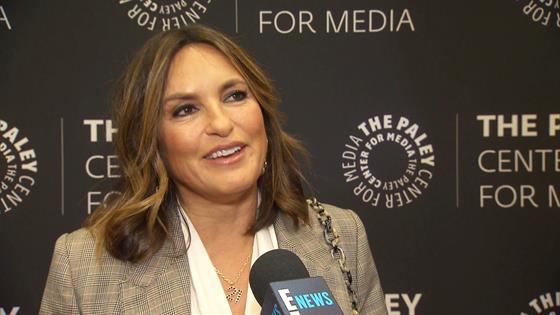 Law & Order: SVU is a television institution. The mainstay police drama made TV history when it became the longest-running primetime scripted drama in the 2019-2020 TV season with its twenty-first season. NBC and The Paley Center honored that milestone with a special featuring Mariska Hargitay, the only original cast member left on the series who also happens to hold the record for the longest-running female character in a live-action series, Christopher Meloni, Ice-T, Kelli Giddish, Stephanie March, and more past and present SVU faces.
The Paley Center Salutes Law & Order: SVU featured archival footage and new interviews examining the drama's impact on both the audience and its cast and crew. While Hargitay and Meloni were not interviewed together, the two did touch on the iconic partnering of their characters Olivia Benson and Elliot Stabler.
"It's always been a huge part of our relationship and I think part of the success of the show," Meloni said about the partnership between Benson and Stabler.
Benson and Stabler were the driving force of the show for the first 12 years before Meloni's exit between seasons 12 and 13. He has not returned to the show since, the character retired following a shooting in the precinct in the season 12 finale.
"She and I hit it off right from the get-go," Meloni said about working with Hargitay.
Hargitay described their relationship as "instantaneous ease, chemistry, trust, comfort."
The two met for a chemistry read during auditions and said they just had a feeling. Since Meloni's exit from the series, they've remained close off camera.
During the special, Hargitay opened up about all the cast exits she's faced. "The friendships I made on the show, people who are like family to me, it's been the greatest gift," Hargitay said.
In addition to Meloni, former cast members on the series include, but are not limited to, Richard Belzer, BD Wong, Tamara Tunie, Dann Florek, Raúl Esparza and Danny Pino. Harigtay didn't address Meloni's exit specifically, but her comments were shown with a clip of Benson learning about Stabler's departure.
"It was really hard. It's been really difficult over the years to see people leave and painful and scary. I didn't want them to go," she said. "It's life. One door closes and another one opens. People come into our lives and then they leave their lives. You feel all of that and it's a lot to feel and you keep on going. You keep on going."
"It's incredibly emotional to look back on myself 21 years ago with hope and vulnerability and commitment and not knowing what the future brings," Hargitay said on the TV special. "It's just so beautiful to see how it all turned out. I'm still trying to take that in. This is a pretty good gig."
Law & Order: SVU airs Thursdays, 10 p.m. on NBC.
(E! and NBC are both part of the NBCUniversal family.)
Source: Read Full Article