Heres How Much Megan Fox Is Really Worth
Megan Fox is an actor who has a fortune that sits at $8 million (arguably modest for her industry yet still impressive), according to Celebrity Net Worth. Granted, this is one star who is more than just a notable on-screen figure. She also lives a buzz-worthy life when it comes to both her professional endeavors and personal experiences. However, she hasn't always been famous or wealthy.
Fox had a relatively normal upbringing. Born and raised in Tennessee, according to IMDb, her parents supported the family by working in real estate and law enforcement, respectively, before splitting up when Fox was still young. However, even as a child who didn't hail from an acting family, Fox was drawn to performing. She started drama classes and dance training before stepping into the world of modeling and, eventually, finding fame as an actor — or, to be more specific, a successful actor who has both brought in and paid out a fair share of funds over the years.
Indeed, thanks to lucrative opportunities, expensive taste, a luxurious lifestyle, and (eek!) potentially pricey legal situations, Fox is the kind of celebrity whose bank account has surely seen some serious ups and downs over the years. Keep reading to find out how this star has made her money, and learn about the parts of her life that turned out to be seriously costly in multiple ways.
Megan Fox first found fame and fortune through acting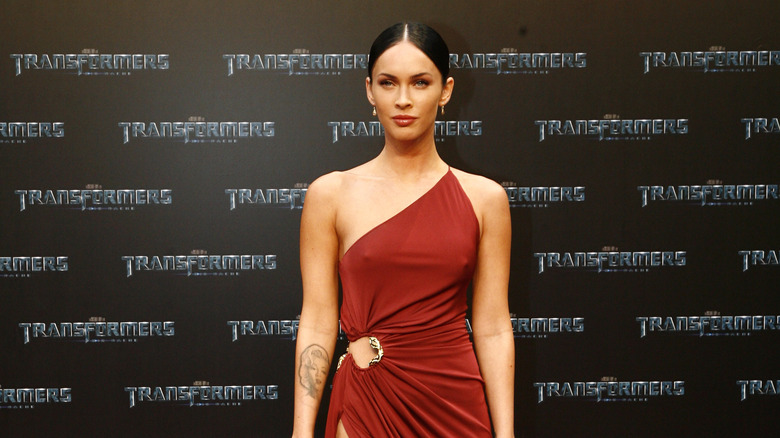 If you're a fan of Megan Fox, there's a good chance you're familiar with her work in both movies and television. She landed her first professional gig back in 2001 when she appeared in "Holiday in the Sun" alongside the Olsen twins (per IMDb). From there, Fox nabbed an uncredited role in 2003's "Bad Boys II" and popped up in an episode of "What I Like About You" that same year. After a few other less-than-memorable parts on shows like "Two and a Half Men" and films like "Confessions of a Teenage Drama Queen," she scored the role of Sydney Shanowski on "Hope & Faith," a role she played for two years.
Fox then scored the co-starring role in the "Transformers" franchise. Not only did it put her in the spotlight, but we have to assume it paid more than her previous gigs. In fact, The Cinemaholic claims that her salary for 2009's "Transformers: Revenge of the Fallen," the second installment in the series, was $800,000. However, Fox was noticeably absent from the third film in the franchise after she allegedly "demanded a bigger paycheck" and was turned down.
However, even without the "Transformers" franchise, the actor is seemingly doing okay. Case in point: She likely brought in plump paychecks for playing April O'Neil in the "Teenage Mutant Ninja Turtles" movies and Reagan on "New Girl."
Megan Fox saw the value in a video game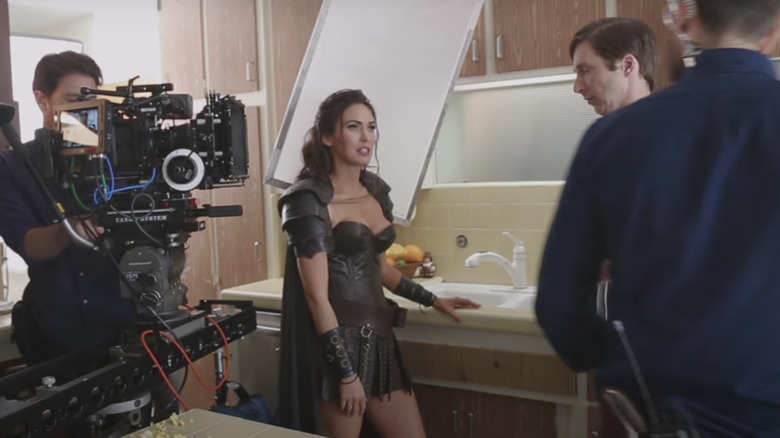 Did you know that Megan Fox was "a big gamer at one point in [her] life"? It's true, according to a statement she made back in 2016 while filming scenes for the videogame "Stormfall: Rise of Balur." Adding that she hadn't "played a lot of strategy-oriented games," she also explained, "I've always thought of … the explore and conquer genre as more of like a serious gamer type genre. But I feel like that's opening up a lot more now and it's becoming a more broad and accessible part of Hollywood and gaming."
According to People, Fox had taken on the role of Amelia Delthanis, Captain of the High Council Guard in "Stormfall: Rise of Balur." Of the opportunity, she said in a behind-the-scenes video, "Not only do I get a chance to lead players through the beginning of the game, but it's fun to play a very empowered, strong female character."
As for what Fox was paid for the gig, Performer Life noted that voice actors who have experience working in video games can earn between $200 to $350 per hour — or, if paid by the word count, around $50 to $200 for every 100 words. And that's not to mention potential bonuses. Granted, big names like Keanu Reeves ("Cyberpunk 2077"), Kristen Bell ("Assassin's Creed"), and, of course, Fox could surely demand more.
Megan Fox earned additional exposure (and money) from endorsements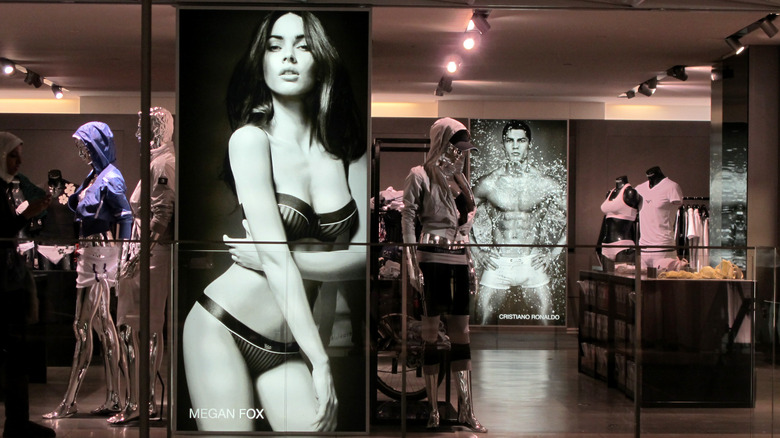 As Megan Fox's star continued to rise, she became the kind of celebrity who could easily capture the public's attention and, perhaps, even influence anyone who took notice. That's surely what various brands were banking on when they signed her to some (very likely) lucrative endorsement deals.
In 2009, Fox, who was just 23 years old at the time, inked a contract to team up with none other than Armani to promote both Emporio Armani Underwear and Armani Jeans during their 2010 campaigns. According to the Daily News, the company offered the star "a seven-figure payday." The head of global branded entertainment for International Creative Management Carol Goll explained why brands are willing to pay so much — usually around $500,000 to $2 million, if not more, nowadays — saying, "There's a lot of interest in celebrity spokespeople. We haven't seen a decline in that."
Fox followed up this opportunity with a commercial for Brahma Beer. If you don't remember it, that might be because the ad aired in Brazil. While E! News called it "sexy," the outlet also pointed out that it was a rather "weird" ad. Indeed, it features Fox in the middle of a celebration as she peels off her outer layer to reveal that she's some random dude. Another guy then does the same thing to reveal that he's Fox. Clearly, this star isn't afraid to get a little strange if it means getting paid.
She lined up major retailers for her lingerie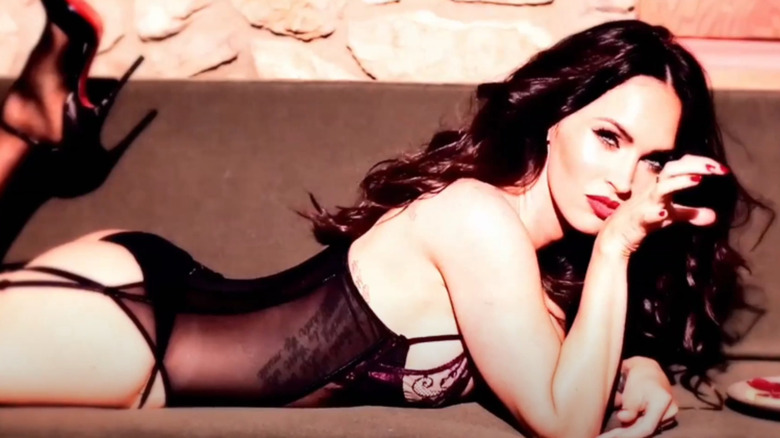 Megan Fox's endorsement deal with Emporio Armani Underwear may have inspired the star to take a leap into the market with her own line of lingerie. Granted, Fox didn't just have some input into a few bras and a handful of thongs. Instead, she took things further by teaming up with — and buying into — one of the most iconic brands in the business of money-making unmentionables.
WWD explains that in 2016, Fox "joined [famed lingerie company] Frederick's of Hollywood as a co-owner, collaborator, and global brand ambassador." Taking cues from the actor's "free spirit and bohemian style," they created a line that offered not only bras and thongs, as well as a selection of bikini bottoms, bralettes, teddys, boyshorts, and rompers.
Fox's line was sold at Topshop and, later, in 2018, at Forever 21, according to WWD. "We met with them and showed them some samples and sketches of what the collections are going to look like and I felt like it was a good partnership because of Forever 21's demographic," Fox said of the line of items priced from $16 to $70. Or, as InStyle noted, "the price of two Starbucks venti caramel Frappuccinos" — which surely spoke directly to the target spenders.
Megan Fox donates her money to worthy causes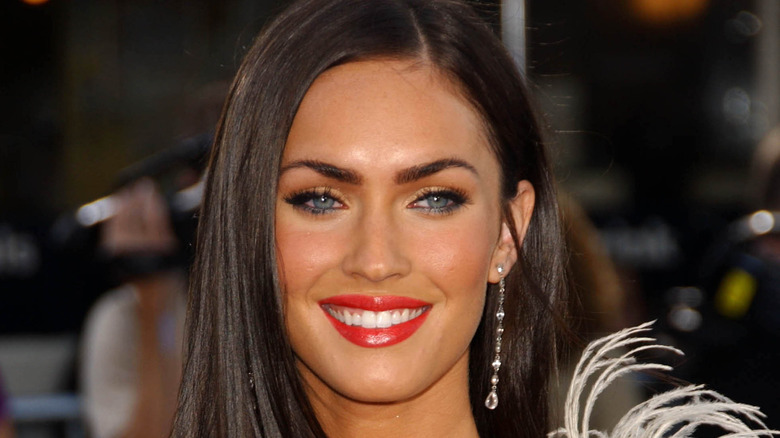 Like many other stars who have been fortunate when it comes to their finances, Megan Fox does what she can to give back. That means dedicating her available time and attention to organizations like Racing for Kids and Urban Arts Partnership, according to Look to the Stars. It also includes donating some serious cash from time to time.
For instance, in 2015, Fox and her partner at the time, Brian Austin Green, put up their own money to "[fund] water wells" with the help of Generosity.org, per Forbes. That came after MTV reported in 2010 that Fox had handed over everything she made from her work on Eminem's "Love the Way You Lie" video to Sojourn Services, a women's shelter. The move made sense considering that the song "[centers] on the subject of domestic abuse."
However, that's not the only time Fox has used a music video for a good cause, despite not being a musician herself. In 2020, Us Weekly noted that while the star was busy promoting her appearance in Machine Gun Kelly's "Bloody Valentine" video, she made mention of her work with Redline Steel, "a decor manufacturing company owned by veterans — to bring in $2 million in contributions." The effort was more successful than expected, with Cision PRNewswire noting that it raised more than $2.5 million. We wonder if any of that was Fox's own money.
Did Megan Fox and Brian Austin Green have a prenup or a postnup?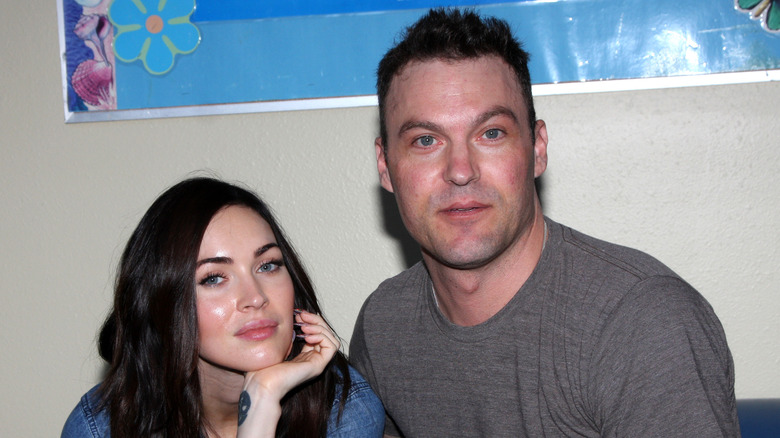 Going through a divorce doesn't tend to get any easier when you're rich, famous, and without a prenup. Just like Justin and Hailey Bieber and Dax Shepard and Kristen Bell — who refused to sign the arguably-needed legal agreements before tying the knot — Megan Fox supposedly didn't sign a prenup before she married Brian Austin Green in 2010, according to The Things.
However, when Fox and Green split up, their finances were a major issue for the former couple to work through. The Blast explained that the exes' settlement proceedings involved Green offering up info regarding the former couple's combined finances — everything from their income to any other valuables. However, in 2020, the outlet also claimed that the couple may have had either a prenup or a postnup in place.
Yes, postnuptial agreements are a thing. Harper's Bazaar explains that they cover much of what a prenup does — including financial matters — however, they are signed after the couple is already married. So, perhaps a postnup helped these two keep their fortunes separate, intact, and even balanced because, as it stands, Celebrity Net Worth claims that Green has $8 million — the same as Fox — and hints at why she wouldn't benefit in fighting him for financial support. Frankly, she's doing fine on her own.
She spends her riches on California real estate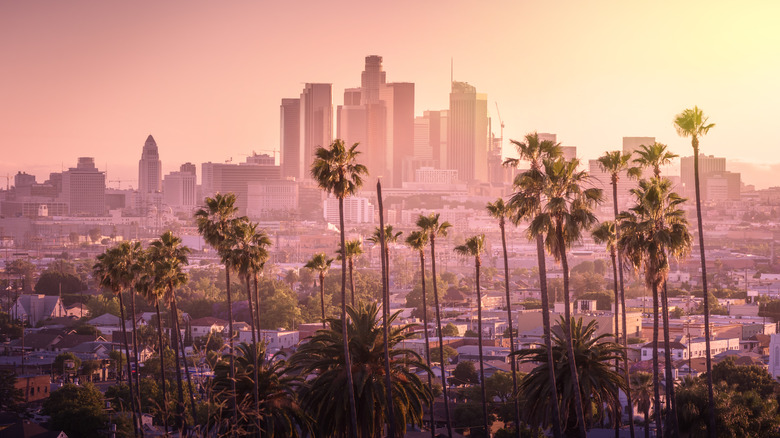 While there are stars who live in relatively modest homes as well as celebrities who live in jaw-dropping abodes, Megan Fox has experienced both. Frankly, per Trulia, the star hadn't even paid $1 million for the home that she purchased in California's Sherman Oaks area. To be exact, she handed over $899,999 for the 2,494-square-foot single-family home with three bedrooms and the same number of bathrooms. In 2016, the property was back on the market $1.299 million amid her split from Brian Austin Green. While that's not a small price to pay, it's certainly not a lot of money for a celeb-quality home.
Granted, Trulia also pointed out that Fox has been involved in pricier real estate transactions. Apparently, Fox and Green snapped up a Toluca Lake, California, home in 2014 for $3.35 million before selling it a year later — at a loss — for $2.6 million.
However, Fox apparently decided to indulge in a rather pricey place to stay when she "shack[ed] up" with boyfriend Machine Gun Kelly in an Airbnb rental that cost a whopping $30,000 per month, according to the New York Post. For that, the two enjoyed a 5,300-square-foot residence, again, in Sherman Oaks, which offered five bedrooms, five bathrooms, and a chef-worthy kitchen. Outside, the home boasts a deck, terrace, pool, spa, and basketball court. Honestly, though, that's the least it could offer at $30k for 30 days.
Potentially pricey lawsuits don't seem to scare Megan Fox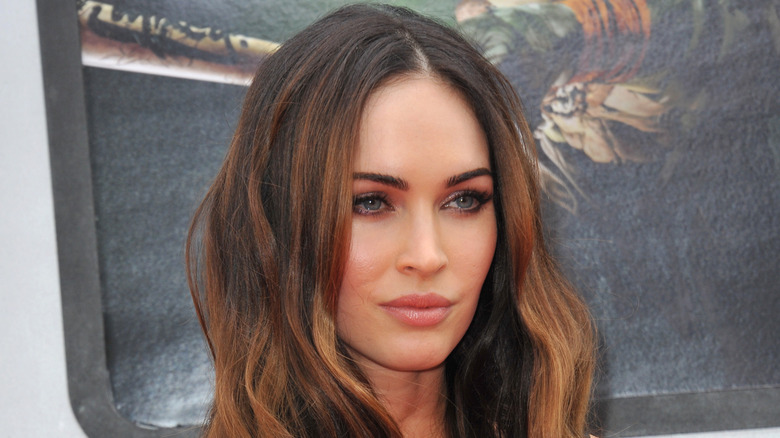 The real estate choices that Megan Fox has made may have cost her more than just the price of her homes. That's because, in 2018, she was involved in a real estate-related lawsuit. The Blast reported that Fox sued a woman named Cynthia Pett-Dante — aka Brad Pitt's manager — for $5 million in damages "over a Malibu home purchase that allegedly caused [the star] extreme and unbearable emotional distress and anxiety."
The Blast also explained that Fox bought the residence for $3.2 million from a group that included Pett-Dante. Apparently, Fox claimed in the lawsuit that the home she had purchased for her family while pregnant turned out to be "a nightmarish living hell." She claimed that those involved in the transaction — including the seller, appraiser, brokers, lawyers, geologists, and title officers — never informed her of the property's many issues, one of which involved mold in multiple rooms. Yikes! In 2021, Pett-Dante offered to pay Fox $100,000 to settle before heading to trial, which the star accepted, per Metro.
Granted, this wasn't the first time Fox had been involved in a lawsuit. In 2012, she and then-partner Brian Austin Green were sued after he apparently hit an intrusive photographer in the face as Fox goaded him on, according to E! News. It sounds like Fox isn't afraid of a physical fight or a legal one.
Megan Fox was hit by the Bling Ring burglaries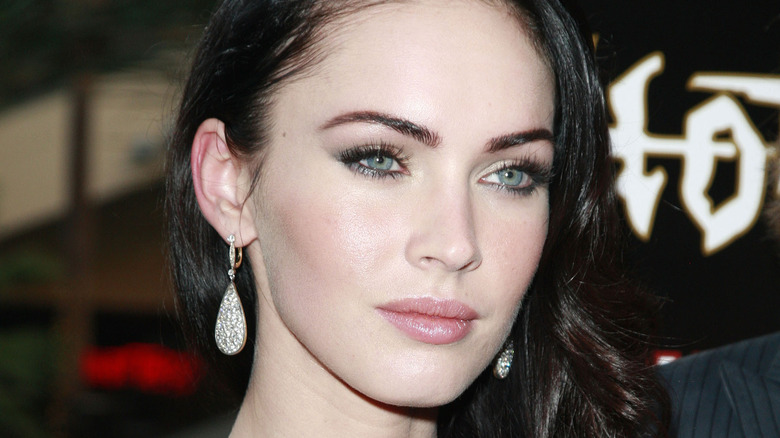 Various celebrities have been targeted by opportunistic thieves, including Megan Fox who was hit during the Bling Ring burglaries. What was strange in this case, as The Guardian explained, was that the criminals turned out to be teenagers. The adolescents snuck into the Los Angeles homes of famous figures in 2008 and 2009, and managed to nab $1 million worth of their pricey items (although HuffPost says it was more like $2 million and other reports claim even more). In addition to Fox, the robbers also stole from Lindsay Lohan, Paris Hilton, Orlando Bloom, and other celebrities.
According to HuffPost, one of the teens who led the crime spree was fond of Fox's style and took off with some of her jewelry after the group snuck into the home Fox shared with Brian Austin Green through a back door that was left open They also nabbed a watch and gun that belonged to Green. Interestingly, Fox and Green had no idea they'd even been robbed until the weapon was found at the house of one of the thieves, per People.
If this sounds familiar, that might be because the burglaries were turned into a 2013 movie from director Sofia Coppola that starred Emma Watson, according to IMDb. In the end, Vulture notes that the young thieves received a range of charges and sentences based on their involvement. Of course, they were also immortalized onscreen.
She was involved in a Ponzi scheme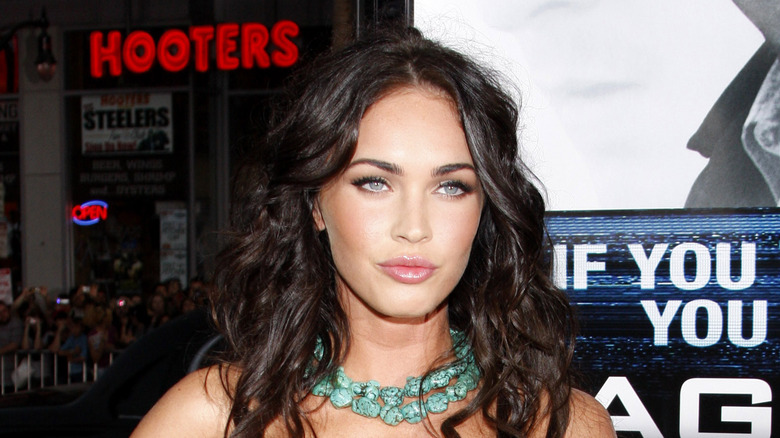 Do you know what a Ponzi scheme is? The Corporate Finance Institute explains that it's a money-driven scam that "is considered a fraudulent investment program" and "involves using payments collected from new investors to pay off the earlier investors." Megan Fox could also probably tell you what it is because she was caught up in one.
In November 2020, the New York Post reported that Andrew Garson — someone who had appeared on PR Week Magazine's "Top 40 under 40" list — had found himself indicted on charges related to wire fraud after he allegedly manipulated those at MWW Group, a PR company that he involved in the scheme, into covering money that he owed elsewhere. The scam saw Garson setting up fake ad campaigns that required seriously big (and yet totally fake) budgets. In the process, he racked up debt linked back to Fox and other stars like Mindy Kaling. Indeed, MWW Group ended up potentially on the hook for some massive funds which included, in part, $450,000 from Fox. Deadline noted that $1.75 million was owed to Kaling, while additional money meant for brand campaigns was "misappropriated."
In this case — which ended up involving millions of dollars overall — it sounds like plenty of people lost out and may never see the money that was owed to them. As for Fox, being out $450k is no small feat, so the scheme likely affected her net worth to some degree.
Megan Fox takes magical vacations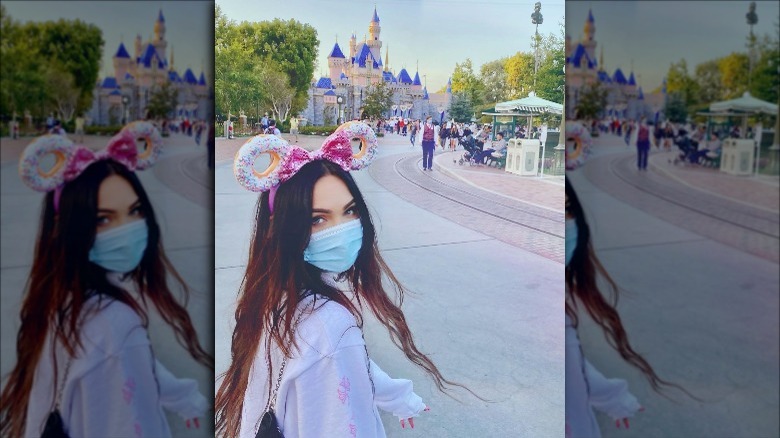 When Megan Fox isn't working, she might be "wishing upon a star" at Disneyland or taking her family along for the fairytale-like fun. She's also stood among the structures at Stonehenge, explored the ruins at the city of Troy, visited a Viking hall in Oslo, and walked the magical rooms of Hogwarts (even if it was just the sets on tour).
Of course, Fox seems to prefer extravagant experiences while off on her enviable travels. For instance, in July 2021, the star took a top-notch trip to Costa Rica with Machine Gun Kelly, according to Page Six. The actor admitted on Jimmy Kimmel Live that it was initially a hardcore holiday that involved taking ayahuasca which The Hollywood Reporter called "Hollywood's hip, heavy hallucinogen." Fox explained, "I was thinking it was like glamping, like it was gonna be some kind of five-star experience." However, she instead noted, "You get there and you really are in the middle of the jungle … [There was] nothing glamorous about it."
What was surely glamorous, however, was the Costa Rica Four Seasons where Fox and Kelly were seen during their stay. A guest told Page Six, "It couldn't have been more posh and luxurious." In fact, a room at the Four Seasons can range from $1,000 per night all the way to a whopping $28,125 for one of the estate residences. So maybe the trip was a little more glamorous than Fox let on.
Source: Read Full Article