Heres Where You Know The Stars Of The Gossip Girl Reboot From
Running for six seasons, from 2006 until 2012, "Gossip Girl" became a television phenomenon that transcended its roots as a soapy teen drama to become an indelible part of the pop culture firmament. And that would have been the end of it, if not for new streaming service HBO Max, which announced in 2019 that a "Gossip Girl" reboot had been placed in development. 
As information about the top-secret new iteration of "Gossip Girl" dribbled out, including news of the actors who'd been cast, fan anticipation kept on building until the series' premiere in July 2021. To say there was interest in the show is an understatement; according to a report from Deadline, the reboot set a new record for the streamer, "becoming the most-watched HBO Max original series over its launch weekend." Yet beyond viewership, the show also proved to be a major force in social media, racking up 15 billion (yes, billion!) impressions on TikTok alone. 
Viewers who watched the reboot may have wondered where they'd seen the show's actors before. With that in mind, keep on reading, because here's where you know the stars of the "Gossip Girl" reboot from.
Jordan Alexander's credits include a Facebook thriller and a Canadian cop show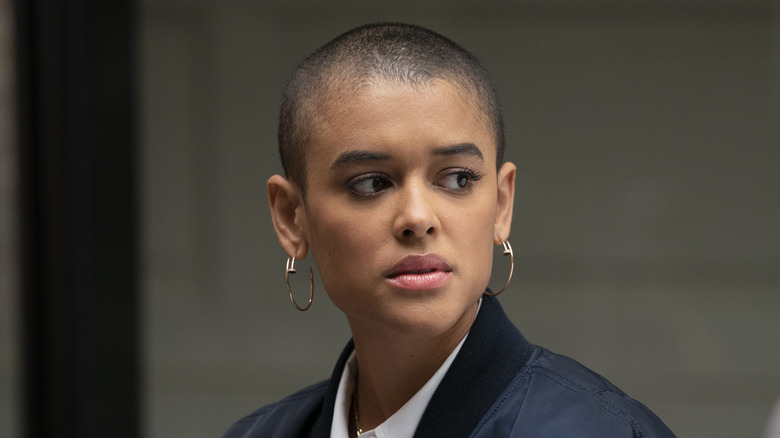 Prior to being cast as trendsetting social media influencer and model Julien Calloway, Jordan Alexander guested in a few TV series filmed in her native Canada, including "Rookie Blue," and "The Latest Buzz." Fans of Facebook Watch series "Sacred Lies" will also remember Alexander as a member of that show's cast, starring alongside Ryan Kwanten and Juliette Lewis. 
Alexander, however, isn't just an actor, but is also a singer and songwriter whose latest single, "You," was released in June 2020. As Alexander's website pointed out, the Toronto-based performer has toured Canada supporting Bif Naked, and headlined BudLight's 2019 Pride campaign alongside "Call Me Maybe" singer Carly Rae Jepsen (they even produced a collab together). Her debut album, "The Lonely Hearts Club," was released in 2016. 
Interestingly, Alexander's first visit to a movie set, as a child, came about thanks to OG "Gossip Girl" star Blake Lively. After meeting her and her family in a Vancouver church, Alexander told Glamour, Lively invited them all to the set of "Sisterhood of the Traveling Pants," which she was shooting there. "It was me, my two sisters, and my mom and dad, and we got to experience a movie set," said Alexander.
Eli Brown appeared in a short-lived 'Pretty Little Liars' spinoff and a figure-skating drama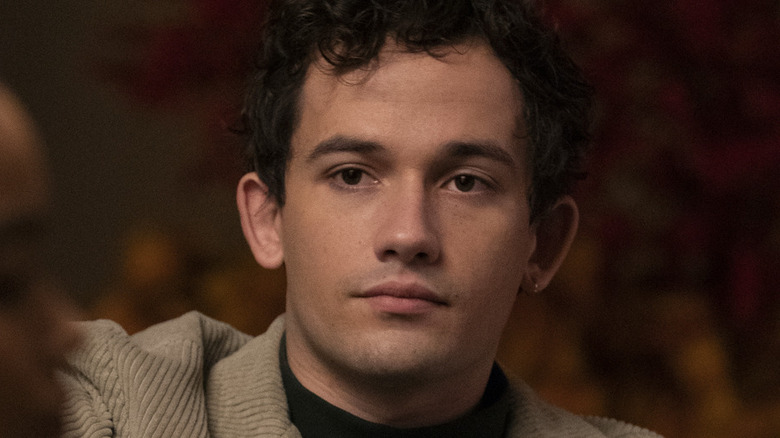 Eli Brown plays Otto "Obie" Bergmann IV in "Gossip Girl," who compensates for his guilt over his family's immense wealth through political activism. "Gossip Girl" viewers will recall Brown for recurring roles in such TV series as "Pretty Little Liars: The Perfectionists" and the figure-skating drama "Spinning Out." On the big screen, Brown has appeared in the Jason Statham action flick "Wrath of Man," and the crime thriller "Run Hide Fight." He landed his first starring role in the 2020 comedy "The F**k-It List." 
Acting had long been an ambition for Brown, who originally hails from Oregon. As he told W Magazine, he recalled digging up his fifth grade yearbook and came across his quote: "Someday I want to be an actor, yeah baby!" As Brown recalled, "I don't even remember writing that, but clearly it was back there. Ever since I can remember, that's what I wanted to do."
When he auditioned for "Gossip Girl," he said, the project was top secret, and he had no idea what he was auditioning for. "I didn't even know what I was getting into," he revealed. "But I did know that it's a fun project."
Thomas Doherty's past work ranged from Disney hijinks to an HBO historical drama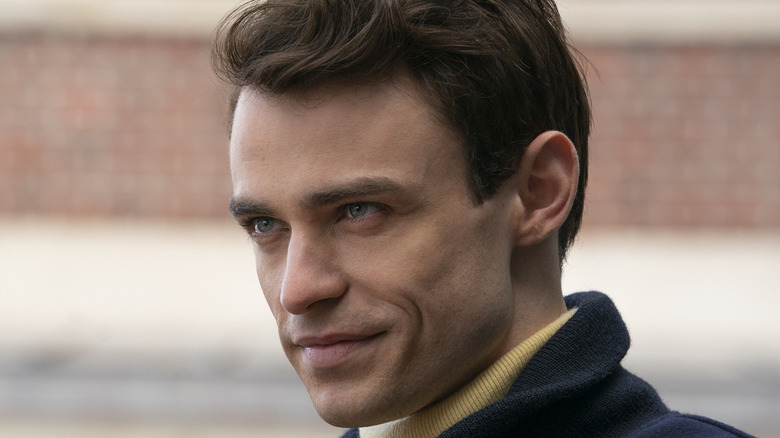 Born in the Scottish capital of Edinburgh, Thomas Doherty captured the attention of "Gossip Girl" viewers with his portrayal of Max Wolfe, described by Glamour as "a pansexual, pot-stirring Lothario." If Doherty's face seems familiar to viewers, it shouldn't be surprising given the impressive array of screen credits he'd amassed before playing Max. 
For fans of the Disney Channel, Doherty is known for playing Harry, son of "Peter Pan" baddie Captain Hook, in "The Descendants 2" and "The Descendants 3," as well as starring in Disney Channel series "The Lodge." Non-Disney credits include HBO's "Catherine the Great" miniseries, and recurring roles in Hulu's "High Fidelity" and The CW's "Legacies."
Speaking with Glamour, Doherty admitted he'd missed out on "Gossip Girl" when it originally aired, but wound up watching it in 2019 while shooting a project in Georgia. "It was entertaining. It was ridiculous. This ridiculous life of wealth and glamour and opulence that you just don't ever come across in your day-to-day life. Well, it depends on who you are, but I certainly haven't been there. It was just entertaining and fun," he said, describing the show's vibe as "ridiculous escapism."
Tavi Gevinson was an influential child fashion blogger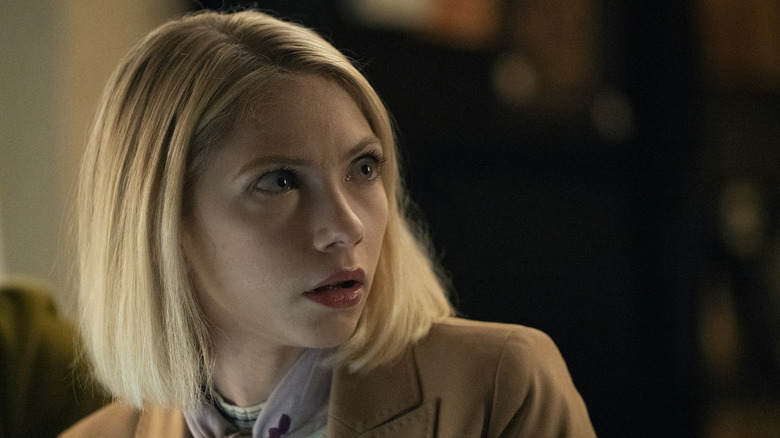 It's not hyperbole to point out that Tavi Gevinson had a unusual and distinctive career path before joining the cast of "Gossip Girl," in which she plays Kate, a new English teacher at Constance Billard St. Jude's School. As an actor, Gevinson's career extends back to 2013, when she played the teenage daughter of Julia Louis-Dreyfus' character in indie "Enough Said." Meanwhile, on the small screen Gevinson has appeared in series ranging from "Scream Queens" to "The Simpsons" to a Carly Rae Jepson music video.
Gevinson, however, was a celebrity before she began acting thanks to her fashion blog, Style Rookie, which she started at age 11; as The New Yorker reported, she'd won accolades from the likes of designer Karl Lagerfeld, who applauded her "fresh eye." The blog's success led her to found Rookie, an online magazine geared to teenagers. She eventually began modeling, becoming the face of Rodarte's fashion line for Target.
In an interview with Vanity Fair, Gevinson admitted, "I wouldn't have done 'Gossip Girl' if maintaining a certain kind of anonymity and a level of publicness that I feel pretty comfortable with was more important to me than doing the show."
Emily Alyn Lind has a jaw-dropping list of screen credits considering her age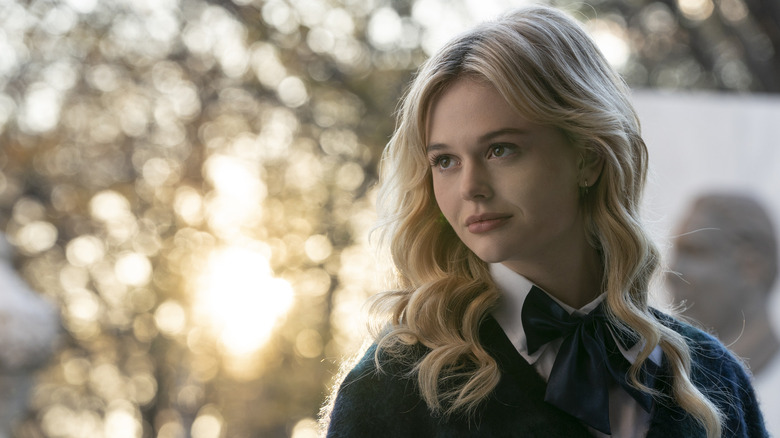 Of all the actors in the reboot of "Gossip Girl," none can top the vast list of screen credits accumulated by Emily Alyn Lind, who plays overachieving Audrey Hope. Since her film debut in 2008's "The Secret Life of Bees," she's appeared in dozens of film and TV projects, including recurring TV roles on "Code Black" and "Revenge." Meanwhile, her film credits include Stephen King's "Doctor Sleep," Netflix horror-comedy "The Babysitter" and portraying famed child star Shirley Temple in the Clint Eastwood-directed "J. Edgar."
Lind has also ventured into the field of music; as Town & Country noted, she released her first single, "Castles," in 2019, followed in 2020 by the track "Spotless Mind."
Despite all that time spent in front of a camera, Lind admitted nothing she'd done before prepared her for the level of hysteria associated with "Gossip Girl," typified when the cast was swarmed by paparazzi when they first appeared in public as a group. "I think in that moment, I was looking at the castmates and I was just like, 'What the f**k?" she recalled to Harper's Bazaar. "This is going to be possibly the next six years of our life."
Evan Mock was discovered by a famous singer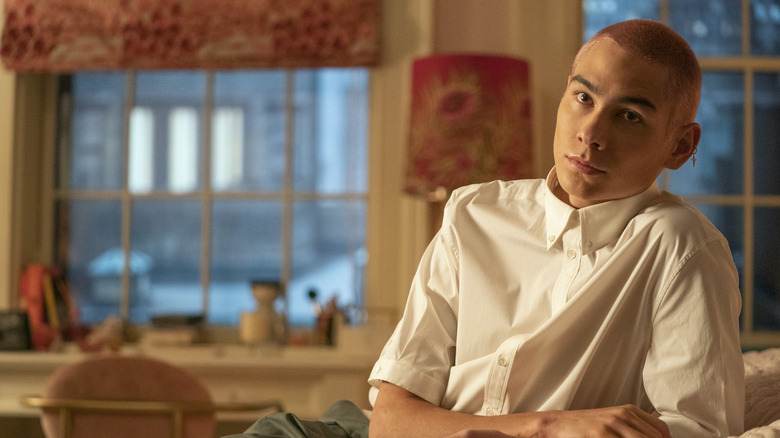 While co-star Emily Alyn Lind accumulated dozens of screen credits prior to "Gossip Girl," Evan Mock had exactly zero. As his IMDb page demonstrates, Mock's first and only credit is "Gossip Girl," in which he portrays shy Akeno "Aki" Menzies. 
However, that's not to say that the Hawaii-born Mock is an unknown; in fact, he's gained fame as a skateboarder, photographer (he was the photographer for Travis Scott's Astro World tour) and model, with PopBuzz noting that he's appeared in campaigns for Calvin Klein, Jimmy Choo x Timberland, Louis Vuitton, Saint Laurent and more. As a New York Times profile on Mock reminded, he was discovered by Frank Ocean, who posted video of Mock skateboarding. That video (which has since been removed) received in excess of 2 million views, instantly transforming Mock into a social media sensation. 
Explaining his "Gossip Girl" character for Vanity Fair, Mock said that Aki is "figuring things out sexually." Comparing the new reboot to the series from which it's spawned, Mock described the new "Gossip Girl" as a lot more "woke," "blunt," and "graphic" than the original.
Zión Moreno got her start in a Spanish-language series for Netflix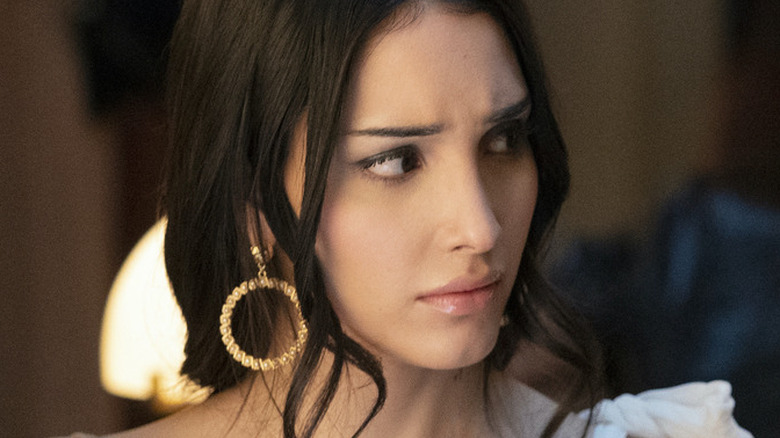 Other than her "Gossip Girl" role as Mexican-American stylist Luna La, Zion Moreno's screen credits number just two: a small role in the feature film "K-12" and playing Isabella in "Control Z," a Mexican-made Spanish-language cyber-drama for Netflix. The model and actor is openly transgender, as is her "Gossip Girl" character.
In an interview with Looper, Moreno admitted she was "really humbled" by the scope of the series, pointing out that "this is the biggest project that I've ever embarked on. And it's such a large scale, so I think that that has been really exciting for me."
Meanwhile, Moreno pointed out that she was also well aware of the responsibility that a role in such a high-profile series carries with it, in terms of being a role model. "I think that it's going to be really rewarding to be able to make an impact on little queer kids' lives, on little Latino kids' lives, and I just hope that we can [use] that representation and inspire them to live authentically and live to the fullest," she added. 
'Gossip Girl' is far from Whitney Peak's first TV series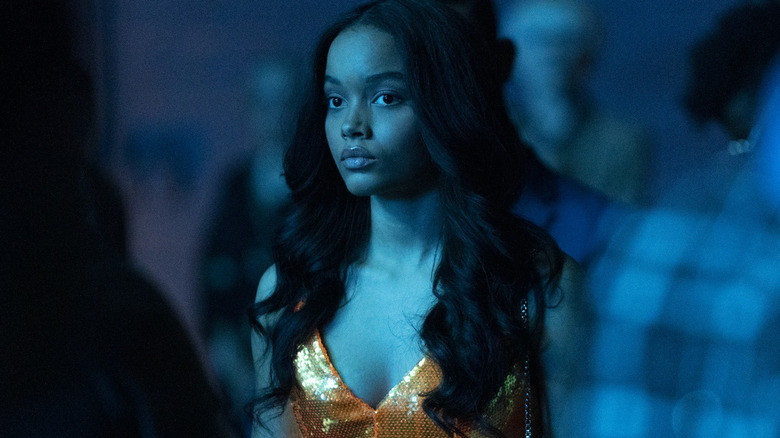 Whitney Peak was no neophyte to the world of film and television before she was cast as Zoya Lott, half-sister of Jordan Alexander's Julien Calloway. In addition to a role in the 2017 Jessica Chastain film "Molly's Game," Peak also held recurring roles in Netflix's "Chilling Adventures of Sabrina" and Apple TV+ series "Home Before Dark." 
As Peak explained in an interview with Collider, she never actually auditioned in person for "Gossip Girl," but sent a tape in before travelling to Uganda to attend her sister's wedding. After a "lovely month" in the African nation where she became "enveloped in culture and seeing my family… for the first time in five or six years," she learned she'd landed the part, despite not doing a callback or having to do an in-person audition. 
"But then, cut to seven months later, we were in New York and working on it," she recalled. "It was awesome. So, it was a quick and easy process for me."
Savannah Lee Smith is a newcomer to television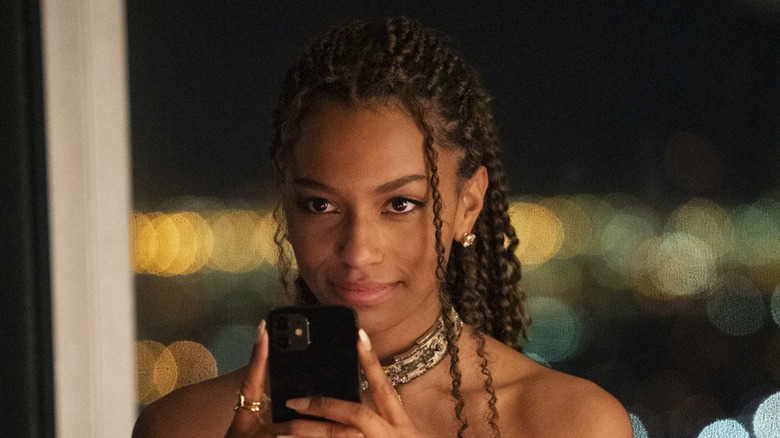 As a quick perusal of Savannah Lee Smith's IMDb credits reveals, "Gossip Girl" is her very first onscreen acting role. Which begs the question, how did someone with no previous acting credits land the role of uber-wealthy Monet de Haan on one of television's most anticipated reboots?
As Smith explained to Glamour, her original career aspirations lay in music, not acting, until her discovery of musical theatre opened that door. "I went to NYU, actually for music because I was still scared. I wasn't really confident in my acting chops yet," she said. "I transferred to drama in my first year, and now I'm here."
Speaking with Looper, she admitted she could not have chosen a better project for her screen debut. "It's just fulfilling to me that a little brown girl, a little Black girl, a little bi girl is going to watch the show and get to see me inspire them and show them we can be in positions of power, and we really can do these things because I would have loved to see that growing up, and I think we need more of it, so it's just really humbling, and it's a blessing to me," she said.
Laura Benanti has an impressive CV that includes Broadway, film and TV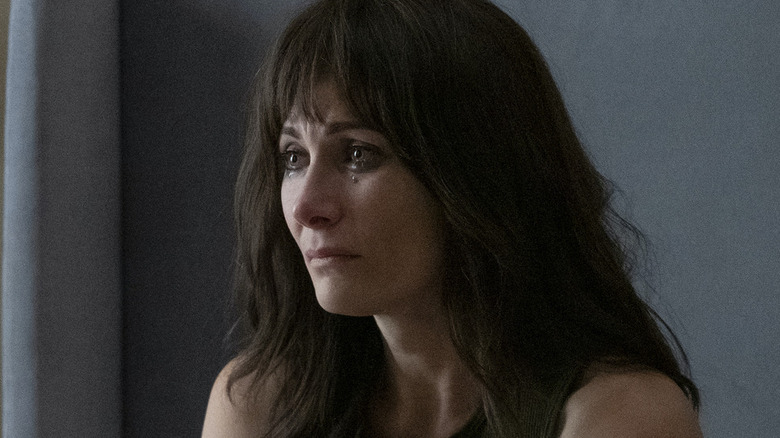 Laura Benanti plays Katherine "Kiki" Hope on "Gossip Girl, mother of Emily Alyn Lind's Audrey Hope. In addition to a lengthy roster of screen and stage credits, Benanti can also boast being the only member of the "Gossip Girl" cast to have won a Tony Award, winning the honor for Outstanding Featured Actress in a Musical, for "Gypsy." Benanti has actually been nominated for five Tonys for acclaimed performances in such shows as "Women on the Verge of a Nervous Breakdown," "Into the Woods," and "Swing!"
Along with her extensive Broadway work, Benanti has also racked up an eclectic array of television credits, including such series as "Law & Order: Special Victims Unit," "Nashville," "Younger," "The Good Wife," "Nurse Jackie," and "Supergirl." In addition, viewers of "The Late Show with Stephen Colbert" will certainly recall her hilarious regular appearances as former First Lady Melania Trump.
"It's so fun," Benanti told Nerds of Color of working on "Gossip Girl" on the red carpet at the premiere. "You know what's funny is all of my friends are losing their minds. They're so excited. It's such a joy; it's really a joy to be part of."
Adam Chanler-Berat is a television veteran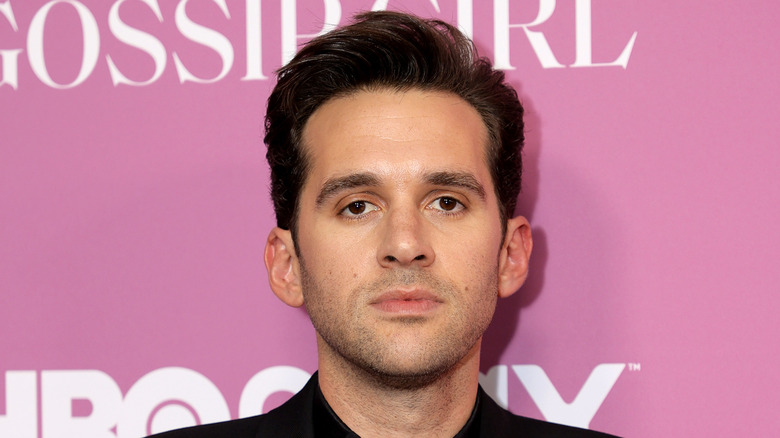 In "Gossip Girl," Adam Chanler-Berat plays Jordan Glassberg, one of the teachers at Constance Billard who revives the old Gossip Girl account in order to wrest control of the school from the students. Chanler-Berat has an extensive array of screen credits, dating back to his first TV appearance in a 2006 episode of "Law & Order," with other series including "Veep," "The Good Wife," "It Could Be Worse," "Elementary," and "NCIS: New Orleans." However, the actor has also done a lot of work onstage, with Playbill listing such Broadway credits as "Saint Joan," "Amélie: A New Musical," and "Peter and the Starcatcher." 
Speaking with Nerds of Color at the "Gossip Girl" premiere, Chanler-Berat admitted that landing his role is "a dream. I'm a theater kid and it's a dream for every theater kid to be able to work in all the mediums. To work in the city that I live in and love so much — and it's not just working in New York, it's working in a show that like embraces, celebrates where New York is part of the story, you know?"
Jonathan Fernandez is an actor and comedian with an impressive list of credits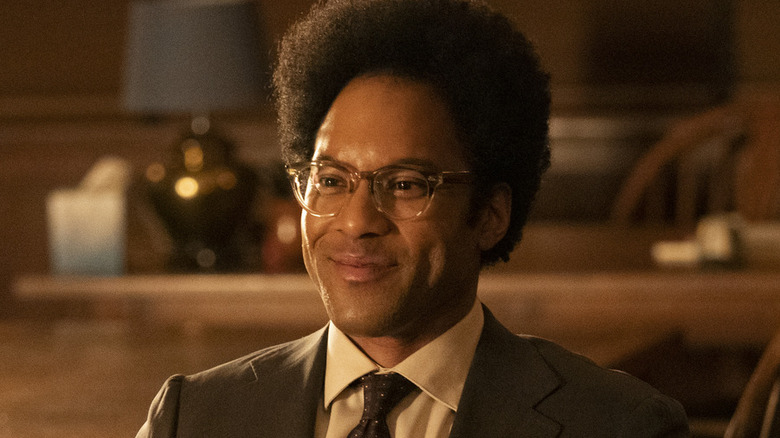 Jonathan Fernandez plays Nick Lott on "Gossip Girl," father of Zoya (played by Whitney Peak), whose relationship with Zoya's half-sister Julien Calloway (Jordan Alexander) is complicated by the fact that her mother ran off with Nick, basically breaking up her family.
An actor and comedian, Fernandez boasts an impressive list of screen credits, including appearances on such TV series as "Girls," "Bull," "Good Medicine," and "Younger." His best-known role, however, was playing medical examiner Scorsese on Fox's "Lethal Weapon" series. 
Asked by Nerds of Color how it feels to be in a project where diversity and inclusion is woven into the fabric of the show, Fernandez didn't hold back. "I mean, it's everything," he said. "To be on a show like this with so much inclusivity and so many people from so many different backgrounds is truly everything. I'm fortunate enough where maybe I'm like the good luck charm or something because 'Lethal Weapon' was also like that, and it was like one of the more diverse, if not the most diverse on network TV at the time."
Lyne Renée's acting career began in her native Belgium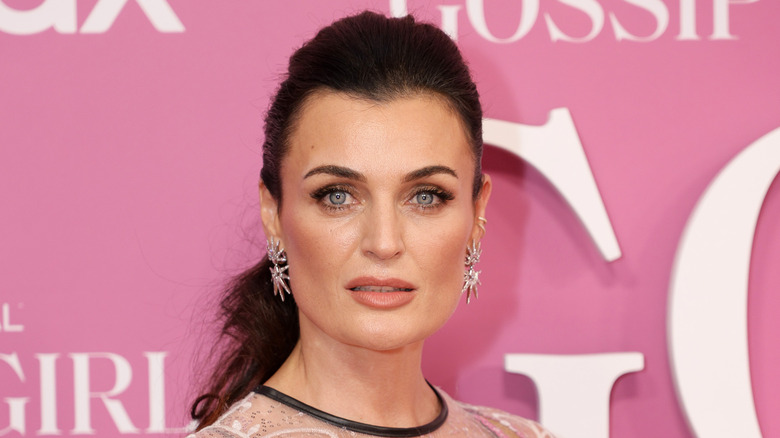 Lyne Renée plays the recurring role of Helena Bergman on "Gossip Girl," mother of Obie Bergmann, described by Deadline as "a cold as ice global real estate magnate and former top model." A native of Belgium, Renée's previous credits include the HBO miniseries "Parade's End," action series "Strike Back," "Madame Secretary," and "Deep State." Her most notable role, however, is as high-ranking military witch Sarah Adler in "Fort Salem: Motherland," a Freeform series set in an alternate universe where witchcraft is real and America is defended by an army of powerful female witches.
With two such different roles in shows that just happen to be airing within the same timeframe, Renée spoke with CNET's "I'm So Obsessed" podcast about what it's like to exit the reality-based world of "Gossip Girl" and enter the realm of witchcraft.
"I completely step into that world," she said of her "Motherland" role. "feel like I'm a kid who gets to play, who gets to be free and who gets to build a character that is so far away from what I am… it's proved a big challenge to sink my teeth into."
Kristen Bell (her voice, at least) is the only OG 'Gossip Girl' star onboard for the reboot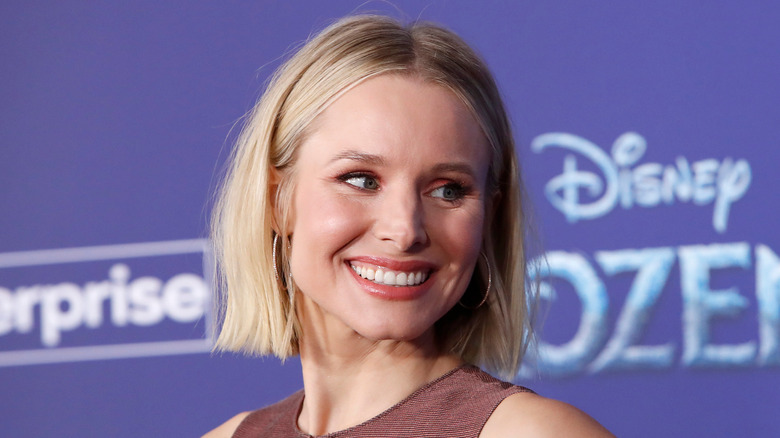 Kristen Bell is the only member of the original "Gossip Girl" cast to return for the reboot, back to provide her signature narration as the voice of Gossip Girl. 
Bell made her mark on television as the titular teen detective in "Veronica Mars," which originally aired for three seasons before returning with a 2014 feature film and a single-season series revival in 2019. Other notable roles include Jeannie Van Der Hooven in Showtime comedy "House of Lies," Kiki in the "Bad Moms" movie franchise, voicing Anna in Disney's mega-hit "Frozen" movies, and Eleanor Shellstrop in beloved NBC comedy "The Good Place."
According to "Gossip Girl" showrunner Joshua Safran, series creators Josh Schwartz and Stephanie Savage were adamant there would be no reboot if Bell wasn't onboard. "It wasn't really a conversation, Josh and Stephanie were like, if she doesn't want to do it, let's all walk away," Safran told Entertainment Tonight. "We went up to her and she was like, 'Of course I want to do it.' And then, yeah, there's no 'Gossip Girl' without Kristen. I mean, it's not just the voice, it's her whole being." 
Source: Read Full Article