'House of the Dragon': Fans React to the Teaser Trailer, 'that Iron Throne looks sick'
Game of Thrones might be over, but fans will be able to see the history of the Targaryen family on their screens soon. HBO released the teaser trailer for House of the Dragon. Fans shared their reactions to it, and they seem hopeful.
The 'House of the Dragon' teaser trailer
Fans have previously seen photos of some of the characters that'll be in House of the Dragon. But now they have a teaser trailer.
The trailer opens with one of the Targaryens walking and holding a lit torch. Next, Prince Daemon Targaryen (Matt Smith) and Princess Rhaenyra Targaryen (Emma D'Arcy) are standing on a beach at night. The following clip shows what looks like a lit altar. There is a glimpse of two people fighting with swords in armor. Alicent Hightower (Olivia Cooke) is in another clip holding a dagger. The "Sea Snake," a.k.a. Lord Corlys Velaryon (Steve Toussaint), is in a scene walking into a big feast in a kingdom.
"Gods, kings, fire, and blood. Dreams didn't make us kings. Dragons did," Daemon says in the teaser, according to Entertainment Weekly.
The new spinoff will take place 300 years before Game of Thrones. It will show the civil war called the "Dance of Dragons" that happened within House Targaryen. 
Why 'Game of Thrones' fans are hopeful after watching the teaser trailer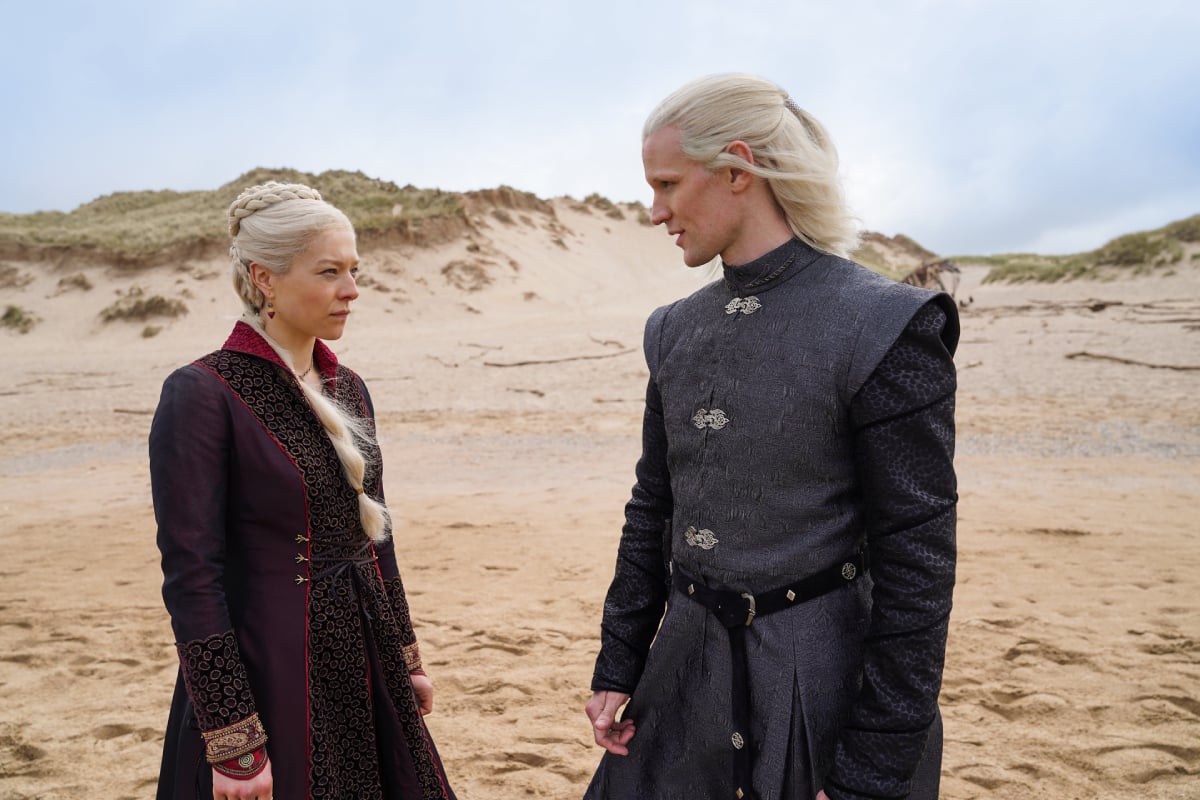 Fans had a strong reaction to how Game of Thrones ended. Now they're sharing their reactions to the teaser trailer on Reddit, and they seem hopeful.
"I think this trailer might have washed the bad taste of the last few seasons of GoT out of my mouth," someone else wrote.
"It's like they actually listened to fans or something???" one fan wrote.
Some fans also noticed that the Iron Throne looks different. "I can't get over how much better the Iron Throne looks, much closer to 'the thousand blades of Aegon's enemies, '" someone noted.
"I'm going in being cautiously optimistic, but that Iron Throne looks sick," another fan commented.
The Iron Throne was destroyed in the original series
The Iron Throne was made by Aegon the Conqueror with 1,000 swords that were surrendered. He conquered all six of the seven kingdoms of Westeros.
It stays in the Great Hall of the Red Keep in King's Landing. Joffrey (Jack Gleeson) and Tommen Baratheon (Dean-Charles Chapman) sat on the throne as kings in Game of Thrones. Later Cersei (Lena Headey) sat on the throne before she was overthrown by Jon Snow (Kit Harrington) and Daenerys Targaryen (Emilia Clarke). The show ended with Jon killing Daenerys. Drogon then melts down the Iron Throne. Soon fans will see new characters sitting on the Iron Throne. House of the Dragon will premiere in 2022.
Source: Read Full Article