How to Watch 'Spider-Man: No Way Home' Before You Get Spoiled
The Marvel Cinematic Universe got weird this year with Eternals, Loki, WandaVision, What If, and that little critter in Shang-Chi and the Legend of the Ten Rings. It gave depth to side characters in Black Widow, Hawkeye, and The Falcon and the Winter Soldier. But the biggest MCU event of the year is a return to the stuff you remember from your childhood with Spider-Man: No Way Home. The movie is coming out this weekend, and therefore Tom Holland is finally free from dodging questions (and… lying… question mark????) about what and who is involved in this film.
Are you starting to feel like you need to trot yourself to the cinema in order to be part of the conversation? Here's everything you need to know.
What is Spider-Man: No Way Home about?
Based on the trailer alone: Peter Parker's secret identity is blown, so he asks Doctor Strange, a wizard, to cast a spell on the world that makes everyone forget he's Spider-Man. That spell fails and a bunch of villains from other Spider-Man movies (the ones where… err… Peter was not played by Holland) get pulled into his world from parallel universes, thereby escaping their own dark fates—and Peter starts to feel guilty about how his screw-up is the only thing keeping these baddies alive.
When Does Spider-Man: No Way Home come out?
The rip-roaring blockbuster hits theaters on December 17 in the United States and Canada—December 16 in Australia, Argentina, and India, as well as December 15 in countries like Germany, France, Ireland, Italy, the UK, and South Korea. (Longer list of countries here.)
Pro-tip for my fellow Americans: remember, now that movies are back in theaters, that means that there are a lot of available showtimes on the Thursday before the release date. So check December 16 as well. We used to have midnight screenings and now I feel like the vibe more is, "It's midnight somewhere!" Big wine mom energy, ya know?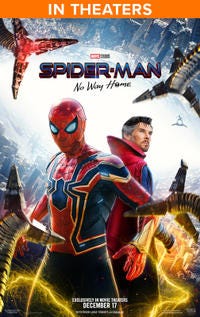 Where can I watch Spider-Man: No Way Home in theaters?
If you don't already have one of those handy frequent movie-goer subscriptions with AMC, Regal, Alamo Drafthouse, Cinemark or your local chain then hit up Fandango and get your seats! They're going fast… but more screenings are being added. And it's also worth noting that if you don't feel safe going to a theater right now, that's totally fair. And there's more info for you right below.
How can I watch Spider-Man: No Way Home at, well, home?
The better question might be when… or if. As of the film's theatrical release there is no other option for seeing Tom Holland thwip and act his little heart out.
It gets more complicated. Because the Spider-Man franchise has shared custody with Marvel Studios (a.k.a. Disney) and Sony Pictures, this movie isn't likely to pop up on Disney+ in a couple months. Neither of Holland's other stand-alone MCU films Spider-Man Homecoming nor Spider-Man: Far From Home are on Disney+. They're not streaming anywhere, actually, you have to rent them. The Spider-Man movies from the '90s are on Peacock premium, so maybe keep a lookout there?
*wakes up in a cold sweat* MORE LIKE SPIDER-MAN, NO WAY TO WATCH AT HOME. But if you're willing to shell out a little $, you will be able to watch it at home in the near future.
Who all is in Spider-Man: No Way Home?
Hey… you can't trick me! I don't know the answer and I wouldn't tell you if I did.
Source: Read Full Article