Inside Bob Odenkirks Hospitalization
Bob Odenkirk has an almost cult-like following for his portrayal of the complex yet relatable Saul Goodman. The actor took on the role for "Breaking Bad," made it his own, and continued his streak in the spinoff series "Better Call Saul." His interpretation of the slimeball attorney has earned him multiple Emmy nominations. However, Odenkirk broke out of the potential mold he had been cast in for the movie "Nobody." Just like a 56-year-old Liam Neeson in "Taken," 58-year-old Odenkirk transformed himself into an action star for the film.
In an interview with GQ, Odenkirk revealed that he worked through some painful memories while filming "Nobody," which was released in March. A decade ago, he was compelled to grab a baseball bat to defend his family during a house break-in. "In a weird way, it's the most personal project I've ever done," Odenkirk said. "I wasn't sure it would be — but in a lot of ways, playing this part was cathartic for me," he added.
The star is finishing up his memoir, "Comedy Comedy Comedy Drama," and told The Guardian, "I figured I'd write it early," before continuing, "A lot of the things that I've done on a more cultish level will be forgotten in a very short amount of time. Things like 'Mr Show' … even the stuff I wrote at 'Saturday Night Live,' it's just all very close to being completely forgotten." Odenkirk was also filming the final season of "Better Call Saul" when disaster struck.
Bob Odenkirk was filming when he collapsed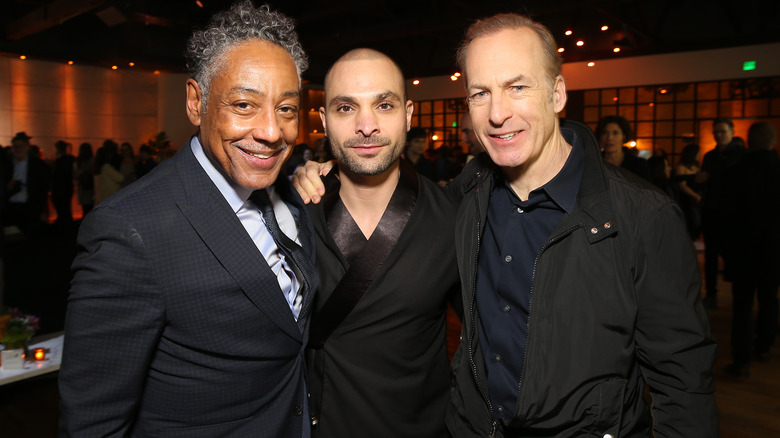 Bob Odenkirk collapsed on the set of "Better Call Saul" on July 28, per TMZ. The 58-year-old actor was rushed to the hospital where he is receiving medical care. The actor and his fellow "Better Call Saul" cast members had been filming in New Mexico when the star went down. Apparently, crew members immediately took action. They called an ambulance and he was transported to the hospital. His actual condition is unknown, per Deadline. "Better Call Saul" was slated to return at the end of this year, but the air date has been delayed to the first quarter of 2022 due to COVID-19. Now that Odenkirk is out of action, it is uncertain how this will affect filming.
Bryan Cranston was one star quick to share. "Please take a moment in your day today to think about him and send positive thoughts and prayers his way," Cranston wrote on Instagram on July 28.
Odenkirk married Naomi Yomtov in 1997, and they have two adult children, Nathan and Erin. In 2020, he appeared on "The Late Late Show with James Corden" and shared how his family life was impacted by the coronavirus. His son contracted the virus and he dished that for him it was "pretty bad and it was worse than the flu."  He was also stunned by how people generally came together. "… It's been heartening," he added. Now, friends and family are rallying together, but this time, it's for him. 
Source: Read Full Article