Is Bethenny Frankel Still Friends With Anyone From RHONY?
Bethenny Frankel became a household name thanks to her role as the sassy, quick-witted, and business-oriented gal on the "Real Housewives of New York." Viewers will likely also remember seeing her slumped on her bathroom floor in absolute shock over her positive pregnancy test in 2009. She was about to begin a new chapter in her life that included motherhood, marriage, and a whole lot of money, thanks to her Skinnygirl empire.
Bethenny has managed to become one of the most successful reality television stars of her time with a net worth of $70 million, per Celebrity Net Worth. But she's also had plenty of highs and lows, as well as some questionable moments, in both her professional life and her personal one. But when she was still on the show, Bethenny had close relationships with Jill Zarin, Ramona Singer, Luann de Lesseps, and even Carole Radziwill. And while fans haven't seen any of the other housewives share a room with Bethenny lately, let alone share a comment on her Instagram page, there's been nothing that suggests she's enemies with any of them, either.
So, is Bethenny Frankel still friends with anyone from the "Real Housewives of New York?" Well, it all depends on who you ask. Read on below to find out the answer!
Where does Bethenny Frankel stand with the Real Housewives today?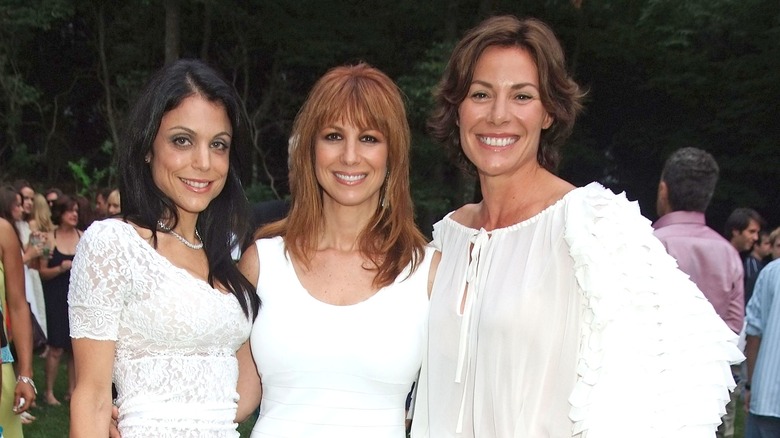 During the first several seasons of "RHONY," Bethenny Frankel had a strong friendship with Jill Zarin until they had a nasty falling out. Both women accused each other of jealousy. Yet despite all of the hurtful things said between them, Bethenny told Andy Cohen on "Watch What Happens Live" in September 2020 that the two of them still remain cordial. She said, "She texts me every so often. I think she [texted] me 'cause of the Jewish New Year. But we don't see each other."
And as far as Bethenny's relationship with Ramona Singer goes, it doesn't appear they're on good terms. Ramona took a swipe at her when she told ET Online in March 2020, "Even though Bethenny is a very strong character, she's well received by the viewers, by us, she is basically — we all walk on eggshells around her. We couldn't really be ourselves." Luann de Lesseps, meanwhile, told Extra TV in May 2021 that she and Bethenny are no longer in touch. And Carole Radziwill described her friendship with the single mother as more "transactional" than sincere. She said during a March 2021 appearance on Dear Media's "Not Skinny But Not Fat" podcast (via Heavy), "We did have, I thought, a genuine friendship. In retrospect, a lot of her relationships are transactional."
Bethenny might be one of the richest housewives, but she might also be a little bankrupt when it comes to maintaining female friendships.
Source: Read Full Article