Jennifer Aniston Just Said the 'Friends' Cast Is Working on Something Together
In today's culture of reboots, remakes, and reunions, pretty much everyone agrees the next show that needs one is Friends. The thing is, the actual Friends cast and creators have been adamant they're not doing it. Like, every single time someone asks, they insist it's not happening. For years now.. But something very interesting happened when Jennifer Aniston went on The Ellen DeGeneres Show this week.
Obviously, Ellen asked about a reboot, because that's what talkshow hosts do, and this is what our friend Jen said:
"Like a reboot of the show? No." Okay, sad. But then she said, "Listen, we would love for there to be something, but we don't know what that something is. So we're just trying. We're working on something."
THEY ARE! WORKING! ON! SOMETHING!!! What could it be?? A show? A movie? A whiskey brand (please, for the love of god, no)? Again, she was pretty clear that it wasn't a reboot of the show, but this means the cast is friendly enough to want to work on another project together in the future. Naturally, Ellen pushed and asked what it would be.
"A huge, huge, huge movie," Jen joked. "No. We don't know…. I don't want to lead people on."Alright, that's fair. The internet does tend to go crazy about these things.
The rumors about a potential reunion were only fueled a few weeks ago when Jen FINALLY joined Instagram and posted this as her very first picture. The caption was: "And now we're Instagram FRIENDS too. HI INSTAGRAM 👋🏻."
https://www.instagram.com/p/B3o8vWDhlOh/
But now it looks like maybe they're just actual friends who like to get together IRL, or they were chatting about whatever the mystery project is. Cross your fingers!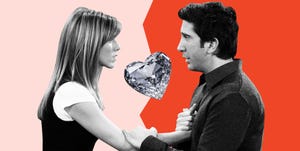 Source: Read Full Article