Kristina Schulman Finally Broke Her Silence on Those Tyler Cameron Dating Rumors
Okay, SO! Remember back in September (it's cool, me neither) when Bachelor Nation fan account @Its_TheSnatchelor posted footage of what appeared to be Tyler Cameron and Bachelor in Paradise alum Kristina Schulman out on a dinner date?
No? ALLOW ME TO REFRESH YOUR MEMORY:
https://www.instagram.com/p/B26_KzGgQYa/
Tyler was coming off a relationship with Hannah Brown and was dating Gigi Hadid at the time, while Kristina had just wrapped up a highly dramatic season of Bachelor in Paradise. Naturally, people were deeply shook by the photos, and comments on the post ranged from "NO" to "WTF no" to "Omg please no" to "NOOOOOOOOOOOOOOOOO" to "This ruined my day."
But fear not, Kristina is here to clear things up. And nope, she and Tyler are not dating. Not even close. "That was not a thing!" she told Us Weekly. "I've had people reach out to me and ask me about what's going on there but whenever you take a certain picture and you focus on one little thing — whether it's two people or 10 people sitting at a table — it can get blown out of proportion. You really can't go out with another Bachelor person without people thinking you're dating or something's going on. It's silly."
Cool, guess we can move on with our lives now, by which I mean obsess over Jed Wyatt's new relationship.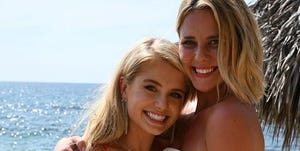 Source: Read Full Article