Maluma's Celebrity Crush is a Kardashian-Jenner Sister
Juan Luis Londoño Arias, known as Maluma, is a 26-year-old chart-topping Latin heartthrob from Colombia. The crooner is best known for his "Pretty Boy, Dirty Boy" image. His sexy persona, with a hard body full of tattoos, keeps the girls swooning over him. It seems these days Maluma, himself, is swooning after a particular celebrity, and the crush is real and involves a member of the Kardashian-Jenner family.
Who is Maluma?
Maluma combines reggaeton with mambo and merengue to create a unique urban pop sound. He broke into the music scene in 2010, becoming an overnight sensation.
Less than a decade later, he found himself standing on the Latin Grammy stage, winning in 2018 for Best Contemporary Pop Vocal Album. Maluma has a huge fan base and is very active on all social media platforms, with close to 50 million followers on Instagram.
Arias uses the stage name of Maluma, which he has tattooed on his left leg. It is a compilation of the first letters of the names of his mother, MArlli, father, LUis, and sister, MAnuela. 
What is Maluma famous for?
Maluma currently has 14 hits at the top of Billboard's Latin Airplay list. He has released three albums, Pretty Boy Dirty Boy in 2015, F.A.M.E. in 2018, and 11:11 in 2019. All three debuted at No. 1 on the Billboard Latin Albums list.
His latest release, "ADMV", is a Spanish love ballad that translates to "Amor de Mi Vida" or "Love of My Life". The music video for the acoustic ballad features Maluma transforming into an old man.
The Latin sensation is slated to appear in a romantic comedy with Jennifer Lopez. Maluma will play the role of her rock star fiancé.
In October 2019, Maluma performed to a sold-out crowd at Madison Square Garden in New York City. Lopez joined him on stage to film a scene for the highly-anticipated movie, Marry Me, which also co-stars Owen Wilson.
Who is Maluma's celebrity crush?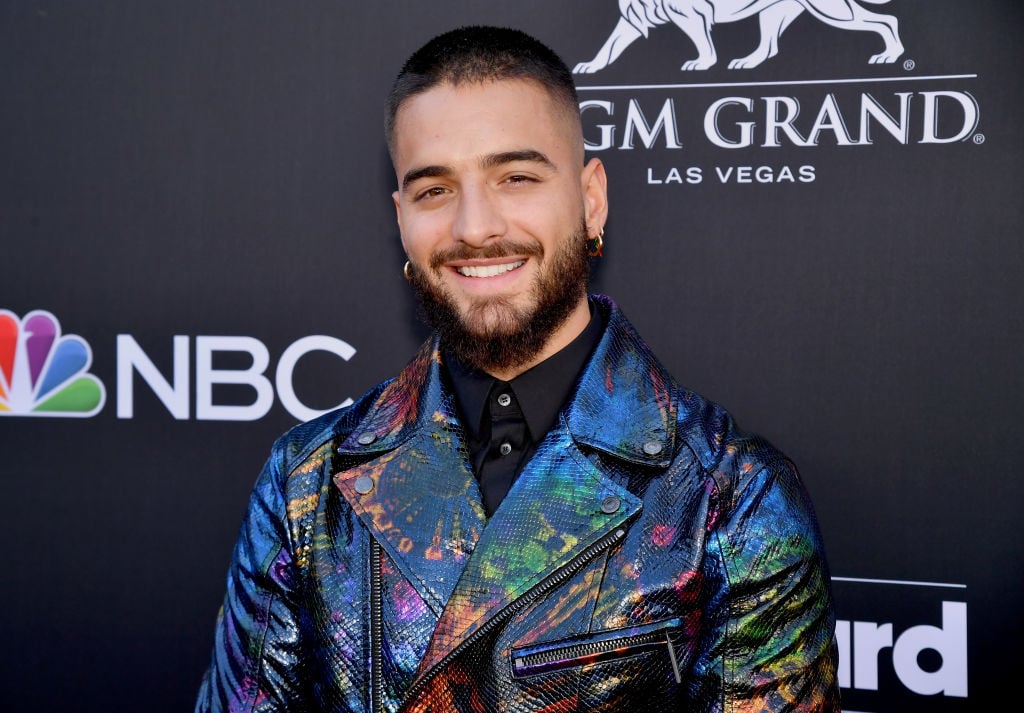 Maluma recently told Access Hollywood who his celebrity crush is. It's a reality TV star, model, and Kardashian-Jenner sister.
"Everybody knows that my celebrity crush is Kendall Jenner," said the singer. "I'm going to say it again. She's my crush!"
Maluma's crush began at a Calvin Klein photoshoot, where he and Jenner were working together on the "Deal With It" campaign. Maluma thinks Jenner is aware of his affection, saying: "We were shooting together, and then she saw me and I got so nervous, that I'm sure that she noticed it, of course."
Maluma's previous relationships
Maluma dated Natalia Barulich, a Cuban-Croatian model, for two years. According to Page Six, the couple broke up last October when Barulich told them: "I love Juan Luis (Maluma) very much but right now we need to take time for ourselves and our careers so that we can continue to grow as artists and individuals."
After Maluma ended his long term relationship with Barulich, he was seen intimately dancing at a Latin Night Club in New York with model Winnie Harlow. He was also spotted in Aspen with Russian model Vivien Rubin sharing a friendly kiss.
When talking with Access Hollywood, Maluma said: "I don't feel like I want to have a relationship right now in my life. I'm too focused on what's happening right now."
Maluma says that one of his biggest dreams in life is to get married and start a family but claims: "I'm too young for that. I don't feel like that's what I want right now, and my career is just starting." He finished the interview with Access Hollywood, saying "One day I'm going to find the love of my life, I'm going to sing this song for her, whatever it is, on the guitar, and get old with that person, but right now, that's not what I want."
Source: Read Full Article