Morning Sun Off Broadway Review: Edie Falco in Quiet Soap Opera
Simon Stephens gives her a rough time in his new play, which spans a life and then some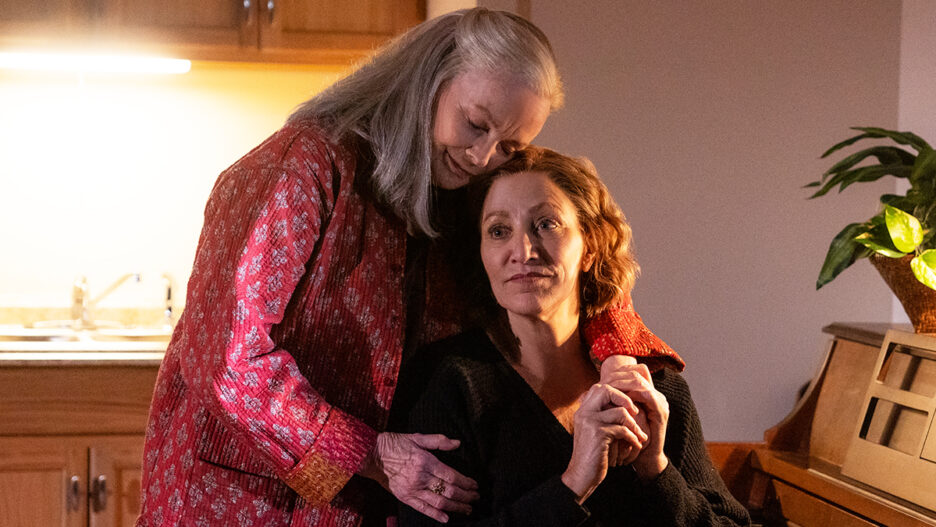 Photo: Matthew Murphy
It's a little early in the season to be recycling "It's a Wonderful Life," and yet that's what Simon Stephens has done with his new play, "Morning Sun," which opened Wednesday at MTC's City Center Stage 1. No, the play is not set at Christmas. And nobody in "Morning Sun" gets to glimpse an alternative reality of his or her life. But that lovely angel Clarence Odbody, who keeps telling Jimmy Stewart's distraught George Bailey what's going to happen next in his life, is very much alive in the roles assigned to Blair Brown and Marin Ireland in Stephens' soap opera of a play.
In the Playbill, Brown is credited as playing 2, Ireland is credited as playing 3. These two fine actors don't portray numerals or angels; rather, they bring to the stage many characters — male and female, young and old. They also get to narrate the story of Falco's character, Charley, which is where the Clarence Odbody vibe surfaces to shake the drama free of any suspense regarding what's going to happen next in the life of 1 (as Charley is billed in the Playbill).
The first few moments of "Morning Sun" are a narrative jumble that tell us ("tell" being the operative word) a lot about Charley's backstory, that is, the life of her parents. It's hard to say where in this woman's life the play begins. Suffice to say, Charley is very young (maybe even a fetus) when we first meet her.
This is the theater season for actors playing a variety of ages and/or sexes within one play: "Lackawanna Blues," "The Lehman Trilogy" and now "Morning Sun." Ruben Santiago-Hudson in "Blues" and Ireland in "Sun" are expert at this multi-tasking. Falco, not so much. Her young Charley sounds fluttery, acts gangly. At least she doesn't skip. We wait for Charley to grow up so Falco can drop the kiddie mannerisms. Brown, on the other hand, handles her various assignments with great aplomb. She takes the wise approach of leaving her very grounded persona in place regardless of the character assignment.
Stephens, who won a Tony for his surreal stage adaptation of "The Curious Incident of the Dog in the Night-Time," is surprisingly pedestrian in his handling of the passage of time here: Every few minutes in "Morning Sun" he drops a very big milestone: John Lennon's murder (1980s), Charley's daughter majoring in media at the New School (1990s), the World Trade Center disaster (2000s). At each mention, the Manhattan Theatre Club audience gasps, sighs or laughs on cue. Then we're on to the next big moment in the life of this city. When "Morning Sun" gets to the 2010s, Stephens spares us having to relive Election Night 2016. Spoiler alert: There are no references to the Former Guy.
What the playwright doesn't skimp on is shoveling dirt on poor Charley. Frankly, this character is a very passive connoisseur of art who deeply identifies with the woman on a bed in the Edward Hopper painting "Morning Sun," a portrait of urban isolation. Bad things happen to Charley rather than her activating events. Foremost among them is when Charley's best friend (Ireland) attacks her over a most personal decision, which won't be revealed here. The criticism unleashed on this single mother is so flamboyantly cruel that it turns the best friend into a total monster. It also tells us nothing about Charley, except that she has dreadful taste in best friends.
After this verbal bomb is detonated, the friend disappears (never to be seen again), and rather than jumping out the bedroom window of Hopper's painting, Charley simply gets on with her life so Stephens can write another scene of extreme abuse. Soon, it is Charley's mother (Brown) who goes on the attack. Interspersed are scenes wherein Charley is abandoned by one man (Ireland) and beaten up by another (again Ireland, who is excellent at playing evil male characters). Giacomo Puccini puts his heroines through stage hell for our entertainment. In comparison to Charley, Cio-Cio-san and Tosca host a holiday picnic on the boards.
One extended moment in "Morning Sun" is absolutely riveting, with not a word is spoken: Playing Charley's adult daughter, Ireland throws a tantrum that includes tossing around some potted plants around the kitchen. Suddenly, director Lila Neugebauer pauses the dialogue to turn her actors into Angi pros so they can do a thorough and lengthy clean-up job of the stage carpeting. Falco, for her part, picks up the plastic pottery and the equally plastic philodendrons as Brown and Ireland watch in silence. Ireland, spotting some dirt on the floor, walks stage right across the very expansive set (scenic design by dots) to retrieve a vacuum from the onstage closet. Blair and Falco watch as she makes the trek back to the scene of the plant dismemberment to plug in the Hoover Wind Tunnel and suck up any debris that might have been missed.
Hey, it's just plastic, not real dirt! Let the stagehands do it when the show's over! That housekeeping tip aside, Neugebauer pulls off a directorial coup d'etat here that neatly deflates the hyperventilation about to burst this play apart.
Source: Read Full Article