'Obi-Wan' Star Ewan McGregor Downplays 'All This Bulls—' About Disney+ Series Delay
"We just pushed the shoot to the beginning of next year," actor says
If you're looking for something a little different to listen to this holiday season, you've come to the right place. TheWrap has found some "interesting" options to your standard Sinatra, Buble or Mariah Christmas tunes that'll either have you singing along… or scratching your head.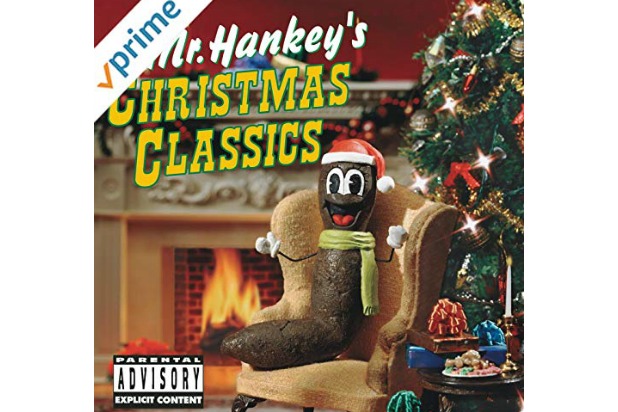 "Mr. Hankey's Christmas Classics"  If you're a fan of "South Park," this is a must-have for you. It harkens back to a 1999 holiday-themed episode of the adult animated sitcom in which a, well, piece of poo comes alive and starts singing Christmas carols. And this album was born. Among the "untraditional" yuletide cuts are "Mr. Hankey the Christmas Poo," Merry F—ing Christmas," "What the Hell Child Is This?" and "The Most Offensive Song Ever."
"Christmas in the Stars: Star Wars Christmas Album"   And you thought you had seen just about every "Star Wars" marketing gimmick possible, right? Well you were wrong. Following the release of "The Empire Strikes Back" in 1980, producer Meco Monardo created an entire Christmas-themed album. Not only does it include spoken lyrics by C-3PO and bleeps from R2-D2, it also boasts Jon Bon Jovi three years before his band was formed. Songs include "Christmas in the Stars" and "What Can You Get a Wookie for Christmas?"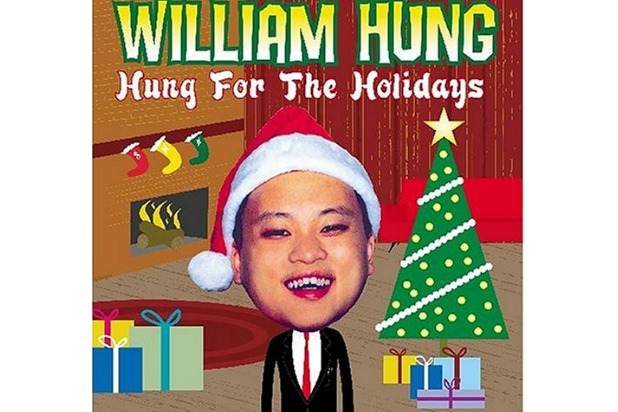 "Hung for the Holidays"   Remember William Hung, the 2004 "American Idol" contestant who grabbed 15 minutes of fame for his rendition of Ricky Martin's "She Bangs"? Well, he's cranking out holiday tunes now, like "Rudolph the Red Nosed Reindeer" and "Winter Wonderland." Good for a giggle or two… or just the need to put a smile on your face.
"Snoop Dogg Presents Christmas in tha Dogghouse"    Let's just say the word "explicit" is tagged on to the title of every song. Like "My Little Mama Trippin on Xmas," "Christmas in the Hood" and "A Pimp's Christmas Song." Snoop Dogg's 2008 album may not be right for the kiddies, but his funkadelic rap style blends surprisingly well with holiday cheer.
"Sugar & Booze"     "SNL" alum Ana Gasteyer showcases her singing talent in her new holiday album that she says "is a nod to the swing sound of the '50s and '60s but with a modern twist. It is festive, with a full-bodied sound, that I hope makes people feel joyful, jolly and gay." Mission accomplished. Among the tracks are a "Secret Santa" duet with Maya Rudolph and a retro-Cuban beat, a Mambo take of "Sleigh Ride" and original songs like "Nothing Rhymes With Christmas."
"Christmas at Luke's Sex Shop"   If the title of the album or the "parental advisory" label on its cover doesn't grab your attention, maybe the songs will. The Miami rap group 2 Live Crew gives new meaning to "naughty or nice" with this collection thanks to its heretical tracks, including, "Ho Ho Hoes," "Christmas Spliff" and "Christmas F—in' Day." Egg nog and mistletoe, anyone?
"Christmas Eve with Colonel Sanders"     Who doesn't like that old holiday tradition of listening to carols while unwrapping presents Christmas morning… while noshing on a bucket o' wings? Col. Harland David Sanders – the white-bearded old guy with the jolly disposition who is not Kris Kringle – released albums three consecutive Christmases starting in 1967. Offered at his restaurant chain KFC (then called Kentucky Fried Chicken), they were a compilation of popular artists at the time. Does the Colonel sing? No, not really. But he does rock a Santa hat like no other.
RCA Victor
"Christmas Time With The Three Stooges"     Yes, you read that right. The raucous slapstick trio originally cut a Christmas album in 1960. But if you're looking for "Silent Night" or "Little Drummer Boy," this album is not for you. Among the selection of songs is "Down Through the Housetop" (with wacky sound effects), "We're Coming to Your Home" and "I Want a Hippopotamus for Christmas." As one Amazon buyer wrote, it's "kind of obnoxious but the kids love it."
Comedy 3 Entertainment
"Shatner Claus – The Christmas Album"     William Shatner adds his comedic spin to 13 holiday classics, making them more like exaggerated dramatic readings then songs you'd hum along to. From a punk rock version of "Jingle Bells" to "Feliz Navidad" delivered with exclamation points, it's just about as entertaining as it gets… even if you're not a Trekkie. Reviews on Amazon go from "Life changing, comedy, and entertainment gold" to "Oh No No No."
Cleopatra Records
"Duck the Halls: A Robertson Family Christmas"     Believe it or not, the Robertson gang from "Duck Dynasty" actually have some pretty good pipes. In addition to songs performed by special guests including Alison Krauss and George Strait, the Robertsons sing "Ragin' Cajun Christmas," "You're a Mean One Mr. Grinch" and "Hairy Christmas." By the way, in 2013, this album debuted at No. 4 on the Billboard 200 and No. 1 on the Billboard Top Country Album chart.
EMI Nashville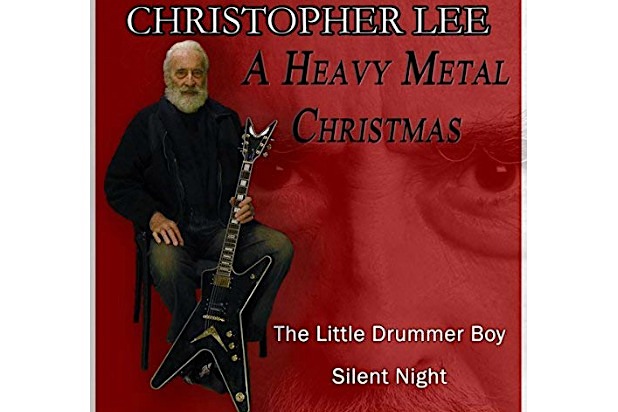 "A Heavy Metal Christmas"    Christopher Lee – yes, the actor that played Count Dracula, a Bond villain and the baddest of baddies in "Lord of the Rings" and the "Star Wars" franchise – also has an operatic bass voice and is totally into heavy metal. No joke. Although there are only two tracks on this album ("Little Drummer Boy" and "Silent Night"), it's pretty cool… especially since he was 90 when he recorded it.
Charlemagne Productions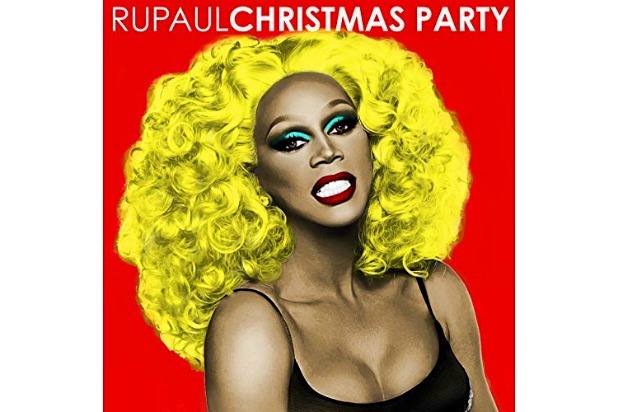 "Christmas Party" – RuPaul     The popular drag queen has three Christmas albums to his name: "Ho Ho Ho" (1997), "Slay Belles" (2015) and his latest, "Christmas Party," that was released in November. It goes without saying that the language is naughty in each track and the subject matter veers pretty far from the virgin birth of baby Jesus. Among the ditties, RuPaul's version of "All I Want for Christmas," which includes a request for cheek implants and buttock augmentation.
RuCo, Inc
"Bonanza: Christmas on the Ponderosa"     Who knew the Cartwright men from TV's longest running western series could carry a tune let alone actually have great voices? It's true. Lorne Greene (Ben), Michael Landon (Little Joe), Dan Blocker (Hoss) and Pernell Roberts (Adam) all show off their musical talents performing Christmas standards like "Deck the Halls" and "The Newborn King." You'll love it so much you'll shout "yee-haw!"
BMG Special Products
"The Night Before Christmas"     David Hasselhoff is a triple-platinum selling pop superstar in Europe. Yes, the "Knight Rider" and "Baywatch" guy is a bona fide Elvis in Deutschland. That said, it was no surprise when in 2004, he released this Christmas album with songs like "Joy to the World" and "God Rest Ye Merry Gentleman." But if you go, "What is he saying? I… I don't understand" when he sings "Silent Night," that's because he sings it in German. In other words, Frohe Weihnachten und ein glückliches Neues Jahr.
edel records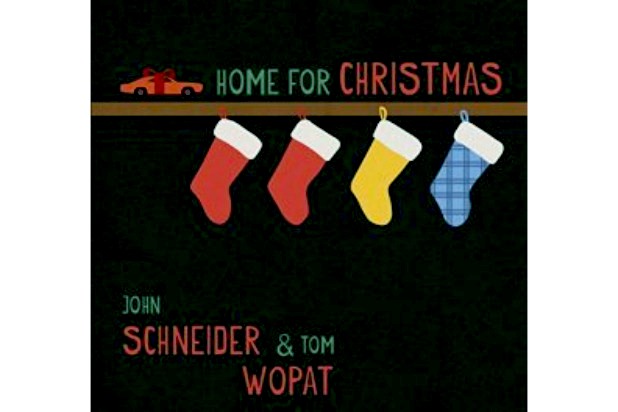 "Home for Christmas with John Schneider and Tom Wopat"     "The Dukes of Hazzard" bros teamed up for an 18-track album of Christmas tunes with a country twist, of which one Amazon buyer says, "How can a child of the 1980s not love this?" The good news is that both Schneider and Wopat can sing, and they do it well. In fact, they harmonize. On the flip side, they do a tongue-in-check version of "Baby It's Cold Outside" with a lyric rewrite to "Johnny It's Cold Outside." 'Nough said.
Tom Wopat Inc.
"Christmas With the Brady Bunch"     Greg, Jan, Peter and the whole gang gathered around the Christmas tree to deliver a potpourri of holiday tunes, including Bobby singing "The First Noel" and Marsha's take on "Away in the Manger." Those who grew up with the Brady kids will like the album for sentimental reasons, but one Debbie Downer on Amazon wrote, "This is what you get if you've been a bad little boy."
Geffen Records
"A Rosie Christmas"     Rosie O'Donnell enlisted a bunch of her superstar friends (including Trisha Yearwood, Elton John and Billy Joel) to join in ringing in the holiday season on this cheerful album. It features "The Magic of Christmas Day (God Bless us Everyone)" with Celine Dion, "Gonna Eat For Christmas" with Gloria Estefan and "Christmas Baby Please Come Home" with Cher. Although one Amazon buyer suggested the comedian/actress "stick to your day job," another said, "Not a fan of Rosie the person, but she sure put together an amazing Christmas album!"
Sony Music Entertainment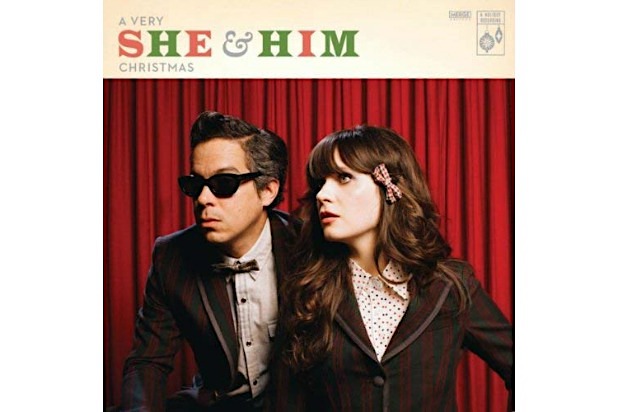 "A Very She & Him Christmas"   The "she" in this duet is Zooey Deschanel and the "him" is M. Ward, and together they are a folk/indie rock duo like no other. The Grammy-nominated Deschanel lends her smooth and deep jazzy singing style (one Amazon buyer says "Zooey's voice is pure silk") to songs like "Have Yourself a Merry Little Christmas" and "Silver Bells." And for "New Girl" fans, their cover of "I'll Be Home for Christmas" was featured in the Season 1 episode called "The 23rd."
Merge Records
"Ally McBeal: A Very Ally Christmas"     OK, so, this isn't only the cast of the David E. Kelley dramedy; it's more or less a showcase for Vonda Shepard (who was Ally's singing voice) with a little help from the series regulars. Calista Flockhart (Ally) gives her best comedic, seductive take on "Santa Baby," while Jane Krakowski (Elaine) sings "Run Rudolph Run" and Lisa Nicole Carson (Renee) tackles "Santa Claus Got Stuck in My Chimney." Oh, and a duet with Robert Downey Jr. (Larry) is thrown in for good measure.
Sony
"We Wish You a Merry Christmas: 15 Great Christmas Favorites Sung by Warner Bros. Stars"     Fans of mid-century TV, have we got an album for you. Among the participants on this curious collection are TV stars of yesteryear, like Robert Conrad ("Wild Wild West), Efrem Zimbalist Jr. ("77 Sunset Strip," "Maverick") and Roger Moore ("The Saint). If you're really itching to hear this one, good luck finding it. It's only available on vinyl and super rare. Better yet, check out an old episode of "Wild Wild West" on YouTube. At least that'll give you a Bob Conrad fix.
Warner Bros.
From "South Park" to "Star Wars" to Colonel Sanders… yes, the chicken guy
If you're looking for something a little different to listen to this holiday season, you've come to the right place. TheWrap has found some "interesting" options to your standard Sinatra, Buble or Mariah Christmas tunes that'll either have you singing along… or scratching your head.
Source: Read Full Article