So…Is There Going to Be Another Season of 'Sex Education'? Here's What We Know
School is back in session at Moordale High! Netflix just dropped the third season of Sex Education and a lot has changed. It's a new year and a new headmistress with a mission has taken over the school, determined to make it a "a pillar of excellence." The kids are forced to wear uniforms, the dilapidated bathroom where Otis (Asa Butterfield) conducts sex therapy sessions has been demolished, and the school is basically trying to get these horny teenagers to go celibate. (A totally impossible task, let's be honest.)
With all the new relationships, loose ends, and questions left unanswered from the last season, season 3 definitely brings a whirlwind of emotions. But before fans have even finished watching the latest release, many are already asking: Is there going to be a season 4 of Sex Education on Netflix? Well, here's everything we know so far!
Will there be a fourth season of Sex Education?
Honestly…nobody knows just yet. Netflix hasn't announced whether they will be renewing the show for a season 4. Even actor Asa Butterfield himself doesn't really know whether it's happening or not, but the 24-year-old did say he'd jump at the chance to reprise his role.
"I'd love to do a fourth season, because we have so much fun on this show," he told Cosmo UK. "At the same time we've been doing it for three years now, and I'd be happy saying goodbye to these characters… We'll have to see."
One thing to keep in mind is that Otis's class still hasn't graduated yet. And as is the case with many coming-of-age stories, that's kind of the big marker for "the end." So until then, there's still hope!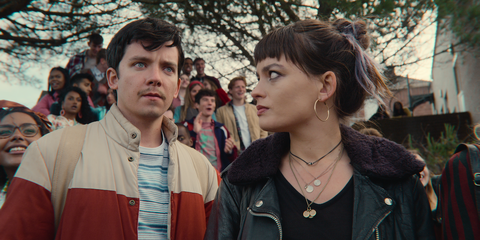 If season 4 isn't a go, could Sex Education get a movie special?
Butterfield made it clear that he wouldn't mind going back to Moordale High in any capacity. That could theoretically take the form of a movie or extended special episode, though there's no word of that being discussed by the Netflix powers that be. Asa joked to Cosmo UK, "[I want a] Christmas movie! Sex Education-themed." But, again, he emphasized, "It's out of our hands at this point. I wish I could tell you more, I genuinely don't know."
Who would be part of the season 4 cast?
Everything is TBD until Netflix actually announces a fourth season, but of course, the show wouldn't be what it is without the main cast. So if Netflix is giving it a green light for another round, it would probably feature the same beloved actors and maybe some new friends at Moordale.
When would season 4 start filming?
Just like other productions, there was a delay for Sex Education season 3 due to the COVID-19 pandemic. So, if Netflix does intend to renew the show for season 4, it would likely get the wheels in motion pretty soon. They'll need the head start, especially with all the new protocols that crews must follow on sets to ensure everyone's health and safety.
When would season 4 premiere?
If shooting were to start in fall 2021, it could drop by next year. Historically, this show has only taken a year between seasons. But of course, we won't know until Netflix says so!
Source: Read Full Article