'The Staircase': Patrick Schwarzenegger's Real-Life Father and Onscreen Dad Have a Weird Similarity
In 2005, Netflix aired a true-crime documentary The Staircase, which quickly became a mega-hit on the streaming service. In 2022, HBO Max took over the storytelling with a fictionalized version of the real-life crime. The drama series utilized the same title, The Staircase, but it is a fictionalized retelling of the story.
We should mention that the HBO show's cast is packed with stars — and Patrick Schwarzenegger is one of them. If you think his name sounds familiar, it's because you're right.
HBO Max's 'The Staircase' follows the suspicious death of Kathleen Peterson
In 2001, Michael Peterson found his wife, Kathleen Peterson, dead at the bottom of the stairs inside their Durham, North Carolina, home. At the time, many people immediately thought Michael was responsible for her death. He was tried, convicted, and given a life sentence.
In 2004, Jean-Xavier de Lestrade took up the case. The French director produced a documentary that both analyzed case details and followed Michael throughout the trial. True crime fans are familiar with one famous hypothesis concerning Kathleen's death: the owl theory.
Some experts describe the wounds on Kathleen's head as not resulting from a beating but from a bird of prey. The initial conclusion from the autopsy was that her husband beat her to death with a blunt object. However, as Michael's lawyer, David S. Rudolff, notes, the wounds reveal something different.
Rudolph shares that the victim died from exsanguination, or a severe loss of blood — not a fractured skull. The owl theory purports that Kathleen, who lived in an area with Barred owls, was attacked by one, and the bird lodged its talons and beak into her skull. Medical examiners found feathers and twigs on Kathleen's body.
While Netflix offered de Lestrade a platform to tell the real-life facts — owl or not — HBO Max took the case to the small screen by providing a fictionalized retelling.
Patrick Schwarzenegger stars as Todd Peterson on 'The Staircase'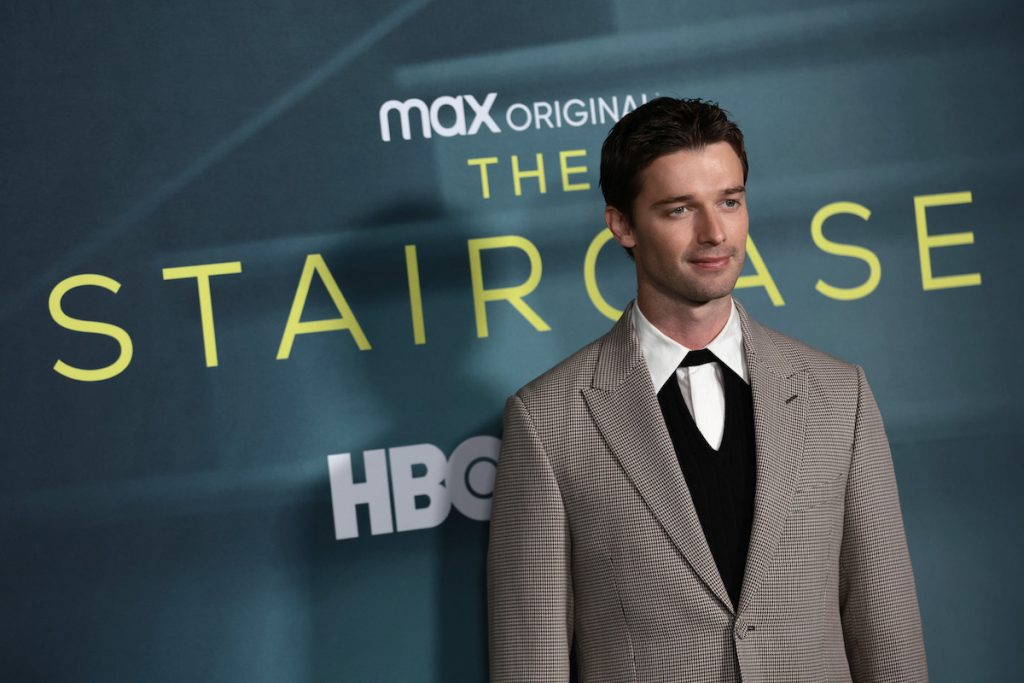 Schwarzenegger is the son of famous actor and politician Arnold Schwarzenegger and journalist Mariah Shriver. In 2011, news broke that the former Governor had a son 14 years earlier with their employee, Mildred Patricia Baena. She had worked for the Schwarzenegger family for 20 years.
The news threw everyone into disarray with the tabloids reporting of Arnold's extramarital affair and child born out of wedlock. Baena's pregnancy coincided with Shriver's. Each gave birth a week apart.
The actor said it took him almost a decade to realize that Baena's son was his. He noted that he took responsibility for the child and has catered to his son's needs. Arnold and Shriver finalized their divorce in 2021 after a turbulent decade of separation.
Although Patrick and his Schwarzenegger siblings have rarely spoken about their father's transgressions publicly, most people would assume it wasn't an easy time for their family. In The Staircase, Patrick's character Todd finds out about his dad's sexual indiscretions. Although Todd remains loyal to his dad, he has to rethink how he views his father.
Source: Read Full Article