The Transformation Of Hayden Christensen From 12 To 40
Portraying Anakin Skywalker as he becomes Darth Vader in the "Star Wars" prequels, Hayden Christensen embodied one of the most famous film characters of all time. The actor landed the role at only 19 years old, but did have a few years of working in Hollywood under his belt as a child star.
While "Star Wars" was life-changing for Christensen, the notoriously private actor never seemed to acclimate to being a big movie star and even took time away from show business as a result. But even just as his star was rising, Christensen's relationship with fame seemed tenuous. In fact, he told Dark Horizons in 2001, "One of the things I find about acting is that the less the audience knows about the actor, the more they're able to believe in him in the role."
Staying true to that ethos, he has remained somewhat elusive in spite of his meteoric stardom. And in 2021, Christensen returned to his star-making role and the "Star Wars" franchise with the highly anticipated Disney+ series, "Obi-Wan Kenobi." With that return, of course, comes renewed interest in the low key actor's personal life. So let's take a look at his transformation over the years from a Canadian child actor to the 40-year-old man we know best as Darth Vader. 
Hayden Christensen appeared in some of your favorite childhood shows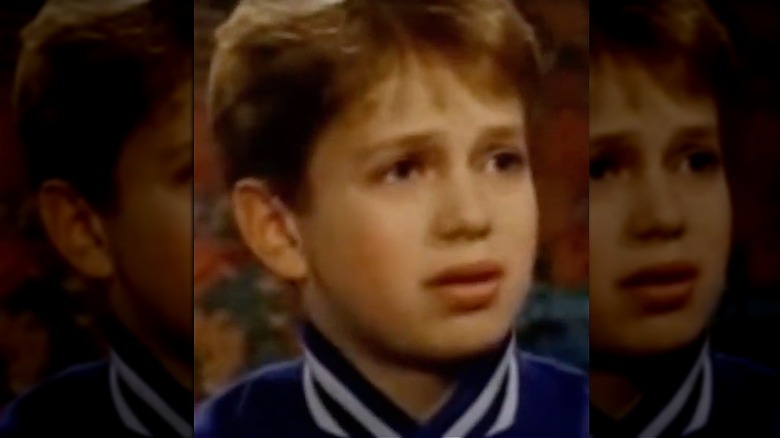 You could definitely say that Hayden Christensen has been working as an actor for almost his whole life. According to his IMDb, Christensen was born in Vancouver, British Columbia, Canada but grew up in Ontario with his parents and three siblings. In fact, it's because of one of Christensen's sisters that he seemingly became an actor in the first place. He recalled (via Faze Teen), that when he was younger, his sister, then a commercial actor, had a meeting with a talent agent, but "there was no one to baby-sit me and I went along for the ride and they asked me if I wanted to do some commercials and I said sure." 
It was also in Christensen's native Canada that he got his start in show business at only age 12, when he landed a role in the soap opera "Family Passions." Yet it didn't take long for Christensen to get work in the United States, and as a teen he scored roles in some 90's fan favorites, including ​​"Goosebumps," "Are You Afraid of the Dark?," and "The Famous Jett Jackson." He also had a role in the Sofia Coppola cult classic, "The Virgin Suicides," in 1999.
While Christensen was still a virtual unknown, it wasn't a bad start for a young actor who would later be launched to fame in one of the biggest movie roles ever. Yet, first Christensen showed off his acting skills with other notable work.
Playing a struggling teen earned Hayden Christensen a Golden Globe nomination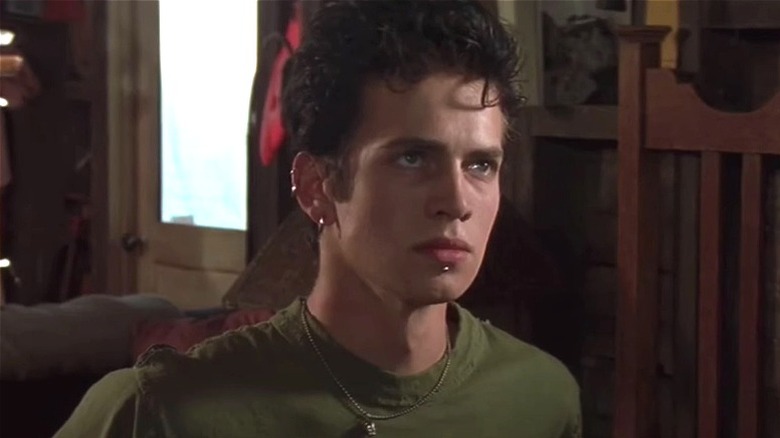 When Hayden Christensen was 19-years-old, he proved he had serious acting chops with his role as a struggling drug addict in the 2000 Fox Family Channel drama "Higher Ground." The next year, Christensen played another struggling teen but in the feature film "Life As a House," opposite Kevin Kline. 
Christensen told Dark Horizons of the role, "It's always easier, I suppose, to play someone who has some grave dysfunction; it's a crutch that you can work on." Yet Christensen admitted it was hard to relate to his character since he wasn't really a rebel himself. "I'm friends with my parents, so I never really rebelled, or went through any of those feelings. That's why I loved doing this movie, so that I could rebel vicariously through this character," he explained.
Christensen's role in "Life as a House" not only earned him a Screen Actor's Guild Award but also a Golden Globe nomination, all while he was relatively still unknown. The actor gushed (via The Buffalo News), "To get that kind of response was heartwarming and to be nominated in the same categories as actors I respected my entire life — Ben Kingsley is still one of my favorite actors — was pretty special for me." Yet this was only the beginning of the type of recognition Christensen would come to find in his career.
Star Wars changed Hayden Christensen's life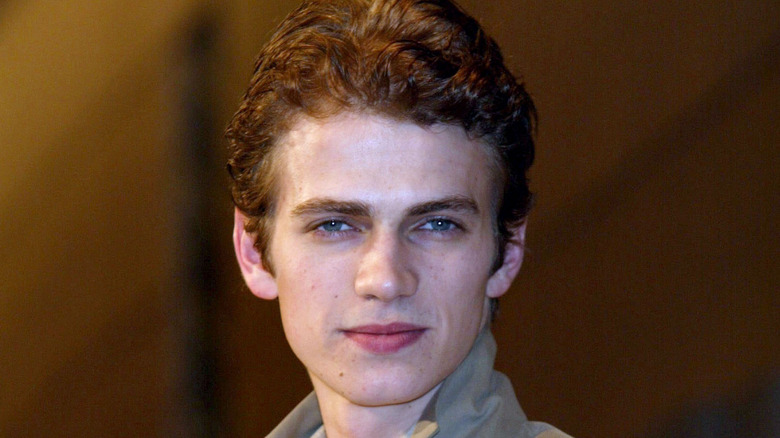 Although he was cast in the role of Anakin Sywalker at age 19, Hayden Christensen's fame went interstellar when he was 21, when he joined one of the biggest franchises of all time with the May 2002 premiere of "Star Wars Episode II: Attack of the Clones." Casting director Robin Gurland revealed to StarWars.com that while Christensen was relatively unknown, as soon as they had their initial meeting, she "just knew that Anakin had walked in the door. I literally picked up the phone and called George [Lucas] and said, 'Anakin just walked in.'"
Christensen couldn't believe it himself, especially since he told Faze Teen, "My brother Tove and I have always been big fans." He recalled the moment when he got the phone call that he got the role saying, "I walked outside just stunned and in disbelief."
The actor did admit to SciFi Weekly, "The 'Star Wars' films are massive. They were huge in my childhood… So it was a little daunting at first." He explained (via The Buffalo News) how he couldn't let his nerves over the gravity of the role get the best of him. "It just really wasn't conducive to doing my best work. I try not to project my thoughts there – just focus on how I was going to play the character and not so much the repercussions of if it was done wrong because that just brings you down." 
Hayden Christensen began dating Rachel Bilson in 2007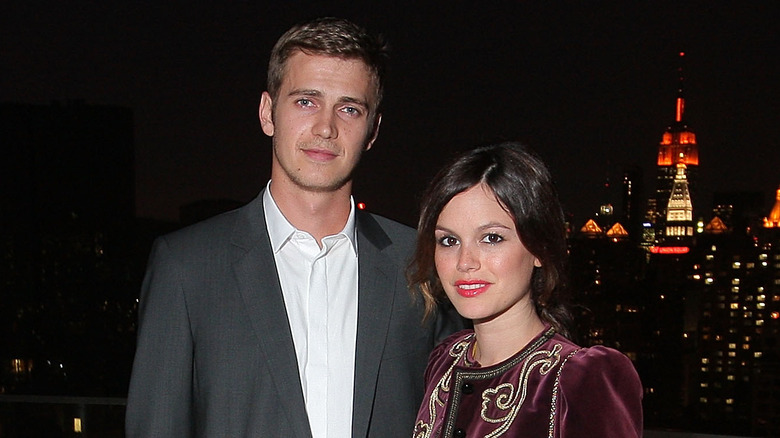 Despite his aversion to the spotlight, in 2007 Hayden Christensen began dating another famous actor, Rachel Bilson. The two met that year on the set of "Jumper" and were engaged a year later. However, the duo eventually called off their engagement in 2010 so they could take time away from their relationship, according to Us Weekly. The two eventually reconciled a few months later, were together for another seven years, and share a daughter, Briar Rose. 
While the former couple mostly attempted to keep their relationship private, Bilson did most of the sharing when it came to their romance. She revealed to Cosmopolitan in 2013, "I'm a really good girlfriend — I always put all that first in my life." She added, "I'm definitely the person who would make him his favorite dinner to come home to. … I love to cook, so we make dinner at home a lot and watch movies."
That same year, the "Hart of Dixie" star also gushed to Health about Christensen. She dished, "He's so incredibly supportive and considerate. It's so basic — that should be there. Because these things are so much more important when you're older." She continued, "This is my partner, my support, just there for me no matter what. And vice versa." Sadly, the two actors didn't work out in the end. But their relationship did go on for a decade, which is nothing short of impressive in Hollywood. 
Critics hated Hayden Christensen's big Star Wars follow-up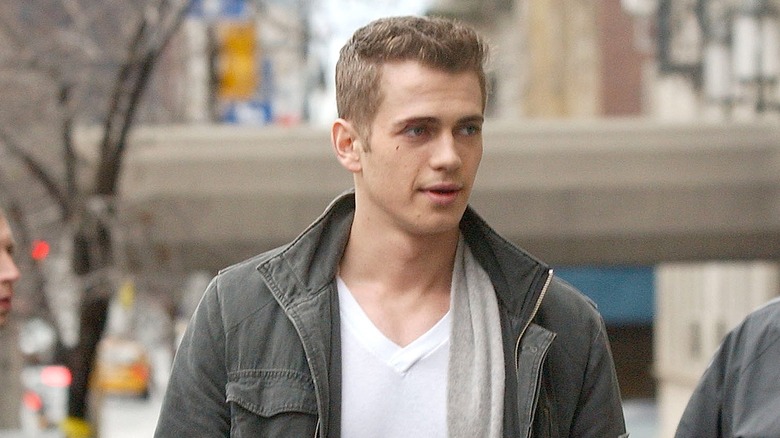 When Hayden Christensen and Rachel Bilson were together, Christensen was seemingly having trouble finding his footing as an actor after appearing in the super popular "Star Wars" franchise. While "Jumper" was good for Christensen personally, in that he met his future girlfriend on the set, the sci-fi movie was panned by critics. While promoting the 2008 film, Christensen told the Toronto Star of his character, "It was exciting to get the chance to explore something new."
The timing wasn't great for Christensen, who was not particularly liked by "Star Wars" fans for his portrayal of Anakin Skywalker. He was also already coming off a string of other flops, including the drama "Awake" and the comedy "Virgin Territory." Normally, that would hit hard, particularly for a star once referred to as Hollywood's next big thing. But Christensen also told the Toronto Star, "I don't really think about my career because the idea of a career is not something I can put a lot of thought into." He added, "I do the work that appeals to me and I pass on films that would probably benefit my career."
That next year, Christensen worked with Bilson again in the ensemble film "New York, I Love You." Given the romance that blossomed, as well as the wall his career seemed to have hit, it's not surprise the actor decided to physically remove himself from Hollywood and throw himself into an interesting new hobby.
Hayden Christensen took up farming as a hobby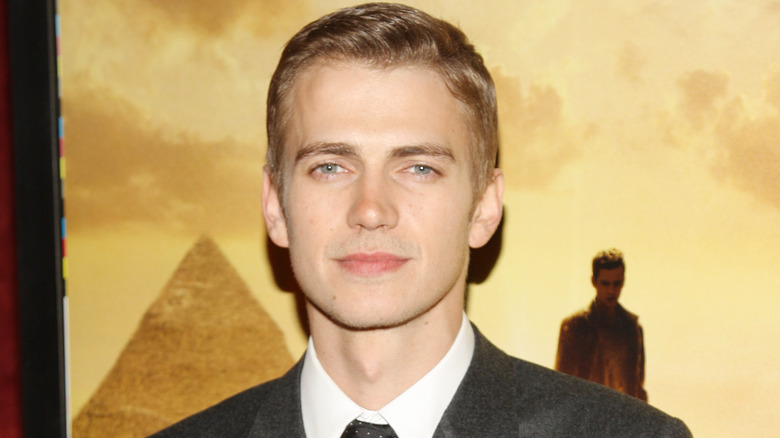 At age 26, Hayden Christensen decided to buy a farm in his native Canada, just outside of Toronto. Christensen talked about the unusual move to the Toronto Star in 2008, saying, "It's a hobby, but I want to have the appearance of being a proper farmer." He added, "I'm trying to figure it out. It's all new to me, but I would eventually like it to be a fully operational farm with livestock and different crops."
The "Factory Girl" actor revealed how he got into farming in the first place saying, "It's very much a departure for me. I was looking at places in New York City and I could either get a couple of thousand square feet or a couple of hundred acres, and having a bit more land appealed to me." He also explained how even though it was a spontaneous decision, it was just what he needed. "It's my sanctuary. I've been trying to do most of the work myself, including a lot of the carpentry and tiling. I've fixed up an old farmhouse that was on the property"
And it appears that Christensen shared his love of agriculture with his daughter. The Daily Mail reports that in May 2021, Christensen was seen out and about at a Los Angeles Farmer's Market with his daughter, Briar Rose. It seems that Christensen's interest in farming hasn't faded over the years. 
In 2013, he and his brother settled their lawsuit with the USA Network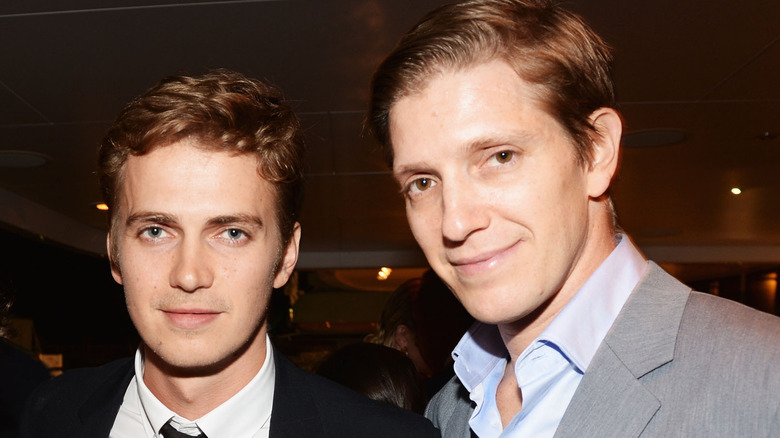 Fans of Hayden Christensen or of USA's "Royal Pains" may not know that the two are oddly connected, despite Christensen never having appeared on the show as an actor. That's because, according to Deadline, Christensen claimed — in court no less — that he and his older brother, Tove Christensen (pictured above), had originally come up with the idea for the TV show. For those who don't know, "Royal Pains" is about a disgraced surgeon who acts as a "concierge doctor" to the super rich in the Hamptons (per IMDb). It aired on USA from 2009 to 2016.
According to The Hollywood Reporter, the brothers, who owned the production company Forest Park Pictures at the time, claimed that in 2005, they proposed "a concierge doctor show," which they titled "Housecall," to executives at USA. They decided to sue the network after "Royal Pains" premiered and they saw the similarities.
The lawsuit was dismissed at first but the Christensens later won the right to an appeal in 2012. A judge had reportedly looked into their claims that the TV executives had met with the Christensens, "knowing full well that Plaintiffs had submitted those ideas in confidence and for economic gain, and with the clear expectation of payment in the event those ideas were utilized by USA Network." Finally in 2013, the lawsuit was settled after both sides agreed to "dismiss it with prejudice" and both agreed to "bear their own costs."
Hayden Christensen became a dad in 2014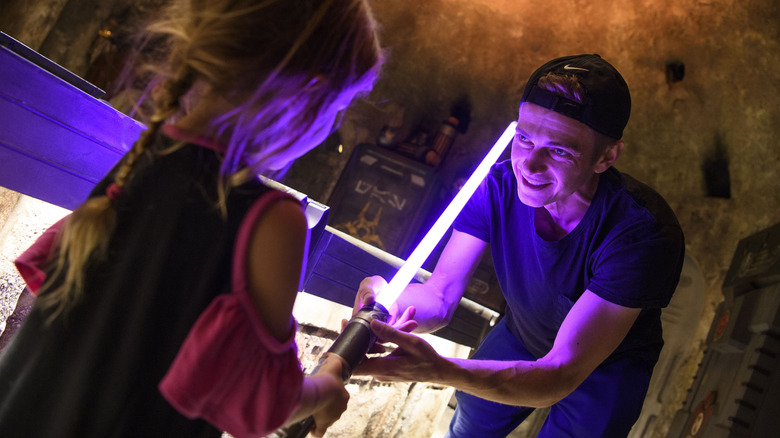 Hayden Christensen's life changed in a big way in 2014 when he and his then-girlfriend Rachel Bilson welcomed their daughter, Briar Rose. The "Little Italy" star explained how they picked her name on the Hallmark Channel's "Home & Family," saying (via People), "The original Sleeping Beauty is called Briar Rose. We both love all things Disney — but Rachel especially was very keen on the name."
In a 2015 chat with "Today," Christensen said that welcoming his daughter into the world "[put] everything into a new perspective." He also said one of the reasons he took his role in the film "90 Minutes in Heaven" was to have something he could be "very proud" to show Briar Rose one day. 
As for if Briar knows just how famous her parents are, Bilson revealed in 2020 that she still has no idea. The former "O.C." star told Us Weekly, "She's not aware that her dad is one of the biggest villains of all time. When that [time] comes, I don't know how that'll probably fare in school because nobody will mess with her!" Bilson did add that she somewhat understands what they do for work though. "She's aware that there's actors in her favorite shows and stuff, so she has a tiny grasp, but I don't think totally," she explained. Yet Briar's parents don't want her to follow in their footsteps yet. Bilson dished on Betches Moms podcast, "I think to keep a lot of that, as long as possible, away from her is … our choice, our top choice."
The real reason Hayden Christensen took a break from Hollywood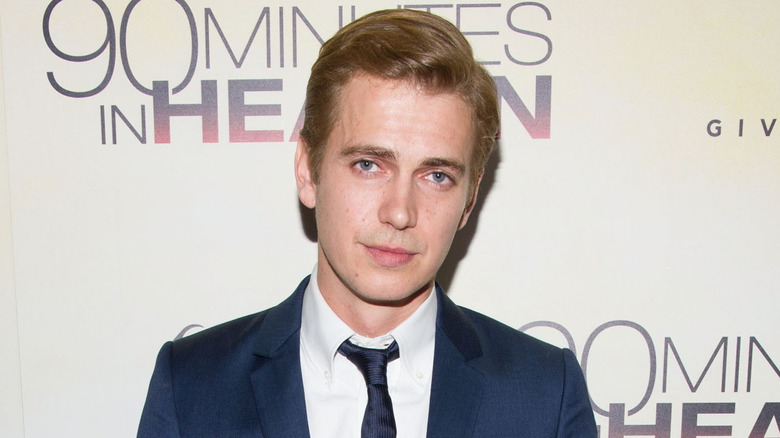 In 2015, Hayden Christensen opened up about why he decided to step back from acting and buy a farm far away from Hollywood at what should have been the height of his career. He told the Los Angeles Times that when he was chosen to portray Anakin Skywalker in the "Star Wars" prequels as a teenager, he wasn't quite ready for that level of fame. "I guess I felt like I had this great thing in 'Star Wars' that provided all these opportunities and gave me a career, but it all kind of felt a little too handed to me," Christensen explained, adding, "I didn't want to go through life feeling like I was just riding a wave."
Christensen had acknowledged in past interviews how the role affected him. In 2005, he told Sci-Fi Online, "It has been such a surreal experience that I still really have a hard time grasping the effect that this film and George Lucas has had on my life."
After taking some time off, Christensen shared that at 34-years-old he was ready to return to acting. He revealed, "You can't take years off and not have it affect your career." He added, "There was something in the back of my head that was like, 'If this time away is gonna be damaging to my career, then so be it. If I can come back afterward and claw my way back in, then maybe I'll feel like I earned it.'" 
Hayden Christensen and Rachel Bilson split up for good in 2017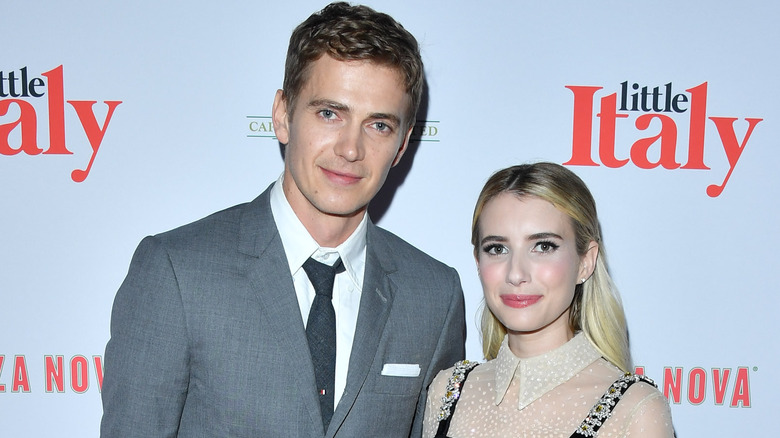 In 2017, after ten years of dating and a brief engagement, Hayden Christensen and Rachel Bilson decided to call it quits. At the time, a source told Us Weekly, "She's full-time back in L.A. He's in Toronto. They've been on the outs for a couple of months." As for why they broke up, Blast reported that Christensen's "Little Italy" co-star Emma Roberts may have been the reason. Bilson allegedly found out that they were texting, which made her feel that he and Roberts were having "an inappropriate relationship."
Yet People reported in September 2017 it was actually their very big differences that caused their split. Unnamed sources revealed, "Rachel is very outgoing and her friends are very important to her. Hayden is the opposite. He can be very antisocial." They added that his need for privacy eventually got to her. "Hayden never wanted to join her for special occasions, like weddings. Rachel had to attend by herself. Her friends thought she could do better."
It seems that the "Waiting for Forever" star eventually made the decision since the source added that their "constant conflicts about everyday stuff … became exhausting and almost depressing for Rachel." They continued, "It got really bad over the summer and they decided to separate." While the couple would no longer be involved romantically, they still had a very important reason to still be in each other's lives.
He co-parented his daughter with Rachel Bilson following their split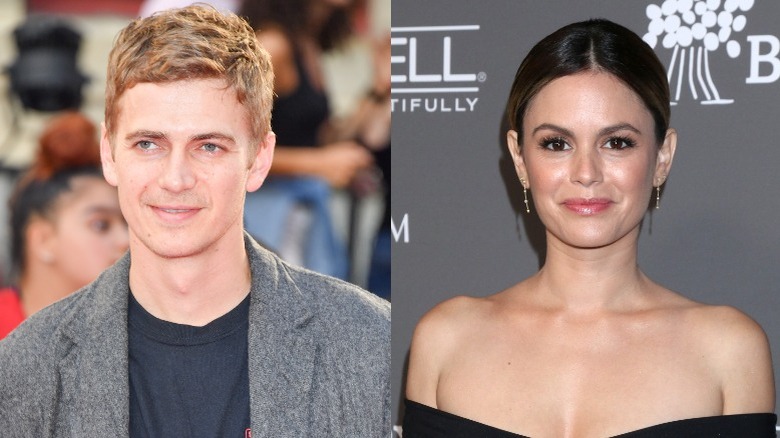 Despite their breakup, Hayden Christensen and Rachel Bilson had to find a way to still come together to co-parent their daughter, Briar Rose. Bilson admitted in 2018 to People, "We're still kind of trying to figure it out…It's a tricky one. And I don't know that there is any right way, necessarily." She added that Briar was too young to totally understand her parents' split. Bilson explained, "We say Mommy has a house and Daddy has a house but she's pretty young to have an in-depth conversation."
Bilson suggested that at the time, her and Christensen couldn't let their feelings toward each other impact Briar. Bilson said, "No matter what I'm dealing with or how much it hurts or how much anger there is, it's just about her." She added, "She has that love that is unconditional so I think we're doing okay."
It seems that Christensen and Bilson eventually ironed out their co-parenting routine. Bilson revealed to Us Weekly in 2021, "It's been going pretty well," adding, "It's also nice because you're stuck in the house [amid the pandemic]. So, for her to have another house to go to, I think that's actually been helpful. So, all in all, it's been good." Bilson revealed the secret to their happiness to People the same year, saying, "Communication is key and just being on the same page, so everything's about the kid. As long as you put the kid first, everything will be okay."
Hayden Christensen returns to the role that made him a superstar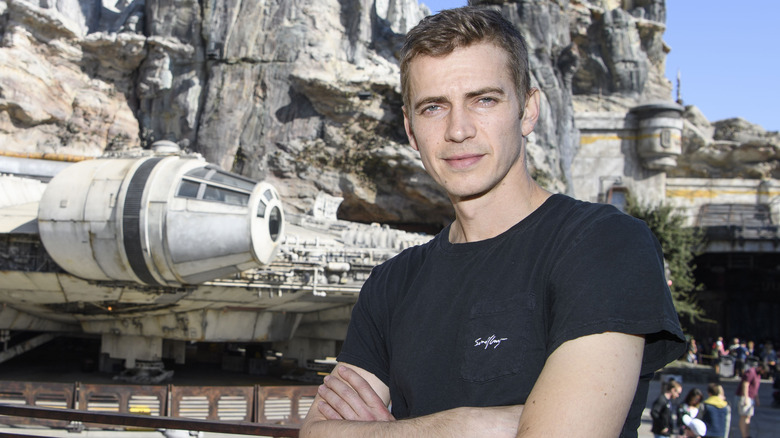 In 2020, it was announced that Hayden Christensen would reprise his most famous role ever, playing Darth Vader in the Disney+ series "Obi-Wan Kenobi." According to a press release on StarWars.com, Christensen will be reviving his role in the series alongside his former "Star Wars" prequel co-star Ewan McGregor, who will be playing the titular character.
Christensen expressed his excitement to return, saying, "It was such an incredible journey playing Anakin Skywalker. Of course, Anakin and Obi-Wan weren't on the greatest of terms when we last saw them… It will be interesting to see what an amazing director like Deborah Chow has in store for us all." He seems to have a good relationship with McGregor, adding, "I'm excited to work with Ewan again. It feels good to be back."
The series will be set ten years after what happened in "Star Wars: Episode III — Revenge of the Sith," so Anakin Skywalker has already become Darth Vader and Obi-Wan is still recovering from how it all went down. Besides that not much else is known, not even to the actors. Joel Edgerton, who plays Owen Lars, even told ComicBook.com, "I'm unable to discuss [the series] and potentially totally as in the dark as you are…We all know the universe of 'Star Wars' is on serious lockdown." Either way, Christensen reprising his role as Darth Vader in a highly anticipated series is sure to give his career a much needed boost.
Taking a break from Hollywood didn't put a dent in Hayden Christensen's bank account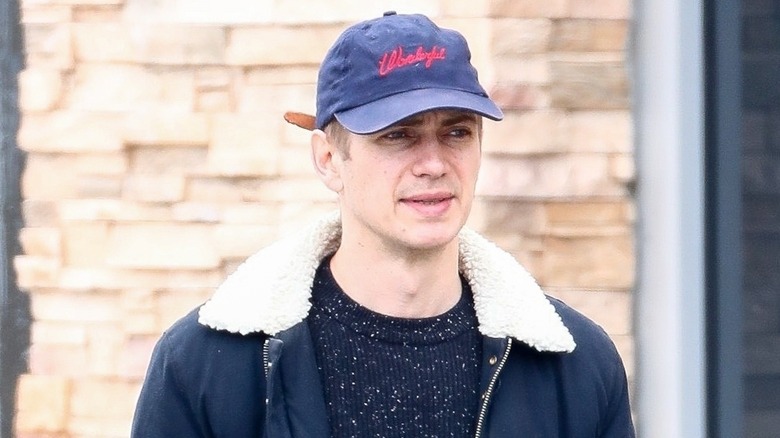 While Hayden Christensen faced his fair share of career struggles in Hollywood over the years, the actor still managed to make enough money to have a very impressive bank account. Not only has the father of one starred in big budget films, which had to come with big paychecks, but he's also involved behind the scenes of the movie business. He and his brother, Tove Christensen, had produced some movies through their company, Forest Park Pictures, and in 2013, they joined… forces (get it?) with three other producers to launch Glacier Films, according to The Hollywood Reporter. 
Outside of his work as an actor and producer, Christensen (pictured above in January 2021) made money through brand endorsements, reports Celebrity Net Worth. Throughout his career, he modeled for Louis Vuitton, "was a brand ambassador for Lacoste," and worked with RW&Co on a limited clothing line of his own design. The star also gives back, working with charities DoSomething and RED. In terms of investments, real estate is part of Christensen's portfolio; in 2017, he sold the Sherman Oaks home he purchased with Rachel Bilson for $3.8 million after buying it for just $2.7 million in 2012. 
Because of all this, as of 2021, Christensen's net worth was around $12 million. It's clear that Christensen has transformed over the years from a child star to the successful adult actor he is today.  
Source: Read Full Article