The Untold Truth Of Austin Butler
Heartthrob Austin Butler may have gained public attention while dating Vanessa Hudgens, but the actor was forging his own path long before they got together. Per PopSugar, Butler started acting as a teenager on the Disney Channel, where he starred in fan-favorite shows including "Hannah Montana" and "Wizards of Waverly Place." He also did a stint on Nickelodeon, appearing on "Ned's Declassified School Survival Guide," "Zoey 101," and "iCarly," before transitioning to film.
Next up, Butler made waves in Netflix's 2018 "Dude," following it up with a role as Jack in "The Dead Don't Die," which co-starred Tilda Swinton, Danny Glover, and Selena Gomez (via PopSugar). But the actor is probably best known for his role on the CW fantasy series "The Shannara Chronicles," where he played a human-elf hybrid helping to save the kingdom from banished demons.
"I've never played a character in a TV show where he's changed so much from one season to the next," Butler told Young Entertainment ahead of the Season 2 premiere. "That was enjoyable because it allowed a lot of room for play." "The Shannara Chronicles" was cancelled after just two seasons, but happily, Butler's career remains on the up-and-up. Aside from a buzzy career in Hollywood, what else is there to know about the blonde hotshot? Keep reading to find out!
Austin Butler's career got off to an interesting start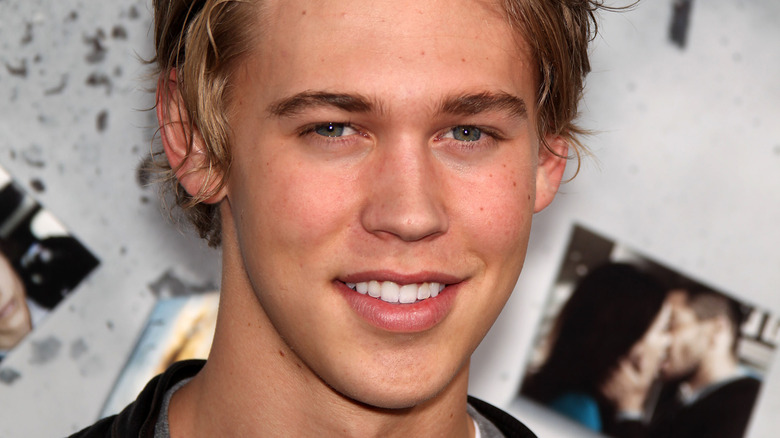 Some stars are born into acting royalty, but others get their start in unusual ways. After all, megastar Jennifer Lawrence was famously "discovered" when a man approached her in New York City's Union Square with a modeling offer (and look at how that turned out for her)! Likewise, Austin Butler had a chance encounter as a teenager that put him on the path to acting. According to OC Register, the California native was just 12 years old and attending the OC Fair when he was scouted by a talent agent. Though "the agent was initially interested in his stepbrother and wild hair," Butler also attended the audition in Los Angeles — and it's a good thing he did!
"I was extremely shy, so I was going along for the ride," Butler told the outlet. "They said to my mom, 'You have another son. Have him audition as well.'" From there, Butler scored some parts as an extra, caught the acting bug, and enrolled in acting classes. Sometimes, it pays to be in the right place at the right time — literally.
Austin Butler can sing, too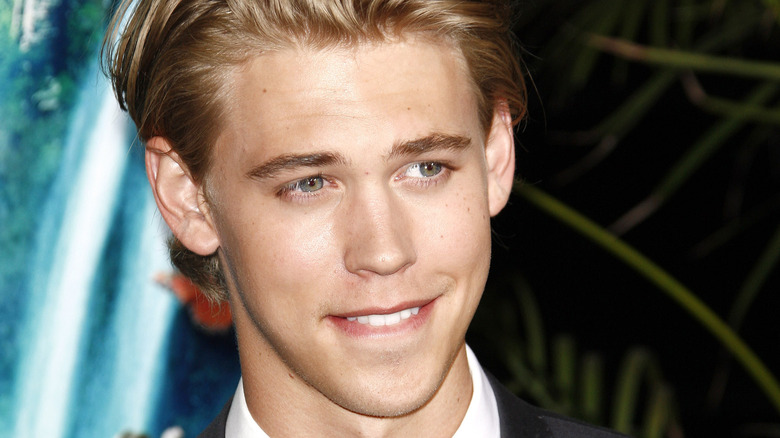 Not only does Austin Butler act, but he also sings. In 2008, the future star told Portrait Magazine (via HollywoodLife) that he likes "to play the guitar and piano, and I love recording, and creating music of all kinds." Explaining that he had turned to music as an outlet to help him unwind after long days spent on set, Butler continued to invest in his craft, and even played and sang in several on-screen TV appearances.
Most impressive of all? In a 2019 interview at the premiere of "Once Upon A Time In Hollywood," the actor shared that he will be doing his own vocals for the 2022 film "Elvis," in which he will star as the iconic musician. When asked how he went about preparing, Butler replied that he had spent "many many hours of hard work" in order to do the role justice. He also said that there is no one song that he's most excited to tackle, explaining, "At this point, I love them all so much. I'm at those beginning stages of the exploration … practicing everything." And with Butler bringing the songs to life himself, anticipation around the upcoming movie is already at a fever pitch.
Austin Butler has Broadway on his résumé
Austin Butler isn't content just to be known as a TV and film star. In 2018, he branched out by playing Don Parrish in a 2018 Broadway production of "The Iceman Cometh" (via Insider). Though he shared the stage with a number of talented actors, critics only had eyes for Butler's performance. "Tall, with fair hair and light-colored eyes, he conveys, through economy of movement and facial expression, what many of his castmates try to show by shouting and grandstanding: his character's inner life," The New Yorker raved.
Per Deadline, Butler's outstanding performance won over another fan, Baz Luhrmann, leading the director to cast Butler as Elvis in his 2022 music biopic. "I had heard about Austin Butler from his stand-out role opposite Denzel Washington in 'The Iceman Cometh' on Broadway, and through a journey of extensive screen testing and music and performance workshops, I knew unequivocally that I had found someone who could embody the spirit of one of the world's most iconic musical figures," Luhrmann told the outlet.
Butler's fellow stars were thrilled to learn that there was a new King of Rock 'n' Roll in town. "I AMMMM OVERRRR THE F-KING MOOOOOOOOONNNNN," his ex-girlfriend Vanessa Hudgens gushed on Instagram in July 2019. "I CANT WAIT SO PROUD OF MY HONEYYYYY!!!" Speaking of Hudgens, the "High School Musical" star split from Butler in 2020, but they were an important fixture in each other's lives for nearly a decade.
Austin Butler spent almost 10 years with Vanessa Hudgens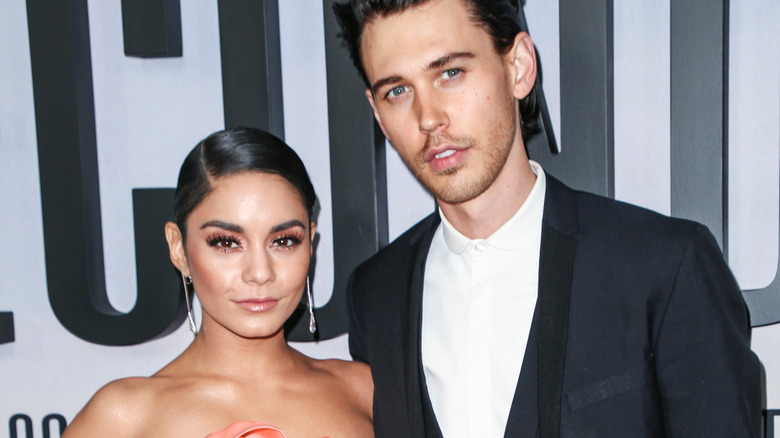 Love blossomed for Vanessa Hudgens on the set of "High School Musical" in 2005, where she met and dated her co-star Zac Efron, but fans may not know that she also met Austin Butler in the same place (via the Daily Mail). Though Hudgens and Butler did not get together until 2011, it's safe to say he made a lasting impression even then. After coupling up, the pair packed on the PDA, but waited until 2014 to confirm their relationship. "Yesterday was the love of my life's birthday," Hudgens wrote on Instagram in honor of Butler's big day. "Happy birthday to the man with the kindest heart, beautiful soul, crazy talent and best looks I've ever seen. … I thank god so greatly for blessing the world 23 years ago by creating Austin Butler."
In 2017, Hudgens and Butler navigated a long distance relationship while Butler was filming "The Shannara Chronicles," according to Insider. While Hudgens explained that "communication is key," the longtime couple's communication channels had broken down by the time of their split in early 2020. It's possible that, as Butler's star continued to climb, he may have resented his tether to Hudgens. "Austin's career has really skyrocketed in the last year," an insider shared with Radar Online. "He appeared in 'Once Upon A Time In Hollywood' and he's starring as Elvis [Presley], so for him he is just focusing on that and it really impacted his relationship with Vanessa." Hmm.
Is Austin Butler dating anyone now?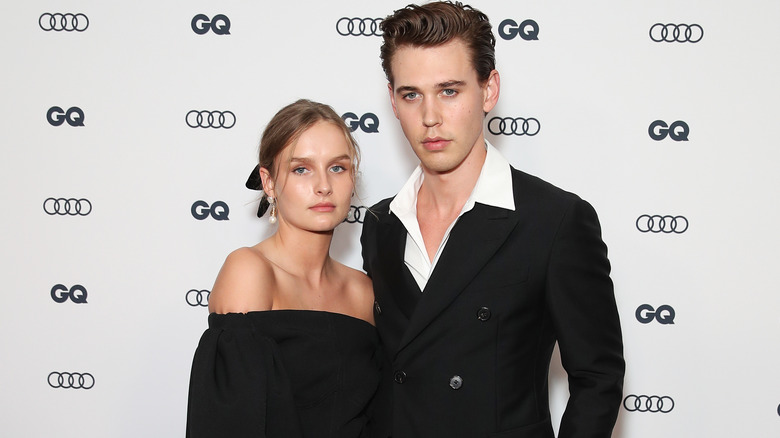 After Austin Butler and Vanessa Hudgens broke up, reports swirled that their split was only temporary, and that their "history and deep connection meant they could find their way back to one another" (per E! News). Hudgens spent some time cozying up to Los Angeles Lakers' star Kyle Kuzma before finding love with MLB athlete Cole Tucker in 2021. But, while Hudgens' Instagram is bursting with tributes to her new love, what about Butler?
Well, given the abrupt end to their years-long relationship, some fans speculated that Butler may have cheated on Hudgens with his "Elvis" co-star Olivia DeJonge. Not only did DeJonge appear on Butler's Instagram, but MTV News reported the duo were snuggling up together at a movie theater in Australia. Even more tellingly, one eagle-eyed Twitter user spotted the pair dining together in Australia's Gold Coast, where Butler "couldn't take his eyes off [DeJonge]" and even "had his hand on her leg most of the time." Both actors have kept quiet about their relationship, but if you recall, Butler waited years to publicly confirm his romance with Hudgens, too. Looks like only time will tell what's in store for these two.
Source: Read Full Article