These 15 New Christmas Movies Have Your Fave Stars From the 2000s
If "cheesy, made-for-TV movies that'll spark serious nostalgia and maybe some tears" is at the top of your Christmas list this year, wow, you're in luck. (Also, that's an oddly specific wish.) Hallmark and Lifetime really went all out with a whole range of 2019 holiday movies featuring actors you adored in the early '00s and some singers whose music you definitely still belt out at karaoke.
To get a little more specific, there's a movie featuring one of Destiny's Children, another starring a Degrassi: The Next Generation alum (sorry, no, it's not Drake), and one with one of Ted Mosby's ex-girlfriends from How I Met Your Mother. Oh, and did I mention there are three One Tree Hill reunions? Yes, three.
So grab a cozy blanket, some sparkling wine, and a stack of Christmas cookies — and get ready to be transported back in time. The best part? Hallmark and Lifetime replay these movies a ton, so you have multiple chances to watch them in all their sappy, festive glory.
1. Chad Michael Murray & Torrey DeVitto in Write Before Christmas
Lucas Scott (Murray) and Nanny Carrie (DeVitto) team up for this One Tree Hill reunion on the Hallmark Channel. Considering DeVitto's, uh, more sinister role on OTH (she literally kidnapped a child), this sounds much sweeter: She plays a newly single woman who decides to mail Christmas cards to a range of people who have influenced her life — and as seen in the trailer, she casually bumps into Murray's character on the street. Unsurprisingly, romance ensues.
Watch here
2. Kyla Pratt in No Time Like Christmas
What wasn't Kyla Pratt in during the early '00s? She voiced Penny Proud on Disney Channel and starred in her own show One On One. Now, Pratt is appearing in Lifetime's No Time Like Christmas, where her character stumbles upon an engraved watch from an ex-boyfriend at a vintage store. From there, there's some match-making shenanigans and an attempt to save a local theater with a Christmas Eve play.
Stream it now
3. Jesse Metcalfe & Autumn Reeser in Christmas Under The Stars
In this Hallmark movie, John Tucker — I mean, Jesse Metcalfe — works at a Christmas tree lot and falls for an astronomy teacher played by none other than The O.C.'s Autumn Reeser, aka Taylor Townsend. That definitely gives "star-crossed lovers" new meaning, huh?
How to watch
4. Melissa Joan Hart in Christmas Reservations
This Sabrina the Teenage Witch star is no stranger to made-for-TV Christmas movies, ranging from Holiday in Handcuffs to A Very Nutty Christmas. Hart is continuing that trend this year with Lifetime's Christmas Reservations, where she works at a family ski lodge and gets caught up in past feelings when her now-widowed college ex checks into the resort with his two kids.
Stream it here
5. Tamera Mowry in A Christmas Miracle
I know, I know — Sister, Sister aired in the late '90s, but Tia and Tamera Mowry's careers clearly didn't stop there. The early '00s brought us gems like Seventeen Again and Twitches. Tamera stars in this Hallmark holiday film, which marks her first lead movie role in almost a decade. According to the synopsis, she's a single mom who wants to write an article about a Christmas miracle, so she sets out to create her own with the help of a very hot photographer — because, why not?
How to watch
6. Tia Mowry in A Very Vintage Christmas
Tamera isn't the only Mowry sister getting in the holiday spirit. Tia stars in Lifetime's A Very Vintage Christmas, where she plays a hopeless romantic-slash-antique store owner. She stumbles upon a box of keepsakes she wants to return to its rightful owner — and as expected, she starts to fall for the guy who helps her in her search.
How to watch
7. Marla Sokoloff in The Road Home For Christmas
Sokoloff may have played Stephanie Tanner's bad influence Gia on Full House in the '90s, but in the early '00s, she appeared in classic teen movies like Dude, Where's My Car? and Sugar & Spice. Now, she's playing a singer in this Lifetime movie. Her musical rival becomes her road trip buddy, and knowing how these things go, they'll probably fall in love too.
Stream it here
8. Hilarie Burton & Tyler Hilton in A Christmas Wish
In One Tree Hill reunion #2, everyone's favorite angsty cheerleader Peyton Sawyer (Burton) stars opposite mischievous musician Chris Keller (Hilton) in a movie that sounds very different from their Tree Hill days. The plot involves some sort of Christmas wish box (which you can read about here), but I'd rather talk about all the OTH cameos: Skills (Antwon Tanner), Mouth (Lee Norris), Deb Scott (Barbara Alyn Woods), and Jimmy (Colin Fickes). In case that's not enough, singer Ryan Cabrera (aka Ashlee Simpson's ex who sang "On The Way Down") is also in it.
How to watch
9. Ashley Williams in Holiday Hearts
True How I Met Your Mother fans were rooting for Ted to end up with Victoria, the cupcake-making baker who moved to Germany. (Or at least I was!) Well, that didn't happen, but in this Hallmark movie, Williams plays a woman who helps look after a friend's kid with a man who there's a 99.9% chance she falls in love with.
How to watch
10. Jake Epstein in Mistletoe & Menorahs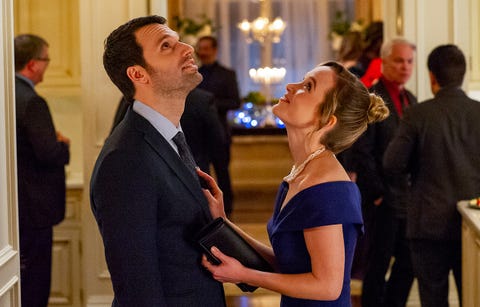 Jake Epstein will always be best known as Craig Manning, the guitar-playing teen who sparked one of the biggest love triangles in the fictional Canadian high school's history. But now, he's making his holiday Hallmark debut with Mistletoe & Menorahs. There's no trailer yet, but Epstein's character attempts to teach a toy company exec about Hanukkah, in exchange for Christmas-decorating tips so he can win over his girlfriend's dad.
How to watch
11. Kelly Rowland in Merry Liddle Christmas
Happy Holiday Season! 🎄🌟 Don't miss the premiere of my movie, #MerryLiddleChristmas November 30 at 8/7c on @lifetimetv! pic.twitter.com/l2nUwEn8hT
This Destiny's Child alum stars in a Lifetime Christmas movie as a "successful, super-together single tech entrepreneur," per the plot synopsis. However, her family comes to visit for the holidays and throws her otherwise organized life off-track. Amidst that chaos, there's also a potential romance with the guy next-door.
How to watch
12. Jana Kramer & Moira Kelly in Christmas In Louisiana
And here's OTH reunion #3: Kramer, who played Alex Dupre on the hit WB show, stars in this Lifetime movie along with Kelly, who played Lucas Scott's mom Karen. The title for this one may seem self-explanatory, but here's a teaser anyway: Kramer's character returns to Louisiana for her hometown's Sugarcane Christmas Festival, where she previously won the title of Miss Christmas. She runs into a former Mister Christmas winner, so cue the sparks flying.
Watch it here
13. Lacey Chabert in Christmas In Rome
Gretchen Wieners' dad may have invented Toaster Strudel, but Lacey Chabert basically reinvented herself as a Hallmark movie star and fans can't get enough. In Christmas in Rome, the Mean Girls alum plays a tour guide in — you guessed it — Rome. A man who wants to buy a fancy ceramics company must first learn about the Italian city, so Chabert's character shows him around. (They probably fall in love too, right?)
How to watch
14. Ashanti in A Christmas Winter Song
Ashanti was a staple in early '00s music — and she also appeared in John Tucker Must Die with Metcalfe. Now, she's starring in a Lifetime Christmas movie that's pretty much guaranteed to make you cry. Ashanti's character Clio, who recently lost her dad, befriends a homeless jazz singer to help him reconnect with his own daughter. See? Tears already.
How to watch
15. Ashley Greene in Christmas On My Mind
Back in 2008, Ashley Greene appeared in Twilight, and this year she's starring in a Hallmark movie with an equally bonkers plot. Sadly, there aren't any werewolves or vampires, but in Christmas On My Mind, Greene wakes up with a wedding dress and amnesia — not knowing what exactly happened with her longtime boyfriend. There's no trailer yet, but the description is intriguing enough, especially since Sister Sister's Jackée Harry is in the cast, too.
How to watch
Source: Read Full Article