This Original Plan for 'Parks and Rec' Probably Could've Ruined the Show
If you're a Parks and Recreation fan, you were probably bummed when the show ended several years ago. Of course, you're probably also catching re-runs anytime you can.
It's just that good, right? But imagine if Andy Dwyer wasn't part of the show?
Andy was almost cut from 'Parks and Rec'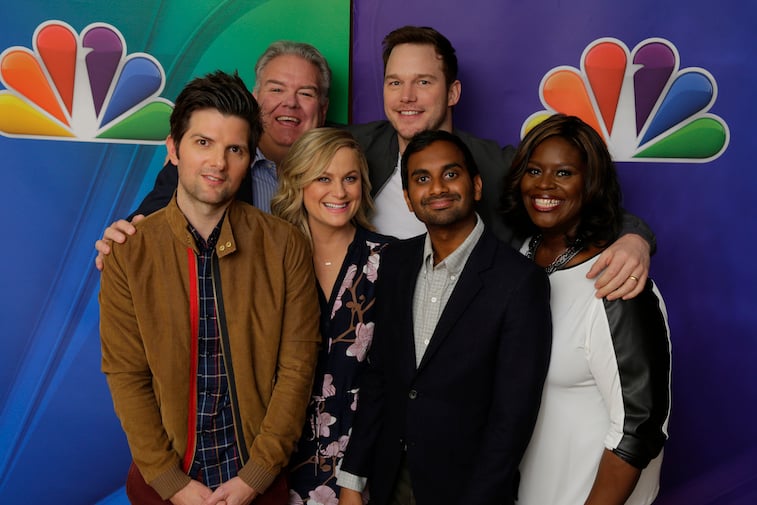 Andy Dwyer, the goofy but lovable character played by Chris Pratt, wasn't actually supposed to be a long-term part of the show. But thankfully for Pratt, he turned from a season one guest appearance into a series regular who appeared in all seven seasons.
With this change and his character's popularity on the show, Pratt's time on the series helped jumpstart his career as a movie star.
Initially, Andy was meant to leave at the end of the season one after his on-screen girlfriend, Ann Perkins (played by Rashida Jones), caught him in a lie. That lie was about the true nature of his injuries from his fall into the pit behind Ann's house at the beginning of the series. Two broken legs later, Ann was pampering Andy back to health.
He enjoyed it a little too much and delayed getting his casts removed. That was the end of Ann and Andy, and it was supposed to be the end of Pratt's time on the show. 
However, fans enjoyed his character so much that NBC decided, it turns out rather smartly, to keep his character on the show. Pratt returned for season two with intentions of winning back Ann, but the show didn't take things this route ultimately.
Andy ended up with a rather lovely storyline involving becoming part of one of the core couples on the show when his friendship with April Ludgate (played by Aubrey Plaza) turned romantic. 
Fans fell in love with Chris Pratt
Pratt was such a hit as Andy on Parks and Rec that the show couldn't afford to lose him. Everyone loved him, including the cast and network. From the moment Pratt auditioned, he captivated the network. With so many personas in one character, Pratt helped carry the show.
He was a character many fans could relate to. He was full of personal flaws, very childish and immature at times, and drove people crazy. But he also had a big heart and innocence that made him even more lovable. He ended up becoming one of the most popular characters on the show.
He had his serious side too, and fans also loved his relationship with April. But it wasn't just Andy that was loved.
It was the person behind the character. Pratt brought everything he had to the show and never thought about leaving, even when he broke into movies.
Pratt became a megastar, making more money than he ever dreamed of. Parks and Rec is by far one of his best roles, and the man is an Avenger, too. Pratt is a highly loved and sought-after star that has proved his talent and loyalty in Hollywood. He made us love Andy, want to guard the galaxy, and has shown us his wide range of acting chops in roles that highlight both his comedic timing and serious side. 
Would his exit have ruined the show?
We'll never know if Parks and Rec would have been the same show without the character of Andy. It certainly wouldn't have been the same without Pratt playing the role. It's probably fair to say that the show would not have seen the success it had, with fans still talking about it five years after it's gone off the air.
After all, one of the best episodes of all time is one centered around Andy and April, when they have a surprise wedding at their dinner party in Season 3.
If there's ever a reunion show or a spin-off, it'll probably be a hit.
Source: Read Full Article