What the F*ck You Just Watched: 'Spinning Out' on Netflix
Lately, it feels like every movie has us thinking, "What the f*ck did I just watch?" In this series, we will break down exactly what happened in all those wild, mind-bendy, and just plain strange flicks…in a way that's much easier to understand than the actual film.
THERE ARE SPOILERS AHEAD FOR NETFLIX'S Spinning Out.
2020 came in so hot that somehow nobody noticed the sudden appearance of a downright bizarre Netflix drop. Welp, it's a frosty new ice-skating show called Spinning Out that stars January Jones from Mad Men and Kaya Scodelario, a.k.a. the girl from The Maze Runner. The campy series is getting me through the fact that the Olympics this year are, sigh, of the summer variety. You absolutely have to watch, but I can't guarantee that you'll be able to follow the twists and turns that come faster than a combination double axel triple toe loop—if that's a thing. It even has some mother/daughter drama to satisfy all of the I, Tonya fans out there.
If you're the type of person who loves Tara Lipinski and Johnny Weir's outfits and swoons over Tessa Virtue and Scott Moir's on-ice chemistry, then Spinning Out is absolutely the show for you. In fact, Weir is actually in the cast, and the show blatantly stole Virtue's Moulin Rouge look for its leading lady. (Though, my inner figure skating expert who comes out every four years wants to make sure you know the characters on Spinning Out are competing in pairs figure skating, whereas Virtue and Moir are ice dancing champions. It's a different sport.)
"Can I copy your homework?"
"Yeah just change it up a bit so it doesn't look obvious you copied."
"Ok." #spinningout pic.twitter.com/EICIrIY0aB
Let's get into it. The show is about Kat, an Olympic hopeful who is ready to quit singles figure skating after an injury shatters her confidence. At least three men are in love with her at the beginning of the series, which, good for you Kat? But she ends up romantically and professionally paired with Justin — who Spinning Out tells me is supposed to be a Bad Boy™ but has a wholesome vibe about him that is just so distinctively… Canadian.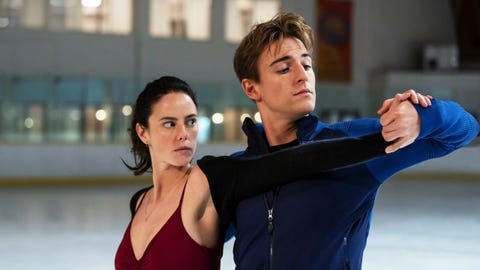 Kat and her mother both have bipolar disorder, both struggle with managing medication, and are constantly getting in fights with each other or Kat's sister Serena (another figure skater) about something. I'm not calling them crazy or making light of manic episodes. Spinning Out actually has some interesting things to say about whether or not the Kat should disclose her disease to the figure skating community. I'm saying that on the show they are literally getting in so many fights that it's difficult to keep track of who's mad at who and why.
Source: Read Full Article