Why Ashton Kutcher Didnt Like Kissing Mila Kunis In That 70s Show
Although Mila Kunis and Ashton Kutcher got married in 2015, the actors first met years earlier on the set of "That '70s Show." But before the two were hitched, they both had other long-term relationships that were making headlines. Kutcher's relationship with his ex-wife, Demi Moore, was well-publicized, partly due to the couple's 16-year age gap, but also because of their many problems. After the two got divorced in 2011, Moore released a memoir where she included details about the issues that plagued their marriage. According to Elle, along with Kutcher reportedly cheating, Moore claimed he also encouraged her to break her sobriety. The couple's difficulty with infertility also strained their marriage. 
Unlike with Kutcher and Moore, there isn't much known about Kunis' relationship with her ex, Macaulay Culkin, despite the two being together for eight years. However, in 2018, Kunis revealed on Dax Shepard's "Armchair Expert" podcast that she regrets the way their relationship ended."It's f***ed up what I did and it's f***ed up how I did it," Kunis admitted (via Refinery29). "When I got to be a single I said, 'I just need to figure myself out.' I genuinely need to know why I did what I did, and, like, regroup myself as a human being." 
But throughout all the ups and downs of their past relationships, Kutcher and Kunis finally found love with each other. Still, the couple's first kiss was a strange experience, especially for Kutcher.
Ashton Kutcher and Mila Kunis had an awkward age difference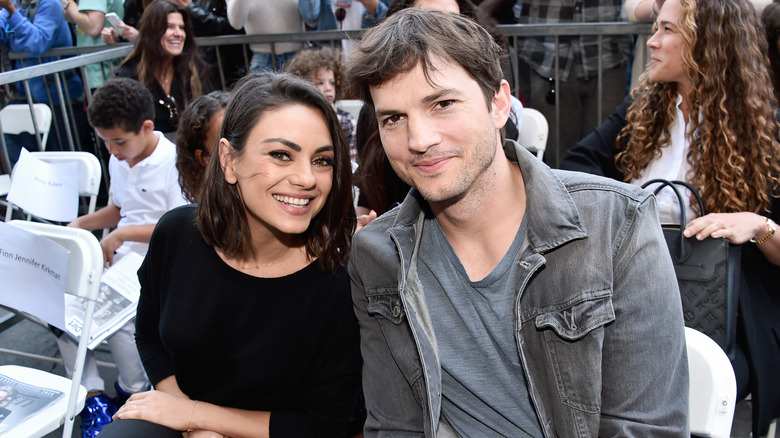 It's a well-known story that Mila Kunis lied about her age when auditioning for, and then landing, the role of Jackie on "That '70s Show." To get on the show, Kunis said she was 18 when in reality, she was only 14. Her then co-star, Ashton Kutcher, was 19, several years older than his future wife. After word spread about Kunis' real age, Kutcher was naturally uncomfortable when it came time to kiss her for a scene in the show. In a 2017 interview on "The Howard Stern Show," the actor elaborated on the awkward situation.
"It was really weird," he said of the kiss (via CheatSheet). "I was like, 'Isn't this illegal? Like, am I allowed?' … It was really awkward, cause I'm like a 19-year-old kid … She was 14! She was like my little sister." Kutcher said, adding, "I wanted to make sure she was okay."
Kutcher explained that at the time, he saw Kunis as his "little sister," making the whole ordeal feel very inappropriate. If only he knew that many years later, the two would get married.
Mila Kunis and Ashton Kutcher went from TV kisses to real-life kisses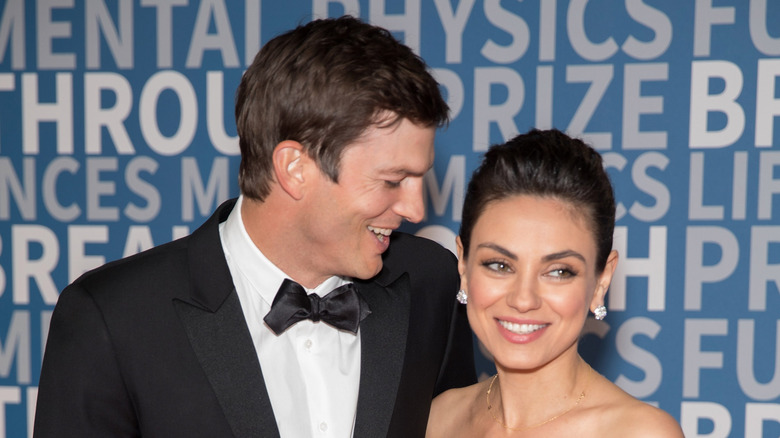 Mila Kunis and Ashton Kutcher became good friends throughout their time working together on "That '70s Show." Though Kutcher left the show before Kunis did, in a 2001 interview with People, Kunis revealed that the two stayed in touch online, through AIM, of all places. But it would be several years before they became an item.
Per Cosmopolitan, both Kutcher and Kunis became single in 2011. They later ran into each other at the 2012 Golden Globes and instantly rekindled their connection. From then on, their relationship was casual, until it wasn't. The couple got engaged in 2014, had their first child later that year, and were married in 2015.
Whether it's showing off their beautiful home, discussing their (somewhat controversial) parenting habits, or making a funny Cheetos commercial together, the two have been in the news quite often, and it's clear they're very happy together. 
Source: Read Full Article