Why 'Grey's Anatomy' Fans Are So Frustrated With ABC's Lineup
Networks have been trying new tricks to get viewers to tune into watch their new shows. ABC has been using fan-favorite Grey's Anatomy to link viewers to its newer series Station 19.
Fans haven't been impressed with the new show and have taken to social media to voice their dissent.
Fans of 'Grey's Anatomy' don't like being told what to do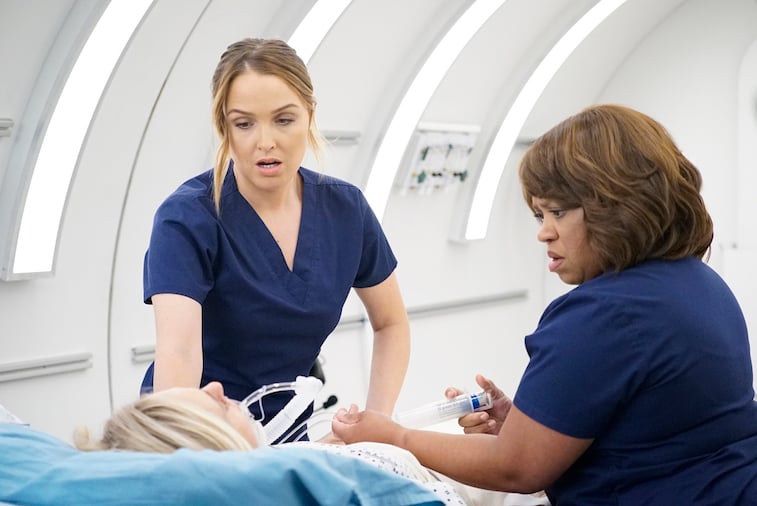 For starters, Grey's Anatomy fans don't like being told what to do. Forcing a fans to watch the next show in order to get closure to a storyline on Grey's has left a bad taste for some viewers.
See, Grey's has been airing on Thursday nights at 8 p.m. on ABC, Station 19 comes on right after it.  As the longest-running primetime medical series (16 seasons!), Grey's has accumulated hordes of loyal fans — Station 19 has yet to accumulate the same kind of following.
However, this year show creators have merged the two back-to-back series, in part because both Grey's and Station 19 are being run by the same woman, executive producer Krista Vernoff.
Fans are displeased, in part, because they don't like being forced to watch a show they may or may not be interested in.
One fan took to their blog to explain; "Because not all Grey's fans like or want to watch Station 19,…Plus, Grey's fans, who often feel like their favorite characters don't get enough screen time as it is, get really, really pissed when what screen time is available is squandered on characters from a show they don't — and won't — watch…."
Problems with cross-over storylines
There are additional problems fans are having with cross-over storylines too. For instance, these connections all seem like they have to be big "events". In doing so, the network is making the crossover aspect the major focus of plot structure, instead of what initially draws people to the show in the first place: the characters.
Reddit users complained that they feel like they have to watch both shows in order to understand what is going on with their favorite characters.
When discussing the crossover, some complained: "Does anyone else hear those words and immediately roll their eyes. Quit trying to make Station 19 happen by forcing us to watch it so we can know what's going on with Bailey or so we can finish a story line."
Fans miss tuning into Grey's Anatomy without feeling like their show has become a two-part miniseries. If the characters need to cross over, viewers want them to do so in ways that make sense and stay true to the things they love most about these characters.
There can certainly be moments which remind viewers that the two shows exist in the same city, but still stay true to the personal lives and intimate connections which make the characters enjoyable.
ABC launches a new lineup for January 2020
When Grey's airs again in January, it's already slotted to be during a hugely anticipated, two-hour crossover event with Station 19. This could be a big turnoff to diehard Grey's Anatomy fans if not handled well. But, the season three premiere of Station 19 will be in its new time slot. Station 19 will be taking over Grey's Anatomy's 8 p.m. slot, which in turn moves Grey's to 9 p.m.
This time shift has the potential to be a really positive thing for Grey's and its followers.
Fan frustrations with crossovers might be alleviated
At the series fall finale, Grey's showed a car crashing into a basement bar. A bar where many beloved characters were drinking. The crossover event in January is slated to begin with Station 19 coming to the rescue. This time shift, allowing Station 19 to air first, makes a lot of sense for both viewers' sanity and ease of storyline.
Vernoff assures fans that this switch is going to be a positive change.
"With Station 19 airing at 8 o'clock and Grey's Anatomy airing at 9 o'clock there are very organic opportunities for Grey's Anatomy to, for example, inherit patients we see rescued on Station 19," she said. This makes much more sense that trying to connect the two shows when they aired the other way around.
Vernoff continues saying that since the beginning this is what she hoped for the shows. "Ever since Station 19 premiered, in the writers' room we always thought the better progression was from firefighters to the hospital," she confirmed. "It's really exciting and opens up the storytelling."
If nothing else, the switch in show times will allow viewers of Grey's to only tune in when Grey's is airing…but they might miss out on some exciting character development. Only time will tell.
Source: Read Full Article