Will 'Ghostbusters: Afterlife' and 'King Richard' Ace Box Office Test Ahead of Thanksgiving Holiday?
'Riverdale' Season 6 Premiere Loses 45% of Viewers From Last Season's Start
Sony; Warner Bros.
Will 'Ghostbusters: Afterlife' and 'King Richard' Ace Box Office Test Ahead of Thanksgiving Holiday?
Sony's franchise revival and Warner Bros.' Oscar hopeful are counting on strong word-of-mouth to carry them through holiday period
This weekend's box office will see two newcomers try to build momentum heading into a crowded Thanksgiving weekend: Sony's "Ghostbusters: Afterlife" and Warner Bros.' "King Richard."
"Ghostbusters: Afterlife" will see Sony try once again to breathe life into the "Ghostbusters" franchise after Paul Feig's 2016 all-female reboot flopped with $229 million grossed against a $144 million budget. "Afterlife" is a direct sequel to the original 1984 film with Jason Reitman — son of "Ghostbusters" creator Ivan Reitman — serving as director and co-writer.
"Afterlife" is currently projected to earn an opening weekend in the mid-$30 million range, while Sony is projecting much lower at $27-28 million. Even the more optimistic projections are below the $46 million opening of the 2016 "Ghostbusters" which was widely considered a flop at the time. However, "Afterlife" is reported to have a much lower budget than its predecessor, with Reitman telling Toronto's Globe and Mail that it "was about a third the cost of a typical Marvel outing." Since films like "Eternals" go north of $200 million, that would put this movie's production price tag at around $70 million.
Continue reading
Join WrapPRO for Exclusive Content,
Full Video Access, Premium Events, and More!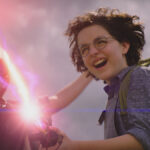 Even so, "Ghostbusters: Afterlife" faces an uphill battle given the shadow of the 2016 reboot and only mildly positive reviews — the film currently has a 67% Rotten Tomatoes score. But if word of mouth among audiences is strong, the film could generate sustained turnout both from nostalgic Gen X moviegoers and from families with older kids and parents who grew up with the comedy franchise. It was that combination of nostalgia, family interest and strong critical reception that allowed Sony to revive "Jumanji" into a box office hit with "Welcome to the Jungle" in 2017 and "The Next Level" in 2019.
"King Richard," meanwhile, is projected for a much lower opening of around $10 million. It too is looking to build word of mouth over the long run, especially given that leading man Will Smith is an early top contender for the Best Actor Oscar for his performance as Serena and Venus Williams' father.
But like many adult dramas this year, "King Richard" will face deflated turnout from its core demographic of moviegoers over age 45. While some films in limited release like Wes Anderson's "The French Dispatch" have performed decently given current pandemic challenges, art-house ticket sales have been considerably lower than pre-2020. So far, the highest opening weekend for an adult drama this year is MGM's Aretha Franklin biopic "Respect" with just $8.8 million. (That film's cumulative domestic gross stands at $24.3 million.)
Compounding this is the fact that like all of Warner Bros.' films this year, "King Richard" will be released simultaneously on HBO Max. While the film has a more inspirational tone than other mature Warner releases this year like Clint Eastwood's "Cry Macho" and the "Sopranos" prequel "The Many Saints of Newark," those films opened to muted figures of around $4.5 million each as interested moviegoers opted for a streaming option. While Smith's presence and the Oscar factor are bumping up projections slightly, HBO Max is expected to peel away some would-be moviegoers.